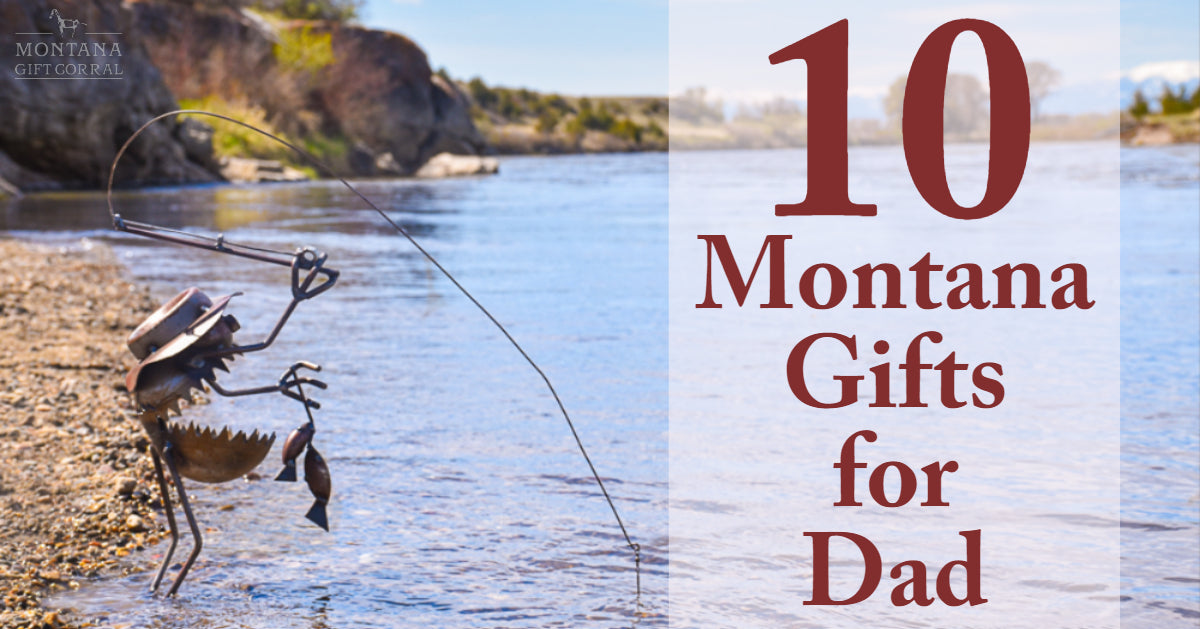 Dads are pretty great, aren't they? From dad jokes to dad bods, they can be real trend-setters even when they don't always mean to be. What matters most, though, is that your dad means a lot to you. He's there when you need the best life advice and when you need someone to set you straight. Because he's a one-and-only kind of guy, you want to get him something great for Father's Day! Our list showcases the best of Montana for the best dad!

$40.99
     TLS is a Montana-based company that specialized in the best handmade buffalo leather products. Their wallets are top-notch. We constantly have customers call and rave about the quality and craftsmanship of these pieces. If your dad is tough on wallets, trust us, he needs this buffalo leather wallet in his life.
 *   *   *
 .
$199.99
     Classy and cool the Snake River Decanter Set by Heritage Metalworks is the perfect gift for Dad this Father's Day! Combine his love for fine liquor with a love for fishing and rivers in this elegant gift. Heritage Metalworks has been providing hand-crafted pewter gifts since 1988 and has mastered the art of capturing a scene. The Snake River Decanter Set by Heritage Metalworks features a beautiful image of the Snake River with the mountains behind it and a bald eagle flying above. For the fancy Fathers in your life, the Snake River Decanter Set by Heritage Metalworks is guaranteed to make him smile!
*   *   *
$62.00
     Boy, oh boy, will dad love this one. If your pops is the ultimate tough guy who loves to be master and commander of his kitchen, this cleaver and sharpener make the perfect gift. Both are crafted of 420 stainless steel, so you really know they'll last. Plus, who can resist the gun stock handle on this baby? Complete with its own sharpener, your dad will be locked and loaded for summertime grilling. Be sure to check out the whole Big Shot line, too! 
 *   *   *
Montana River Fly Boxes by Stonefly Studio
$94.99

    Celebrate Father's Day doing something together, after all time together is time well spent! And what better activity than fishing on a warm June day? And to make the fishing trip with your old man even better why not surprise him with a brand new fly box? The Fly Boxes by Stone Fly Studios are beautiful wood fly boxes that are made right here in Montana! Each box features a beautiful Montana river, you could even plan to be fishing at the river that's on the box you give to your dad! Celebrate your dad with some quality time together and a unique gift he will always treasure!
 *   *   *
$16.00
     Sometimes reading about a good Montana adventure is just as much fun as having one. If that's more dad's speed, we recommend The Bloody Bozeman by Dorothy Johnson. Striking gold. Bands of road agents. The harsh realities of the Old West. Montana author Dorothy Johnson has created a captivating tale of the Bozeman Trail first set forth by John Bozeman and details just what it was like for some of those first men who heeded the call and headed west. Dad will surely love this Montana history story of death and determination! 
*   *   *
$22.99
    Help your dad kick back and relax with the fantastic Bottle Openers by Blue Moose Metals! Nothing beats sitting on the porch, looking out at the beautiful Montana scenery with a cold one in your hand. And you can help your dad get closer to that by helping him have a handy bottle opener around! The Bottle Openers come in a variety of fun Montana-inspired shapes too, so you can find the one that's perfect for your dad on Father's Day!
*   *   *
 Antler Gut Hook Knives by KC Creations
$86.99

    Having a knife on hand is always a good idea! And the beautiful Antler Gut Hook Knives by KC Creations is a wonderfully Montana gift to give Dad this Father's Day! The Antler Gut Hook Knives are expertly hand-crafted knives that are perfect for your dad if his favorite season is hunting season! The Antler Gut Hook Knives are made from antlers gathered around the state and are hand-crafted in Montana! Give your dad a gift he'll cherish with the Antler Gut Hook Knives!
*   *   *
$25.00
     If dad has to stay hydrated on his Montana adventure, he also had to stay shaded! This hat from Big Sky Carvers is sure to become his fast favorite. It's well constructed and looks sharp, but this hat is head and shoulders above the rest. It  comes complete with a bottle opener on the bill! Dad is sure to look extra smooth in front of all his buddies when he opens a brewski with his hat! How many dads can say that? While this one features a black lab, the bottle opener hat comes in four different styles, each one featuring an image from a fish to an elk. 
*   *   *
 $15.99
     Does your dad have a beard he is proud of? Help him maintain his fantastic facial hair with the Beard Oil and Shaving Cream by Montana Naturals DAYSPA! Montana Naturals is a Montana company dedicated to providing bath and body products that are all natural for everybody! The Beard Oil and Shaving Cream will help your dad shape his facial hair to his preference and keep it smooth and soft. The Beard Oil and Shaving Cream also comes in a variety of masculine scents so you can find the one that fits your dad the best!
*   *   *
$10.99
     Our last gift recommendation for dad is one of the newest goodies in our store, but it made the list because it's so darn good. For that dad-sized appetite, you have to give some of this Montana-made jerky. Madison Smokehouse is located in Ennis, Montana, that gorgeous fly fishing country, and they know how to make a snack for the most discerning appetites. Local and flavorful, we hope this gift makes it to dad before you snarf it down! 
     Happy Father's Day to all those awesome dads out there! We hope you're lucky enough to get something wonderful from Montana!
By Cassi Miller
Revised by Issa Rabideaux