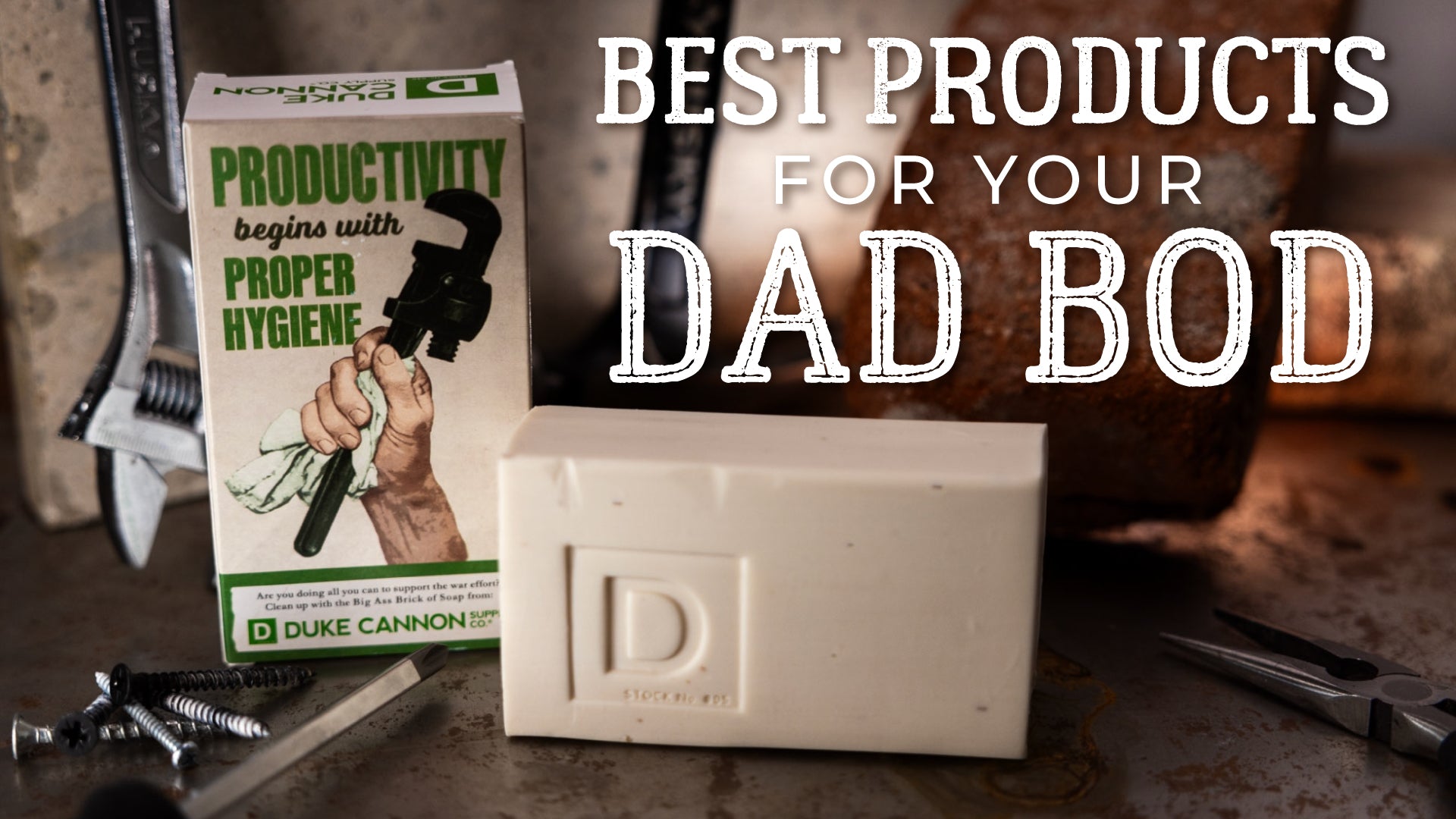 Taking care of the body is essential for everyone, including Dads who deserve to feel his best. This Father's Day, give Dad the care he's been looking for. From beard care to soaps and solid colognes, there is a wide range of grooming products available specifically designed with Dad in mind. We gathered together all of our best men's body care products, the kind that are formulated to tackle the challenges of rugged environments while providing gentle and effective care for the skin, so you can treat your Dad to a rejuvenating Father's Day. 
Soaps With A Masculine Edge
While ties and tools are traditional gifts, this year, why not surprise your Dad with something unique and luxurious? Manly soaps like the Duke Cannon Productivity soap are the perfect choice, offering a refreshing twist to his daily grooming routine. This soap was tested by active duty US Military personnel so you know it can get your hardworking Dad cleaned up. Plus, Dad deserves a good smelling soap that not only cleanses his skin but also leaves him feeling invigorated and confident.  With scents like peppermint and eucalyptus, this soap will be the best part of your Dad's morning, setting him up for a productive day! So, this Father's Day, let's pamper Dad with a premium bar of manly soap that he can indulge in, reminding him of just how special he is.
Another great soap to gift Dad from our men's body care products collection is the Man Bar by San Francisco Soaps, the epitome of sophistication and luxury. You will really treat Dad with this indulgent soap as its rich, aromatic lather embraces your senses, leaving your skin rejuvenated and impeccably smooth. Dad will love the natural, yet masculine scent of this soap, the beautifully crafted design of the packaging, and thoughtfulness behind the gift. From the moment he opens this magnificent bar, he'll feel the weight of true elegance, as this soap exudes a sense of refinement fit for a king. 
Stay Clean While Camping
When it comes to camping in the great outdoors, staying clean and refreshed can be a challenge. Usually, Dad toughs it out because the experience outweighs the hassle of staying clean. Instead, give him the gift that gives back. With the right body products, Dad can maintain his grooming routine even amidst the wilderness.
One essential product to consider is a dry shampoo specifically designed for his camping adventures. With the Mini Quick Fix Dry Shampoo by Duke Cannon, Dad can maintain a clean and refreshed feeling even while enjoying the great outdoors. Plus, this dry shampoo has a balanced combination of ingredients that make it beneficial for his hair health. Not only does it remove oil, but it also enhances texture, making Dad's hair look thicker and fuller. 
Another awesome body product for Dad and his many adventures is the Cold Shower Cooling Field Towels by Duke Cannon. This is the holy grail of camping body care products because they are easy to pack while really packing a punch! Dad can take these with him and experience what it's like to take a shower in the middle of nowhere because these shower wipes for camping are full of wonderfully stimulating ingredients that target and take down dirt. Plus, they have a cooling affect that adds a level of refreshing no shower could ever match. This gift will show your encouragement for Dad's many adventures, while offering a level of care and love to his experience. 
Burly Beards Need Cleaning Too
For Dad's with burly beards, ensure they receive the love they deserve this Father's Day. Gift them a beard's most trusted companion, the Duke Cannon's Best Damn Beard Oil. This beard care oil is crafted with premium ingredients that burly beards love. With a rich blend of natural oils and extracts, your Dad's unruly facial hair is sure to soften while the underlying skin becomes moisturized leaving the beard looking and feeling its absolute best.
When accompanied by the Best Damn Beard Wash, specifically formulated to cleanse and invigorate facial hair, your Dad's burly beard will undergo a very transformative experience. The wash's gentle yet effective cleansing action removes dirt, excess oil, and product buildup, while its conditioning properties promote healthy growth and maintain a well-groomed appearance.
Finish this Father's Day gift giving with the Best Damn Beard Balm and Dad won't even know how he used to go without beard care. This beard balm has lanolin oil, which is a very good, hydrating oil, helping keep the hair moisturized and smooth. The best part is all of these beard products are made in the USA and a portion of the proceeds go to helping veterans. So, help Dad step up his beard care game this Father's Day while also supporting other men in need!
***
Written by: Haven Windsor, MGC Content Creator
Photography by: Luke Clark, MGC Photographer
Blog Cover by: Averi Thompson, MGC Graphic Designer