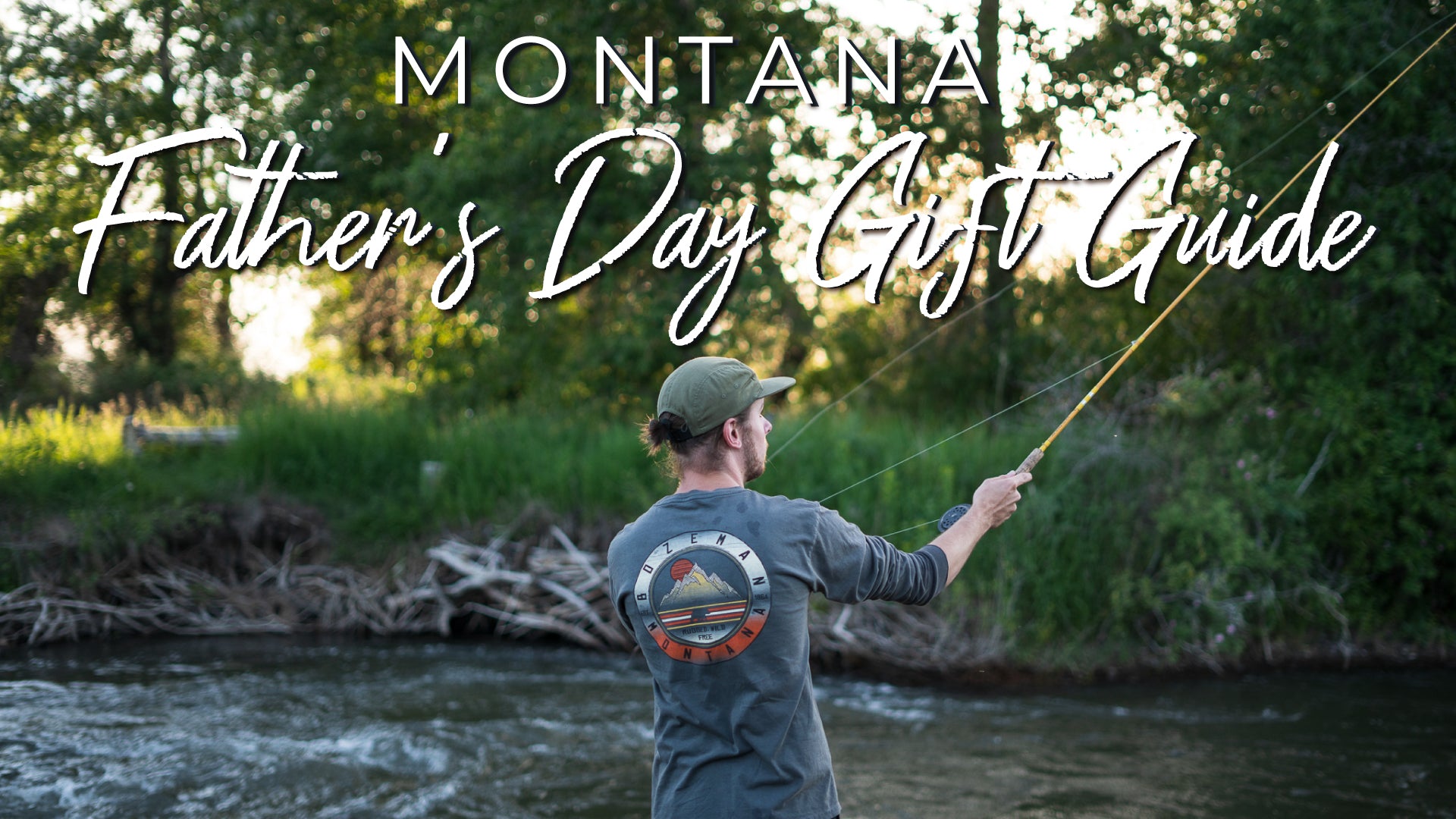 Montana Father's Day Gift Guide
Whether you're from Montana or not, having a Montana Father's Day is more than just being in the Big Sky State. A Montana Father's Day is all about being outdoors, enjoying nature and taking in breathtaking views. It's about feeling rugged and having the tools for survival, all while enjoying a local beer with friends and family. Spending your day exploring the wild world and coming home to a cozy space full of rustic decor that represents your passion for Montana wilderness, that's what makes a Montana Father's Day. With the help of this gift guide, your gift giving is sure to bring Dad the awe and joy only a trip to Montana could.
Rugged Tools for Dad
When it comes to exploring the wilderness, every dad needs rugged tools that are both practical and reliable.
This Father's Day, surprise your adventurous dad with a set of gifts that will enhance his outdoor experiences. Start with our sturdy 406 growler, perfect for carrying his favorite local brew. Pair it with a durable growler tote that makes transportation a breeze and you're sure to get Dad ready for his next big excursion.
For those moments when hunger strikes, a package of jerky is a thoughtful gift for Dad. Being prepared and ready for anything, like having delicious and long-lasting, emergency food, is the first rule in being a rugged outdoorsman. Gift Dad a Montana-made bison meat stick from our Chalet Market collection and he is sure to have a life changing experience. 
Complete Dad's outdoor toolkit and gift him a versatile knife that can handle any task. Accompanied by a belt buckle leather holster for easy access and safekeeping, this survival knife will not only make his wilderness explorations safer but it gives him more opportunity for success! Whether he finds himself fishing, hunting, camping, or just hiking, our Buffalo Knives collection has an assortment of different styles to fit his lifestyle. Or, if he needs a lightweight option, opt for a pocket knife for Dad. We carry high-quality pocket knives made to last. 
Montana Shirts and Hats Made for Adventure
This Father's Day, gift your dad adventure-ready Montana shirts or hats that embody the spirit of exploration and ruggedness. Whether he's heading out for a hike, casting a line in a tranquil river, embarking on a camping trip, or just grilling in the backyard, our Montana shirts and hats are sure to become his favorite fit. 
Our collection features designs that showcase the majestic beauty of Montana, with motifs inspired by its scenic landscapes and wildlife. Clothing is not only a useful Father's Day gift that helps protect him from the elements, but it also serves as a symbol of his adventurous spirit. Let Dad know your appreciation for his love for the outdoors and gift the ability to embark on new adventures with confidence in his adventure-ready Montana clothing.
Rustic Home Decor Dad Will Love
Being in Montana is like coming home, it's a place to build memories just like home, but what makes it unique is the vast and beautiful wilderness that runs through the heart of it. Bring that same sense of grandeur indoors this Father's Day with the help of our rustic home decor collection.
Adding wall art to any room can immediately improve the feeling of the space. With our Meissenburg collection, you can improve your space by adding a vintage and classic feel. Pair that with a map design and you get a feeling of nostalgic adventure and historical coziness. That's why we are big fans of the Great River Arts Wood Map of Bozeman by Meissenburg Designs. This wall art features a look back in time to what Bozeman looked like during the 1800s when there was a booming railroad system and a population of 3,500. Your Dad will love the historical importance of this gift and enjoy the rustic feeling it adds to the space.
Additionally, adding a beautiful MOVA globe to the mix is sure to improve decor of your home and the scientific function behind this piece is interesting and, honestly, mind blowing. Dad will appreciate the function of this spinning MOVA while he relaxes into his aesthetically improved space.
Finally, you can't go wrong with adding a bit of Montana to your space in the form of a sculpture. Our collection of Big Sky Carvers sculptures are handcrafted by artist Marc Pierce with high quality construction Dad is sure to admire. The regolness of the Marc Pierce Keep Up Bear with Cub Sculpture is sure to empress your pops and make him feel extra special this Father's Day! 
Written by: Haven Windsor, MGC Content Creator
Blog Cover by: Averi Thompson, MGC Graphic Designer