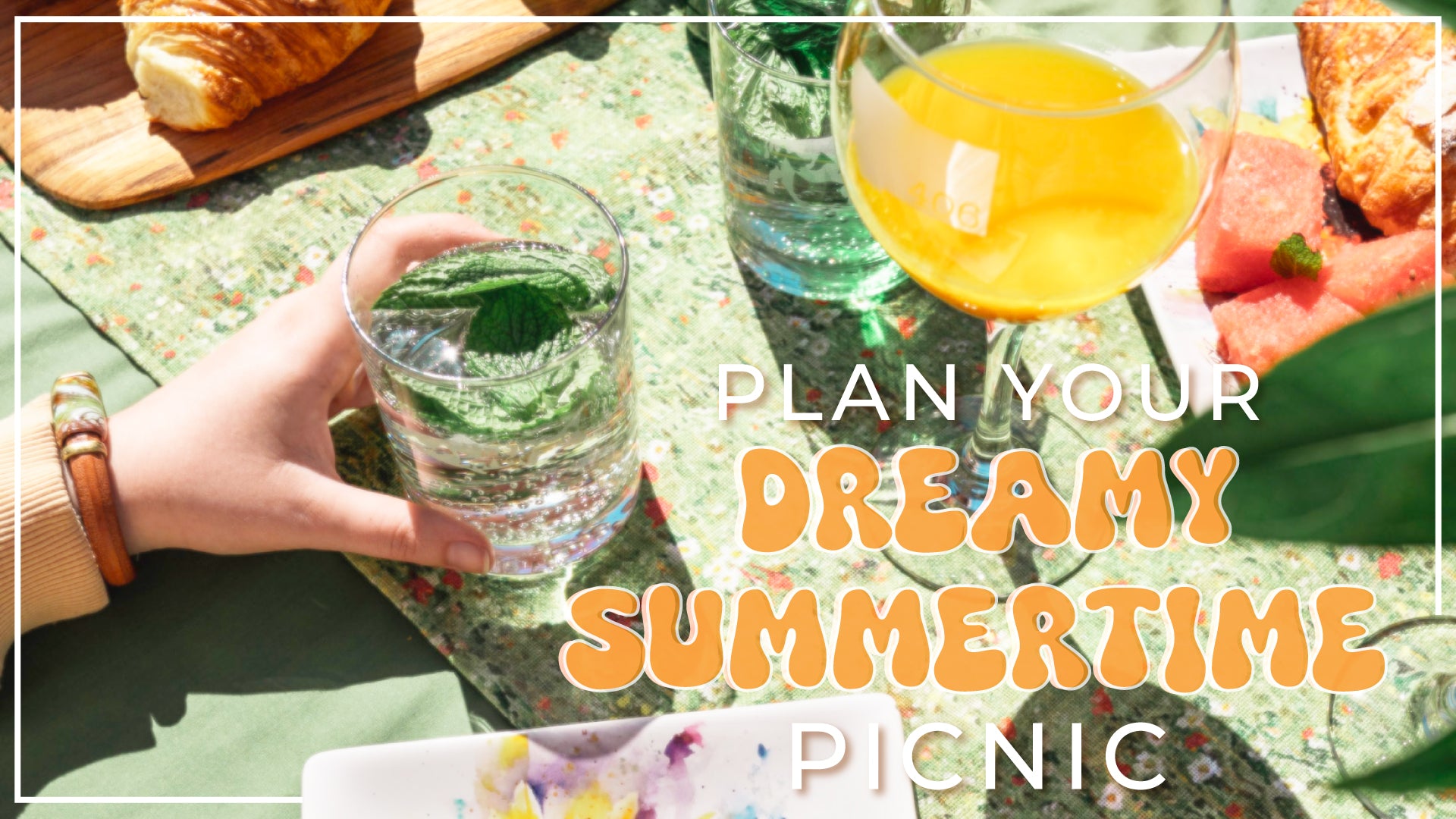 Plan Your Dreamy Summertime Picnic
So, you want to plan a dreamy, summertime picnic! Well you came to the right blog. Preparing for your perfect picnic, it's important to remember that you're not just creating a gathering; you're curating an aesthetic experience. From your well-adorned table to the meticulously arranged charcuterie board, every detail weaves into a tapestry of visual delight and culinary wonder. Get ready to immerse yourself in the picnic aesthetic, where nature's beauty and your artistic touch coalesce into an unforgettable summertime dream. From personal accessories and table decor, to cutting boards and sweet treats, we'll show you how to create your own dreamy, summertime picnic.
Picnic Aesthetic
Gathering with friends for a summertime picnic has taken on a charming new dimension with the rise of the picnic aesthetic. We think creating this effortless, aesthetic vibe at your next picnic starts with you. Decorating yourself is half the charm when creating a beautiful, picnic vibe. Start by adding bracelets to your look, like our Montana Leather Design bracelets. With their unique and colorful glass beads that dance in the sunshine, and their natural leather strap that goes great with any outfit, you'll start to feel like the true beauty you are. Pair them with a fun color on your nails and you'll catch everyone admiring what your brought to the table!
Speaking of the table, that's another way to add charm to your next picnic. By improving the aesthetic of your table, you are creating your own whimsical place, made of magic and bright colors. We have a couple of ideas to get you started. Adding a table cloth immediately brings color to your picnic. With our Hello Bear Table Runner, we took our old, picnic table and turned it into a green and colorful paradise. We then added stunning, glass drinkware from our Lester Lou Collection for drinks and our vibrant snack plates from Dean Crouser to really give our table a picnic aesthetic. Finish it off with a big bouquet of fresh flowers and you have yourself an aesthetic picnic experience. 
Picnic Charcuterie Board
At the heart of this dreamy, summertime picnic lies the charcuterie board, a masterpiece of culinary artistry. Laden with an array of artisanal cheeses, velvety prosciutto, savory cured meats, vibrant fruits, and an assortment of crusty breads, picnic boards effortlessly blend flavors and textures to create a symphony for the senses. The very act of arranging these delectable offerings becomes a creative endeavor, a celebration of both taste and aesthetics.
Having a charcuterie board being the main course during a picnic is not only tasty, but it's a beautiful way to share bite-size moments with your closest friends. Turn up your charcuterie board aesthetic with one of our beautiful, Montana designed cutting boards. We love the Summer Stokes Montana Cutting Board because of it's colorful design and fun, Montana shape. This cutting board will splash peaks of colors out from under your delicious spread, giving an extra touch of aesthetic to the refreshing food display. Another fun cutting board perfect for your picnic charcuterie board is our Palaoa Cutting Board. It is very long, perfect for those bigger picnics with friends. The length makes this board great if you want to lean more towards a picnic grazing table. However you decide to charcuterie, we've got the boards perfect for creating your dream picnic. 
Best Picnic Dessert
The best way to make your picnic feel like a summertime dream is with a delicious, sweet treat. We think the best picnic dessert is vanilla ice cream paired with our delicious Huckleberry Ice Cream Topping. Made from real, Montana huckleberries, this ice cream sauce adds a delightful layer of huckleberry sweetness that tastes just as good as it sounds. If you can't bring ice cream to your picnic, you can still get a taste of local Montana huckleberries. Add this huckleberry topping to anything that you have - yogurt, cheesecake, angel food cake, or even iced coffee, and let the sweet berry transport you to a field full of wildflowers and mountains. You'll float away from this picnic on cloud nine with a belly full of local treats and meats. 
***
Written by: Haven Windsor, MGC Content Creator
Blog Cover by: Averi Thompson, MGC Graphic Designer
Photography by: Haven Windsor, MGC Content Creator & Zach Altman, Past MGC Photographer