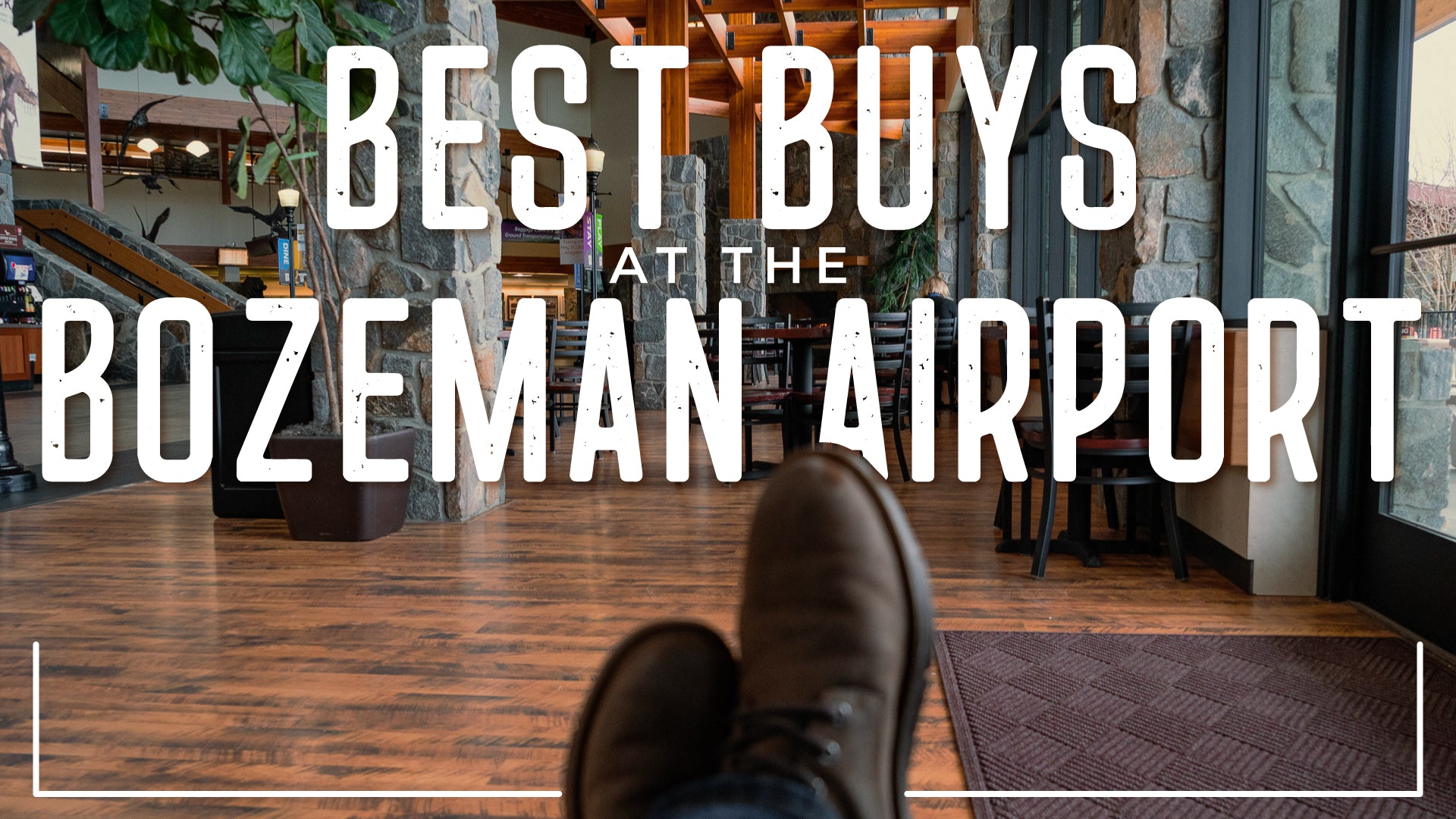 Best Buys at the Bozeman Yellowstone International Airport!
Planning your dream vacation to the Big Sky state? Your Montana adventure just might begin and end at the Bozeman Yellowstone International Airport - lucky you! Known as a year-round gateway to Southwest Montana, this incredible airport has everything you need to kick off or finish up your travels through our beautiful state.
Not only is this airport based just outside of the bustling Bozeman, MT, but it is the only Montana airport that provides year-round access to two Yellowstone National Park entrances. Whether you're flying in to tour the beautiful campus of Montana State University, spending time in nature in Big Sky, or showing off your winter sports skills at Bridger Bowl Ski Area, the Bozeman airport is the perfect landing spot to connect you with all that MT has to offer.  
While spending time in the beautiful and cozy Bozeman Yellowstone International Airport, don't forget to stop into any of our many shops there, and pick up some sentimental Montana gifts and souvenirs to immortalize your time spent under Montana's big skies. Need some suggestions? Here's a few:
Stickers and Patches
Looking for a foolproof gift or souvenir from Montana? You can't go wrong with our vast selection of Montana-inspired stickers and patches! Pop a sticker on your water bottle, laptop, etc., or iron a patch onto your favorite vest or backpack, either way, you'll be carrying around a little piece of Montana no matter where you go!
One vendor that we know you'll love, supplying all things Montana-souvenirs is The Hamilton Group. This company is family-owned and based right here in Montana. We carry an awesome selection of souvenirs and keepsakes from this company, and if your looking for fun Montana patches, our range of goodies from The Hamilton Group is perfect for you!
If you are more of a sticker person, you're in luck. Here at Montana Gift Corral, we carry several lines of stickers that are sure to help you accessorize your belongings. A couple Montana-based companies that make stickers for you to enjoy are Graphic Imprints or Noteworthy Paper & Press. You can't go wrong either way!
Montana-Made Treats
There's nothing quite like the flavors of Montana, and boy oh boy do we have the perfect Montana treats for you to try! From candy to coffee, cookie brittle, or even caramel cookie waffles - these goodies are something you won't want to miss out on. 
If you're anything like us, you cant start your day without a delicious (preferably huge) cup of coffee. For all of our coffee-loving customers, we proudly partner with Morning Glory Coffee. Based in West Yellowstone, MT, Morning Glory is a family-owned business that has been crafting deliciously roasted coffee since 2005. Using ethically and sustainably sourced coffee beans, this beloved company ensures that every brew you get is great for you and our planet! 
If you're dying to get a taste of the Montana Huckleberry, we've got you covered. With the help of Huckleberry Haven and Huckleberry People, two Montana-based companies, were able to bring you a huge selection of huckleberry treats that will leave you wanting more! Try out our best-selling huckleberry jam or curb your sweet tooth with our Huckleberry Sea Salt Dark Chocolate Bar. Trust us, you won't be disappointed!  
Ornaments to Remember Montana
If you've been following us for awhile, you may have heard us mention that "It's always Christmas at the Montana Gift Corral", and while you might giggle and take it as a joke, it's actually more true than you think. In fact, at our Downtown Bozeman location, our Christmas section is set up year-round!
One of our favorite ways to celebrate the magic of Montana is to implement meaningful ornaments into our holiday home décor. From wildlife inspired sentiments to quirky and colorful designs, our selection of ornaments is perfect for any collector! We even have stunning ornaments crafted from mouth-blown glass. How cool!
Unique Jewelry 
Another way to show off your love for Montana and symbolize your beautiful memories spent in the Big Sky state is with our selection of jewelry. Featuring an array of wildlife and nature-inspired designs, you'll be forever reminded of the natural beauty of our one-of-a-kind state!
We know you'll especially love our selection of stunning jewelry from Lynn Bean. For over 40 years Lynn Bean has been creating beautiful earrings that are inspired by the outdoors and feature her unique artwork. Her designs are brilliantly colored and spark so much joy!
We also carry a vast selectin of Nature Cast jewelry at our Bozeman airport locations! This USA based company handmakes its metal jewelry and features several outdoors-inspired motifs; nature, wildlife, you name it! One of our favorites is the Gold Montana State Pendant by Nature Cast Metalworks!
Beautiful Greeting Cards that Double as Gifts! 
If you're looking for the perfect Montana keepsake that can also double as a wonderful gift for a loved one, you've gotta check out our selection of greeting cards! There's nothing more meaningful than picking up a beautiful greeting card and writing your own thoughts and feelings inside for your friends, family, and loved ones to cherish for a lifetime. 
One of our most popular lines of greeting cards is Quilling Card. Based out of Massachusetts, Quilling Card is passionate about keeping the lost art of quilling alive. Each greeting card from this company features a stunning quilled design made from strips of paper that are rolled, shaped, and glued together. Each one of these cards takes about an hour to create! Your loved ones will adore the intention behind these meaningful tokens. 
If you're looking for a greeting card that was made right here in Montana, you'll love Claire Emery Art! For over 20 years, Claire Emery has been working alongside scientists, botanists, and conservation groups, developing an eye for accurate detail and design when it comes to her work. She has a passion for connecting her art to conservation, creating hands-on, meaningful work!

**

Written by: Alexa Jorgenson, MGC Content Creator
Photography by: Luke Clark, MGC Photography // Haven Windsor, MGC Content Creator
Blog Cover by: Averi Thompson, MGC Graphic Designer