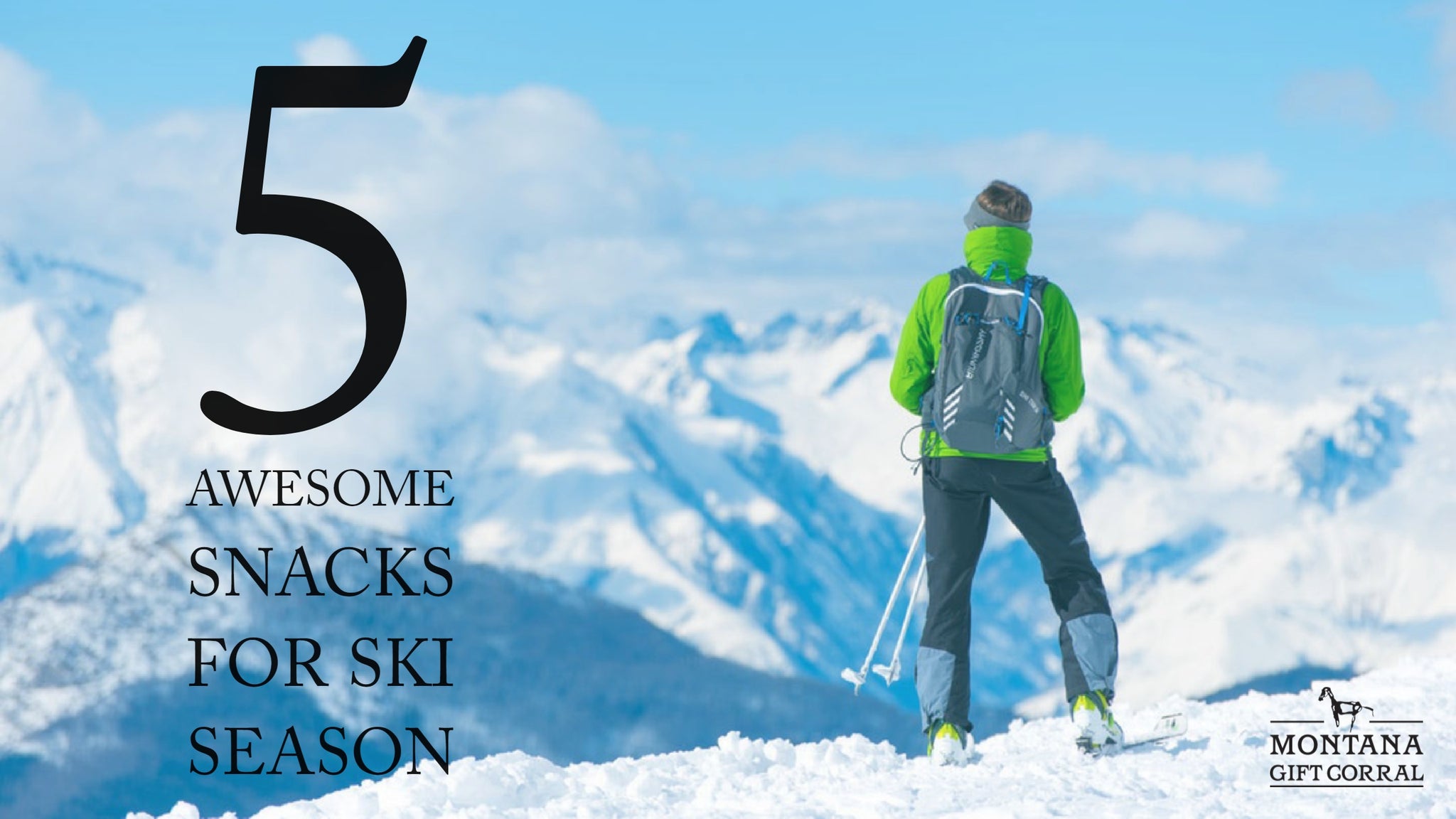 5 Awesome Snacks for Ski Season
Winter is in full swing here in Montana ~ skiers and snowboarders rejoice! As yet another week of snowstorms approaches with a fresh haul of powder for our mountain slopes, we wanted to share some awesome snack ideas to pack with as you enter this ski season. Every sportsman could use a little pick-me-up now and then, and these top tasty treats are sure to hit the spot and keep you a part of the winter action!
When you're out shredding powder all day, nothing hits the spot quite like a good, hearty smoked meat stick. We at Montana Gift Corral love our fellow local businesses, which is why we carry these smoked pepperoni sticks by Chalet Market based right here in Belgrade, Montana. This easy to pack size has just enough kick to keep you going all day! These tasty treats are also available in smoked buffalo and elk flavors.
Another local favorite is this jumbo huckleberry licorice produced by Kalispell, Montana based Huckleberry Haven. Made in the traditional Australian style with only the tastiest of Montana huckleberries, this 16 oz package has the sugar to keep you going. Delightfully sweet without being too sticky, this nifty snack is the perfect thing to munch on while riding the lifts; plus, there's plenty here to share! Not that you have too, of course ~ we won't judge!
Bring a taste of the tropics to the slopes of Montana with a fun bag of coconut salt water taffy from Huckleberry Haven. Huckleberry Haven has made all their products in Montana since 1987, specializing in huckleberry products and sweet treats, but they're willing to branch out to cover some more exotic flavors - exotic to Montana, at least. Individually wrapped to better fit into the odd pocket, these tiny treats make great ski-day snacks!
Shredding the slopes. Photo courtesy of David Klein
No day out on the hill is complete - or even possible -  without a warm, steaming cup of coffee. The Mountain Lake French Roast Ground Coffee is sure to keep you toasty on your way to a bluebird day under Montana skies! Think how great it would be to have a warm thermos waiting for you in the car as you slowly navigate your way down the mountain alongside all the other ski traffic! Okay, so maybe not everything about the ski day is ideal, but coffee sure can make it more manageable, and it can keep your toes from freezing as you wait for your lane to start moving.
11 oz package - contains 10 cookies
$8.99
If you've never had Caramel Cookie Waffles from Billings based Dutch Brothers Bakery Goods, then boy have you been missing out! Caramel Cookie Waffles are originally from Holland, and are known there as Stroopwafels. Gooey caramel is pressed between two sheets of vanilla-cinnamon cookie dough in a flame fired waffle iron to give these tasty treats their beautiful design. These cookies are sturdy, too; you won't have to worry about them crumbling no matter how deep down in your pack they're shoved, or however many avalanche shovels and spare hand warmers you stack on top of them!
Photo by Vincent Abric 
And now you're ready to hit the slopes! Well, almost. Don't forget your safety gear, watch out for others, and don't lose sight of the amazing beauty that surrounds you no matter how caught up in the adrenaline rush you get! 
By Zach Altman