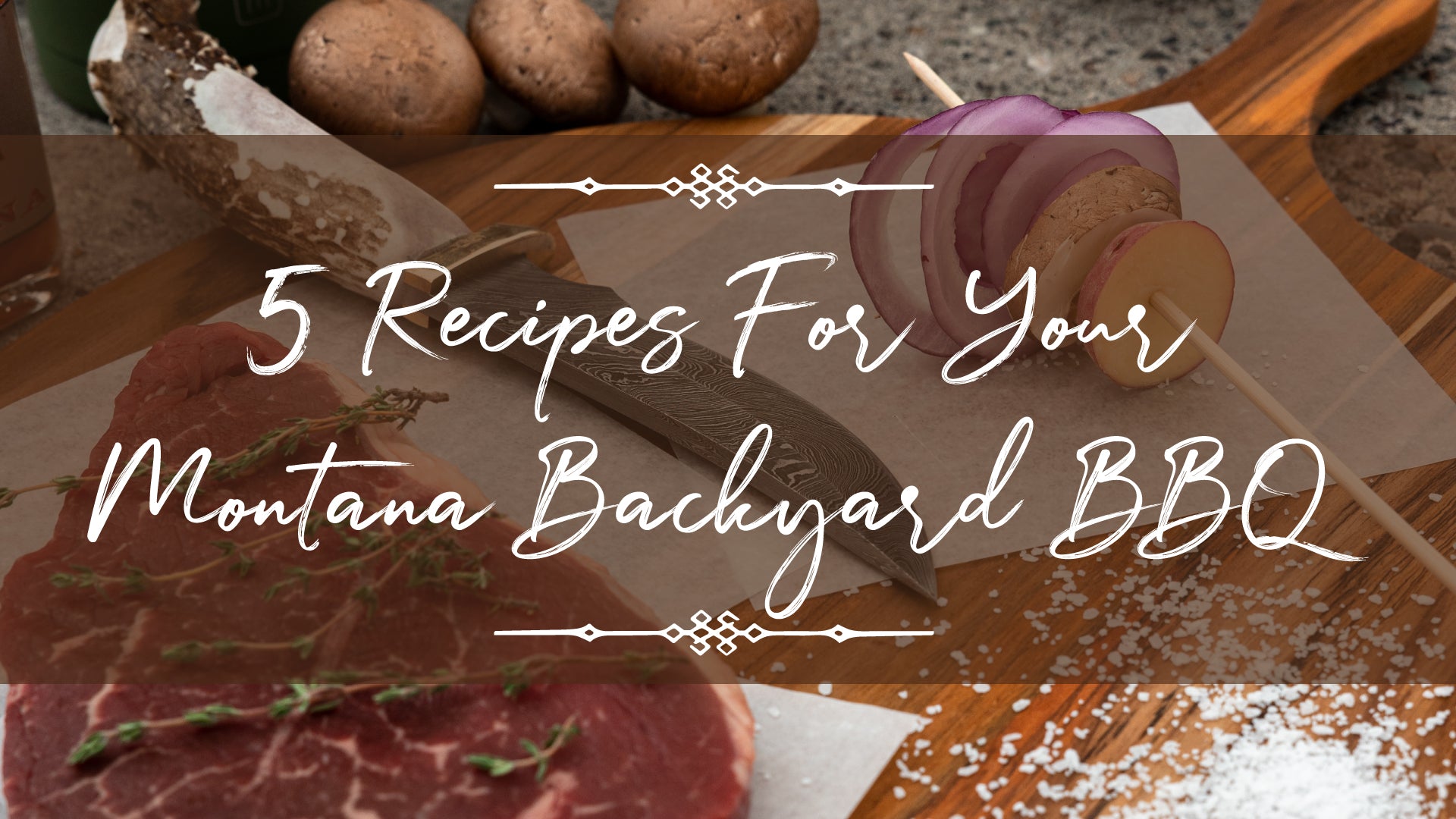 5 Best Recipes to Include in your Montana Backyard BBQ
Summer is just around the corner, and we can't wait to finally partake in all of the fun-filled adventures that Montana is known for. Whether you enjoy hiking and backpacking, or even casting a line on the Madison river, Summer is the time for you to get outside and enjoy the wonderful weather. If you are anything like us - we automatically get a hankering for backyard BBQs as soon as we can feel summer in the air. From delicious recipes, to fun backyard games, and spending time with loved ones - there is truly nothing better!
Follow along with us while we offer a few of our favorite recipes for a Montana-inspired backyard BBQ:
When hosting your own backyard BBQ in Montana, lemonade is a no-brainer. Your guests will want a cool drink to sip on while taking in the summer sunshine, and luckily, our delicious Huckleberry Lemonade from Huckleberry Haven is sure to impress even the most choosy of friends, family members, and loved ones!
Not only is this drink utterly perfect for a hot Montana day, but is extremely easy to prepare. Simply mix its powdered base with water, and you will have a whole 1/2 gallon of Montana-inspired lemonade that is sure to delight your taste-buds!
Before firing up the grill, we guarantee that you are going to need something to snack on! Luckily, here at Montana Gift Corral, we offer a variety of delicious Montana made snacks that are sure to get your backyard BBQ started off on the right foot. One of our favorites is definitely the range of meat sticks and jerky from Ranch House Meats!
If you've been on the hunt for top quality, locally sourced meats made from Montana-raised livestock - you've met your match! Ranch House Meat & Sausage Co., a company based out of Billings, MT, is passionate about offer a range of snacks and foods that are processed with an innovative approach. Their unique products are made from beef that have been Montana-raised, grass-fed, and grain-finished. All of their meat has been dry-aged and sourced from ranches across the big sky state! We have to say - their delicious products are a staff-favorite, and will be the perfect addition to any backyard BBQ. 
Looking for a recommendation? We are currently obsessed with their Spicy Bacon Snack Sticks and Teriyaki Jerky!
When it comes to hosting the perfect backyard BBQ, ribs are a fan-favorite! There is nothing quite as delicious as perfectly cooked ribs that quite literally fall off of the bone. Yum! For the main entrée of any BBQ event, make sure you use the following recipe that will have your guest wowed!
To add that special touch of Montana to any barbeque recipe, make sure to pick up our 
Huckleberry Barbeque Sauce by Huckleberry Haven
. With the perfect blend of classic BBQ flavor and rich huckleberries, this sauce is 
an absolute powerhouse! Trust us, you are going to love it. 
Ingredients:
1/4 cup brown sugar
2 tablespoons chili powder

Kosher salt and freshly ground black pepper

1 teaspoon dried oregano

1/2 teaspoon cayenne pepper

1/2 teaspoon garlic powder

1/2 teaspoon onion powder

2 racks baby back ribs

1 cup low-sodium chicken broth

2 tablespoons apple cider vinegar
Directions:
Combine your brown sugar, chili powder, salt, black pepper, 

oregano, cayenne pepper, garlic powder, and onion powder. Once mixed thoroughly, rub this mix on either sides of your ribs. For best flavor, allow this mixture to sit on your ribs overnight!

Preheat your oven to 250°F.

Combine your chicken broth and apple cider vinegar in a large roasting pan. Next, add your ribs to the pan!

Once covered in tin foil, bake your ribs in the oven for approximately 2 hours, or until it has reach its optimum internal temperature (typically between 190°F and 200°F). 

Once your ribs have finished baking, toss them on your preheated outdoor grill for approximately 5 minutes per side. 

Toss the ribs in your Huckleberry Barbeque Sauce until evenly coated and serve!
Add some color to your meal! There is nothing more wholesome and yummy that a delicious medley of veggies topped with our 
Deep Pit Seasoning by Montana Bounty Foods
. With a mix of bell pepper, carrots, onion, broccoli, and yellow squash, we guarantee that this one-of-a-kind recipe will be the perfect side dish to accompany your Montana-inspired baby back ribs!
With a unique blend of 
onion, garlic, canola oil, paprika, basil, red and black peppers, parsley, cilantro, lemon peel, and turmeric, your veggies will be seasoned to perfection with our Deep Pit Seasoning.  Dubbed "Hal's Secret Spice", this spice mix is a one-stop savory addition to any and all dishes. This mix of spices and herbs will become a staple in anyone's pantry. 
Ingredients:
3 Tbsp

 Olive Oil

1 Red Bell Pepper
2 Medium Carrots
1/2 Red Onion
2 1/2 Cups

 

Broccoli Florets
1 Medium Yellow Squash
1 Tbsp of Minced Garlic
1/4 Cup

 

Grated Parmesan
Directions:
Preheat your stove to medium-high and coat your skillet with olive oil.

Add bell pepper, carrots, onion and broccoli to the skillet, occasionally tossing until slightly browned! This process may take approx. 4 minutes.

Add your squash to the skillet. Continue sautéing mixture for approximately 3-4 minutes!

Add your Deep Pit Seasoning to the skillet. Allow the seasonings to evenly coat your veggies and continue sauteing until your vegetable mixture has softened!

Once your mixture has softened, remove from heat. Garnish with parsley and/or parmesan cheese if you wish! 
After enjoying your flavorful entrees, we just know that you will be craving something sweet. Luckily, with our
Huckleberry Pie Filling by Huckleberry Haven
, you can skip the hard part of making your own pie filling, and will have a delectable huckleberry pie in under an hour. After tasting this delicious treat, we guarantee you guests will be asking for the recipe!
Featuring a fan-favorite product from the Montana Gift Corral, the Huckleberry Pie Filling by Huckleberry Haven, you will enjoy the sweet and tarte taste of huckleberries that were hand-picked here in the big sky state! This mouthwatering treat is sure to be the perfect ending for your Montana backyard BBQ!
Ingredients:
Pie Pastry

Huckleberry Pie Filling

 

2 Tbsp Lemon Juice

2 Tbsp Butter

2 Tbsp Heavy Cream

2 Tsp White Sugar
Directions:
Preheat oven to 425°F.

Line your pie pan with the prepared pastry dough. 
Add your Huckleberry Pie Filling to the pastry lined pie pan. Sprinkle your lemon zest and lemon juice over top of this mixture. Dot your mixture with butter and cover with another layer of prepared pastry dough (you can either create a lattice design with your top crust, or you can cut steam vents in the next step).
Pinch together the outer edges of your pie crust to seal in the mixture. To ensure that your pie cooks evenly, cut steam vents if the top of your pie crust (if you did not create a lattice design). 
Brush the surface of the pie crust with heavy cream, and sprinkle on sugar. 

Bake in oven for approximately 15 minutes. Next, you will reduce the heat to 350° F and bake an additional 20-25 minutes, or until your crust is a beautiful shade of golden brown.
Written by: Alexa Jorgenson, MGC Content Creator
Blog cover designed by: Averi Thompson, MGC Graphic Designer