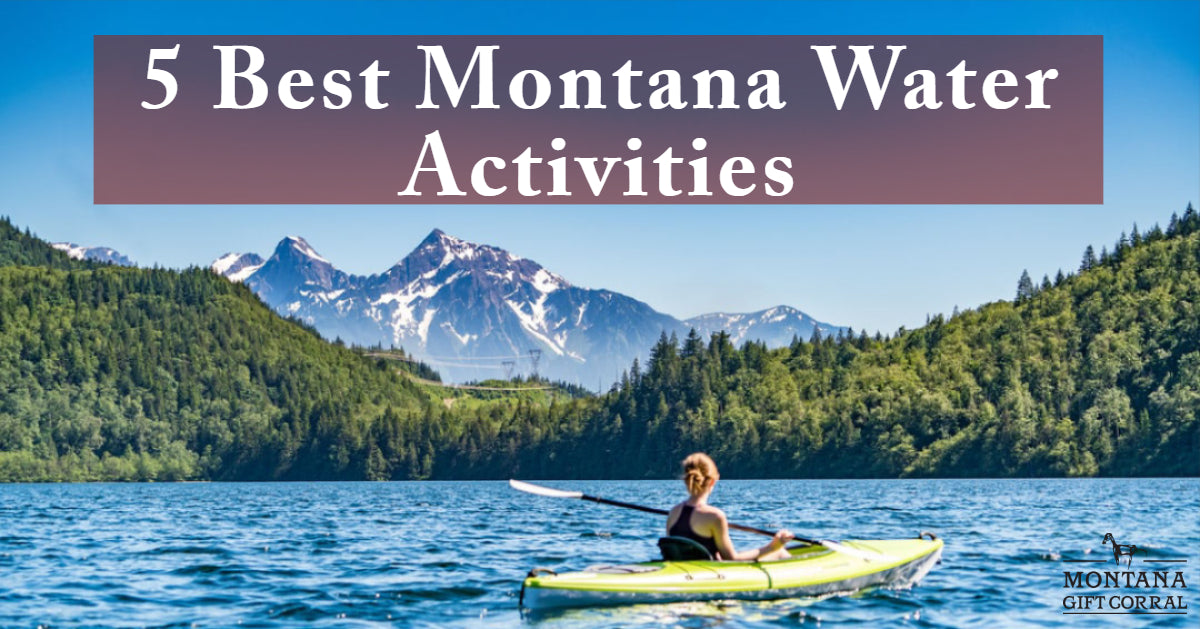 5 Best Montana Water Activities
August is hot and dry in Montana. And if you know anything about the people who live in Montana, many of us don't have air conditioning. We're tough like that :) So, how do we cool off? We hit the water! Even though we are landlocked, you've never felt cold in the middle of August like a cold, mountain stream or lake. Montanans definitely love a day on the water, and this list contains some of our favorite ways to cool off on a long, hot summer day!
Float the River
Image Courtesy of Madison River Tubing
This is the number one favorite way for Montanas to cool off. In southwest Montana, there's nothing quite like spending the day in an inner tube floating the Madison River. Heading out of Bozeman toward Norris, you'll enter Bear Trap Canyon and cruise your way alongside the "Maddy". Drop a car at the Black's Ford Day Boat Ramp and cruise about 7 miles down the road to the Warm Springs Boat Launch to start your floating experience. Because these boat launches are managed by the Bureau of Land Management, this whole experience is free, aside from the tube or any snacks and drinks you want to bring along. The float takes roughly 3-4 hours depending on the rate of the river and is the absolute perfect way to spend a hot day! 
SUP (Stand Up Paddle Boarding)
Looking for another relaxing water activity? We recommend grabbing yourself a stand up paddle board! This is a very low-maintenance way to spend the afternoon. Often in Bozeman, you'll find the best SUP locations to be the East Gallatin Recreation area and Hyalite Reservoir. Don't be intimidated by this activity, either. Sure, you may take a spill into the water a time or two, but you'll get the hang of it in due time. The Missouri Headwaters is a wonderful place to practice where fewer people can see you fall while you are learning. Once you're well-versed on your SUP, the water world is your oyster. Leisurely paddle across a pristine Montana lake or sit on your board and dangle your calves in the ice-cold water. This is definitely a water activity that's filled with rest and relaxation.
Kayaking
Image Courtesy of Bear Foot Theory
Falling somewhere between floating the river and SUP, kayaking is also a hot water activity in Montana. The nice thing about kayaking is that, barring an accidental spill into the drink, you don't have to get wet if you don't want to. This is a great water activity to do in the morning if you've been camping near a Montana lake or river, and you want an extra dose of aqua serenity. This is also a water activity you can make as strenuous as you want to. Lazily paddle across the stillness of Cliff and Wade Lakes or ride a little rapid along a bouncing Montana river. With lots of kayak rentals available out there, there are so many awesome ways to choose your own adventure. Plus, with Montana being such a dog-loving state, this is definitely a water activity that can involve the pooch if yours happens to be very well behaved. Combining exploration and water activities, kayaking can be a whole lot of fun.
White Water Rafting
Image Courtesy of Big Sky Montana Net
Looking to really amp up your water activity excitement? Might we recommend some white water rafting? The Gallatin River has some of the best rapids in southwest Montana if you're looking of a little more of a water thrill. There are a slew of places along the Gallatin Canyon/US. Highway 191 where you can book a whitewater rafting trip, and they will outfit you with all of the gear and information you need for one awesome Montana adventure. You can also find some pretty great whitewater rafting opportunities on the Yellowstone River with whitewater rafting companies based out of both Livingston and Gardiner. It's definitely an experience you'll want to tell your friends about after you return home from your Montana vacation. 
Ridge Waters Waterpark
Image Courtesy of Ridge Waters Waterpark
Maybe you're looking for a water destination that has a little bit of something for everyone in the family. We recommend Ridge Waters Waterpark in Butte, Montana! As the newest waterpark in Montana, it has a lot of fun to offer. It includes a few twisty slides for the kids, a lazy river for mom and dad, and some shallow play areas for the really young ones. Even if you aren't into the wet and wild waterpark action, there are lots of places to lounge in the sun or on a covered beach chair. Butte is a quick hour drive west of Bozeman, so this is a fun way to create an exciting Montana day trip for the whole family. There are fees and differing hours depending on the time of year/summer, so check out their website for more details.
Written by: Cassi Miller