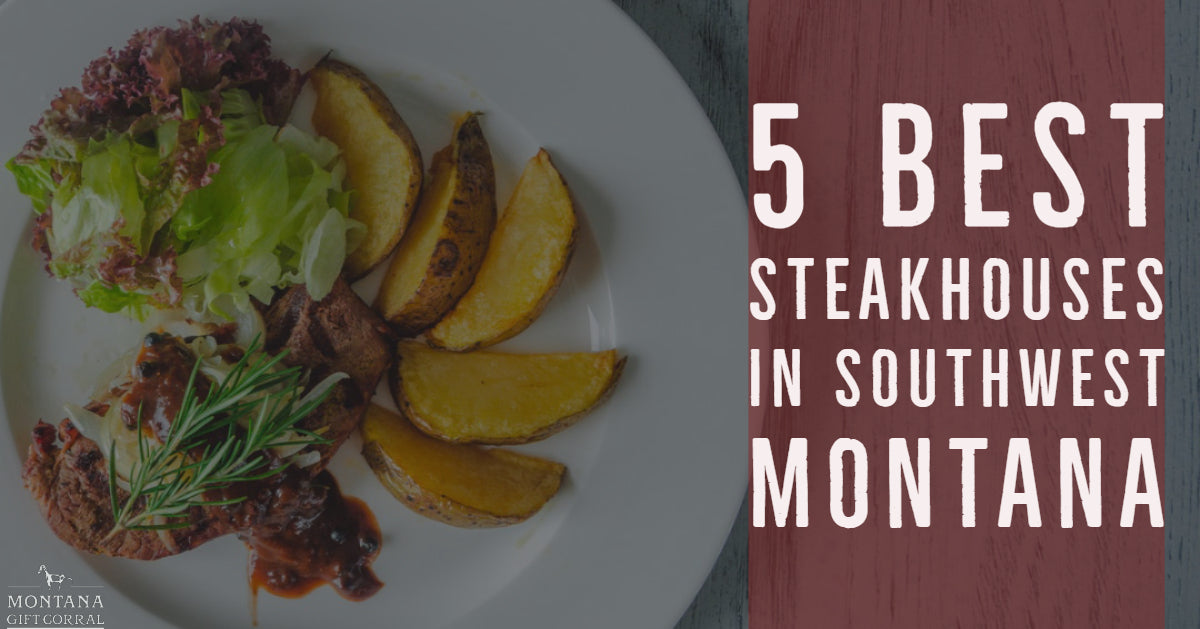 5 Best Steakhouses in Southwest Montana
Montanans take steak seriously. We all know the best is the one you cook at home, but sometimes you just have to explore what's out there when it comes to food. The neat thing about Montana is, more often than not, the best steaks are cooked in little mom and pop joints in one-horse towns. You're not going to find flashy advertisements or marketing campaigns for them either. This is purely word-of-mouth, ask-the-locals territory. So, let's settle in for this journey and explore five of the best steakhouses in southwest Montana.
Sir Scott's Oasis
Photo Courtesy of Thrillist
This here is an icon. If you're within a 100-mile radius of Manhattan, Montana, you've heard of Sir Scott's Oasis. In fact, if you Google this joint, you won't find a website, but you will find an infamous story involving Jane Fonda, though you might want to take that with a grain of salt. Whatever your thoughts on reputation, the food speaks for itself. In the heart of Manhattan, you'll find heaping helpings of crab legs, a range of cuts of steak, and a full bar. Plus, you'll get the classic steakhouse accouterments: relish tray, cracker basket, fresh salad, and a choice of side. And, while this is a departure from traditional steaks, I can't speak highly enough of the deep-fried finger steaks and cocktail sauce. So. much. yum.
Land of Magic
Photo Courtesy of Sunset Magazine
Logan, Montana is known for three things: the landfill, the gun range, and the Land of Magic Steakhouse. When you roll into Logan, you can't miss this place, especially because it's one of the only working businesses there. The building itself is just plain cool with a wood arch entrance covered with bleached antlers and paddles. The interior is classic 70s steakhouse mixed with log cabin. And the food, oh, the food. With Certified Angus Beef cuts and an array of seafood, you're in for a true treat. It's another place where you'll get the full range of food: relish tray, salad, shrimp cocktail, and delicious home-baked bread. What makes them famous? The twice-baked potatoes! Reservations are a must at Land of Magic. The secret's out on this one.
LaHood Park Steakhouse
Photo Courtesy of LaHood Steakhouse
Here's another steakhouse in the middle of nowhere. Thanks to working at our gift shop and deli at Lewis & Clark Caverns State Park, I was introduced to this place. Built on a beautiful bank of the Jefferson River and across from a now-defunct hotel that was once used in a movie, this quaint restaurant is bursting with good food. With a full bar on one side and dining room on the other, LaHood offers all sorts of foodie delights. If you want prime rib, they've got it. If you want baby back ribs, they've got 'em. Plus, they rotate through some pretty outstanding nightly specials ranging from charbroiled lobster prawns to bacon and smoked gouda mac and cheese. Plus, you can't beat a huge LaHood margarita. Basically, an experience here lives up to their motto: it's all good at LaHood.
Willow Creek Cafe and Saloon
Photo Courtesy of Last Best Plates
Here's another one that requires a drive and a spirit of adventure, but the Willow Creek Cafe and Saloon definitely won't disappoint. While it's had a change of ownership in recent years, the legacy continues. To drive into Willow Creek, you might almost miss the place if not for the sign posted outside the bright yellow house. Once inside, the uniqueness of the place continues. It's as if this restaurant sprung up inside of someone's house. With flowery wallpaper and classic dining room tables, you instantly become family. This place is known for its ribs. Tender and saucy, you can't go wrong there. But, I would also recommend the chicken fried steak, which has some of the best pan gravy I've ever tasted. And if you're looking for something sweet to top it all off, the bread pudding is heavenly.
Edgar Bar
Photo Courtesy of the Edgar Bar
This steakhouse recently landed on my radar as a place to try. Again, you're in for some driving. Located roughly forty miles southwest of Billings, Edgar has a population of about 114, but the Edgar bar has a reputation for good food bigger than the town. And this menu definitely has something for everyone. With a healthy list of appetizers, a variety of burgers, and a classic steak menu, you're sure to fall in love with this place. I asked someone I knew if they'd ever eaten at the Edgar Bar and he regaled me with a story of jumbo prawns the likes of which he'd never seen before. The biggest in the state, he told me. So if you're one for road trips and good food, this is definitely the place for you!
Once you're done road tripping and eating your way through the best steakhouses in southwest Montana, maybe you want to cook at home! We recommend some delicious Montana made seasonings and sauces to get you started on your own delicious dish! Bon appetit!