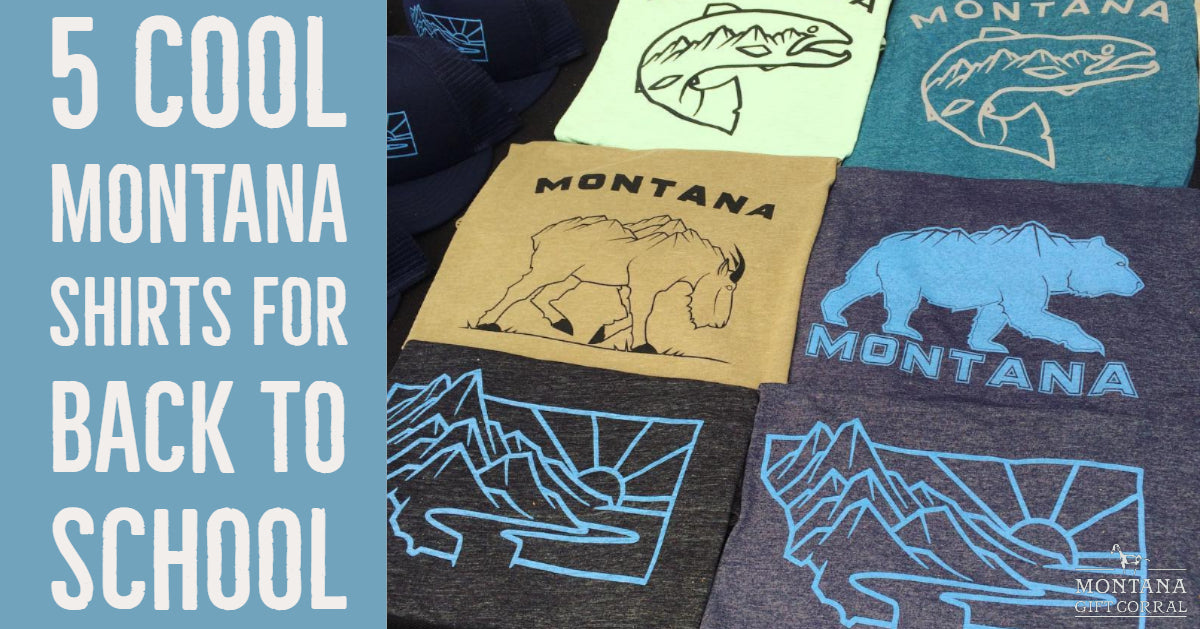 5 Cool Montana Shirts for Back to School
Back to school means back to clothes shopping. In Montana, this time of year also means our weather is going through some serious mood swings. From a wild and raucous rain shower in the morning to dry heat in the middle of the afternoon, it can be difficult to dress for our weather patterns. Luckily, we carry a little bit of everything when it comes to Montana clothing! Montana t-shirts, Montana sweatshirts, even Montana hats! We can outfit you in the best that Big Sky Country has to offer. Here's a few of our favorite selections for keeping you and the family looking cool through the whole school year. 
Beautifully modeled by Averi, this t-shirt is for that Sasquatch obsessor in your life. Montana is definitely Bigfoot country. Up north, there have been recorded sightings of the elusive creature and there are even several local festivals that prominently feature a Sasquatch hunt. Sport this awesome Montana t-shirt to let others know what you'll be doing in the woods. Looking for footprints and practicing your bigfoot call are fun ways to spend the afternoon! 
Go cats go! We are major supporters of Montana State University, which is why we try to carry plenty of MSU gear in our stores and online. We especially love this shirt that Chris is sporting because it, well, makes us feel the love. In our bold blue and gold colors with the Bobcat logo standing out, everyone will know who your favorite Montana team is! We love to show our serious Bobcat spirit, so we recommend pairing it with a Montana State University hat or other Bobcat gear to complete your look. GO BOBCATS!
Bozeman definitely has its own unique, funky vibe. So many people here are getting into the tiny housing movement, and it is a pretty awesome way to live. With a house on wheels, the world is your playground. Set your bus, trailer, or van in Bozeman for a week, maybe try out West Yellowstone for a while, and head over to Red Lodge or Philipsburg when you're craving something new. We fully embrace the Bozeman feel with this stunning bright red Bozeman t-shirt. It lets everyone know that you're a part of the cool culture that makes up our neat mountain town.
Hot new product alert! This geometric t-shirt from Peaks and Prairies by Connor Briney is an absolutely awesome Montana made shirt. Based out of Whitefish, we have a soft spot for this particular company. While the shirts are new to us for 2019, they are keeping it all in the family! We've carried Montana pottery from Briney's parents for years. We love Mountain Brook Studios. Featuring some of Montana's most well-known wildlife and cool images, this is definitely a unique way to sport some Montana clothing.
Remember what I said about the weather earlier? It's hard to think about fall or winter weather in the heat of August, but it's smart planning in Montana. That's why we want to showcase an awesome Montana sweatshirt for when the weather gets wild. Speaking of wild, this features one wild buffalo decked out in a dashing buffalo check bomber hat. A buffalo in buffalo check? Who would have thought! But, this cozy sweatshirt is just what you need not only to show your Montana pride but to keep handy wind, rain or shine!
Written by: Cassi Miller