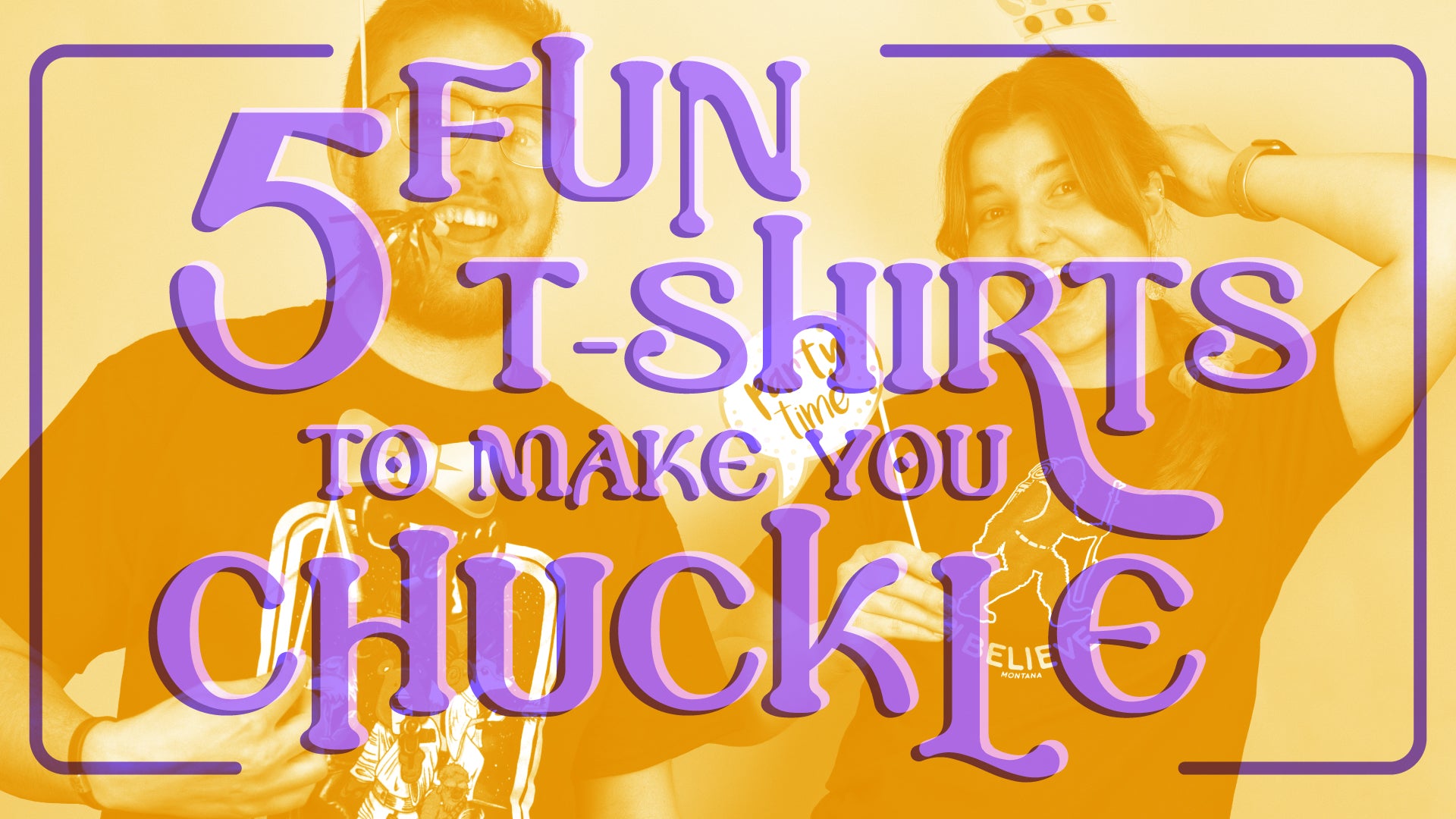 5 Fun T-Shirts to Make You Chuckle!
Life is too short for boring clothing. Luckily, here at Montana Gift Corral we have an array of hilarious t-shirts and sweatshirts that are sure to make anyone smile. From star wars inspired tops, to t-shirts featuring the legendary bigfoot, we just know you will fall in love with our vast selection. So without further ado, lets highlight a few of our favorites!
Everyone knows that Montana is credited as a hub for wildlife, this being said, did you know that it is also home to one of the world's favorite cryptids? That's right! Every year, people claim to have caught a glimpse of the famous Bigfoot - a 7-foot-tall human-like creature that roams the woods. 
Show your support for your local Montanan bigfoot with the fun Black Montana Sasquatch Backpacking Tee Shirt by Fat Graphics! With a design stating "I Believe" you will let your friends, family, and loved ones know that you are in touch with all things wild and weird. Who doesn't want a t-shirt with bigfoot on it? I know we sure do! 
Star Wars an iconic 1977 film turned pop-culture phenomenon is beloved by many worldwide. Once started as a singular film, Star War is now a space-inspired multimedia franchise, that truly has the whole world in a chokehold! Best known for its epic battle scenes, loveable robots, and dramatic conflict, this series evokes emotion into each and every one of its fans.
If you love Star Wars as much as we do, why not pick up our Black Star Forest Montana T-Shirt from Sherry Manufacturing Co? This shirt cleverly combines Montana's diverse wildlife with the diverse Star Wars cast. Princess Leia becomes Princess Fox, Luke Skywalker becomes Luke Skybear and Darth Vader? More like Darth Moose! Stating "May The Forest Be With You" we just know that this t-shirt is perfect for any Star Wars lover! 
Get Lost T-Shirt
Whether you are a Montana local, or are simply traveling through the big sky state, are sure you've seen the Get Lost graphic featured on cars, buildings, or water bottles! While many people are afraid of offending their friends, family, and loved ones with this famous campaign from the Montana Office of Tourism, we have to say, it is one of our favorites! 
Montana is known as one of the ideal locations for outdoor recreation. In fact, here in the treasure state you will find people backpacking, hiking, camping, hunting, fishing, and skiing/snowboarding in the wintertime. Not only is this one-of-a-kind campaign a bit humorous, but stands as a constant reminder to get outside to stay grateful for the opportunity to recreate in such beautiful landscapes!
There is nothing better than unwinding after a long work-week with a cold beer in hand. But wait, this t-shirt isn't talking about a normal beer, is it? What do you get when you cross a bear and a deer? Well, a beer, of course! If you've been on the hunt (pun intended) for a hilarious t-shirt to add to your collection, then make sure you take a peek at the Navy Montana Beer T-Shirt. 
Featuring a fun 'beer' design, we guarantee that you will get chuckles from strangers no matter where you roam. I mean, who can resist a good wildlife-inspired joke?
If you've been in Montana for any amount of time, we are sure you are aware of how inconsistent MT weather can be. One moment it is 80 degrees and sunny, and the next is pouring rain with lightning. While it Montana it is important to be prepared for any type of weather. Trust us, you don't want to get stuck in a MT storm without a jacket... we've been there. Luckily, we've got what you need to keep the shivers at bay!
When it comes to picking out the perfect sweatshirt, it is important to choose one that brings a smile to your face. The Graphite Debonair Buffalo Montana Sweatshirt will do just that! When that evening chill strikes, this cozy hoodless sweatshirt will be your best friend and partner in crime with its super fuzzy interior and extra-long sleeves. Nasty MT weather doesn't stand a chance!
Written by: Alexa Jorgenson, MGC Content Creator
Photos by: Haven Windsor/Luke Clark, MGC Photography Team
Blog cover by: Averi Thompson, MGC Graphic Designer