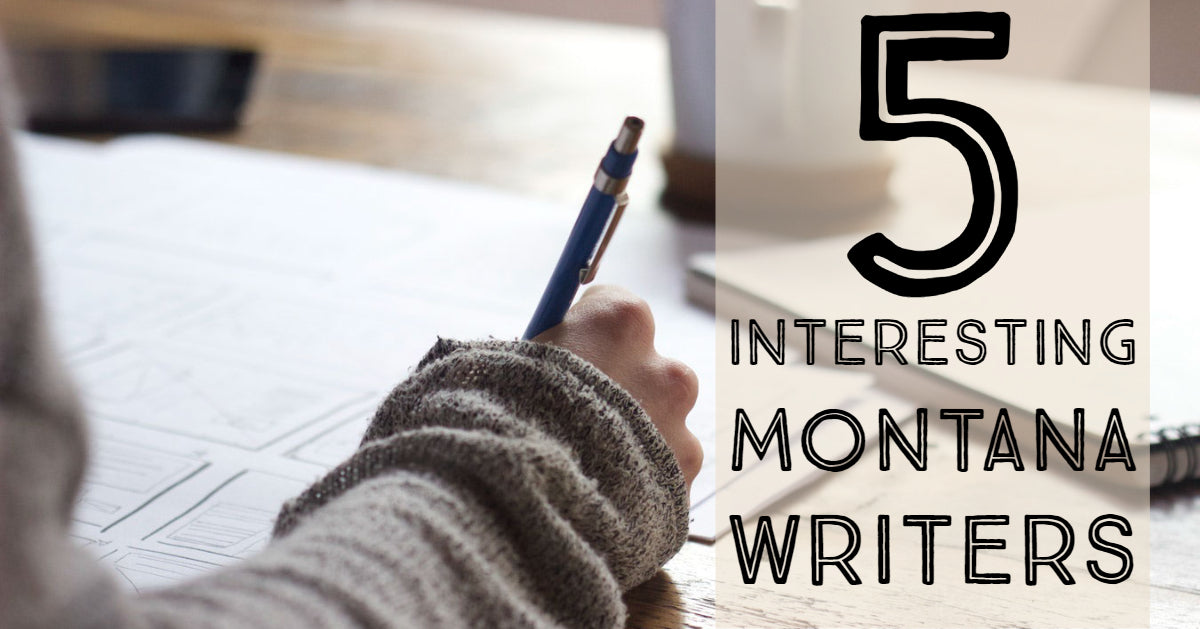 5 Interesting Montana Writers
    A breathtaking scene unfolds before you. Over one-hundred-forty-thousand square miles of vast pine forests, massive mountains, and crystal clear lakes. Montana is a called the Last Best Place for a reason. Montana is home to the first national park. It's home to the most diverse set of mammals in a state. It has over three-thousand lakes full of fish, amphibians, and fresh-water mammals. Montana has forty state parks, ten national forests, and ten national wildlife refuges. It's really no surprise that Montana is home to a wide range of artists and writers. So why not check out some of these interesting Montana writers?
Rick Bass
Photo courtesy of Rick Bass
    Rick Bass is one of the most famous Montanan writers out there. But the Montanan legend wasn't born in Montana. Rick Bass was born on March 7 in Fort Worth, Texas to a geologist. Rick Bass spent his early years growing up in the city of Houston. He went on to study petroleum geology at Utah State University in Logan, Utah. After graduating from USU, Rick Bass traveled East to Jackson, Mississippi. While living in Mississippi we worked as a petroleum geologist, but during his lunch breaks, Rick Bass was writing.
    In 1987 Rick Bass moved to the remote Yaak Valley in Northern Montana. When he moved his wife, Elizabeth Hughs Bass, the famous artist, moved with him. While Rick Bass lived in the Yaak Valley, he served on the board of the Yaak Valley Forest Council and the Round River Conservation Studies. Rick Bass wanted to protect his new home from the logging industries as well as from road construction. After more than twenty years of living in the Yaak Valley, Rick and Elizabeth Bass decided to move to Missoula, Montana in 2011. Today Rick Bass still writes to his heart's content while traveling the United States and the rest of the world, giving readings and teaching.
Bernice Ende
Photo courtesy of Olivia Harlow
    On a small dairy farm just outside of Rogers, Minnesota a young girl grew up riding the wind and chasing her dreams. Bernice Ende was born to a knarl-handed dairy farmer and his wife, a woman who encouraged taking life by the reigns. Bernice grew up riding horses around the 100+ acres of land, imagining what it would be like to be riding through the wild west alongside the Lone Ranger and Hop-a-Long Cassidy. After Bernice was inspired by the grace of the horses, she went to Portland to study dance. From there she learned the Royal Academy of Dance method and went on to teach ballet for twenty-five years. In 1992 she moved to Trego, Montana where she opened up a dance school. Ten years later, Bernice Ende retired.
    However, retirement didn't bring inactivity, it brought a window of opportunity. It was only after retiring Bernice felt the pull of the open road, the desire for adventure, the need to go, to see, to experience. So in 2005, after an epiphany and a battle with her desires, Bernice Ende started a 2,000-mile journey on horseback. Since then, Bernice has logged more than 30,000 miles in the saddle. Her book, Lady Long Rider is a beautiful account of her journeys, her hardships, her hopes, and fears. If you want a raw and wonderful story, her's is one I highly recommend. 

Ellen Baumler
Photo courtesy of Thom Bridge
    When Ellen Baumler graduated from the University of Kansas with a Ph.D. in English Classics and History, she never imagined "detective" would be a word used to describe her. But after she moved to Montana with her husband and daughter in 1988 that began to change. Ellen Baumler is what some would call a legitimate Historic Detective. A detective is a person whose occupation is to investigate and solve mysteries by using the information and knowledge available to them. And what could possibly have more mystery than history? A historical mystery is a secret, hidden story or an inexplicable matter that happened in the past. Ellen Baumler began her career as a historical detective when she joined the Montana Historical Society as an interpretive historian in 1992.
    Ellen Baumler started her career with the Montana Historical Society by creating interpretive signs of historical Montana sites. Soon Ellen Baumler was writing and developing walking tours of historic districts as well as successfully submitting nominations to the National Register of Historic Places. Ellen Baumler began working with the Montana Department of Transportation reviewing and writing historical roadside markers for Montanan roads. Ellen Baumler still shares her love for history throughout the state. She continues to be an interpretive historian at the Montana Historical Society and also hosts the show "History on the Go" on Cherry Creek Radio. Ellen Baumler also continues to pursue her hobby of investigating the history behind Montana's ghosts and haunted places. The spooky stories she uncovers are the ones she shares in her novels.
Doug Peacock
Photo Courtesy of Doug Peacock
    The thick pine forests, marshy swamps, and rich history make Michigan an adventurous place to grow up. Something Doug Peacock knows very well. He spent his early years romping around in the forests, fishing for trout, and exploring the ancient encampments left by people of the past. Once he was old enough, Doug Peacock spent two summers as a research assistant with the University of Michigan. Thanks to the National Science Foundation's grants Doug Peacock was able to aid archeologists at a site he discovered and at a site in Alaska. Despite Doug Peacock being a part of a group that later became known as the "New Left" and being anti-war, he served in the Vietnam war. Doug spent two tours in the Central Highlands of Vietnam as a Special Forces medic.
     After serving, Doug Peacock was sent back home to the Rocky Mountains. While there he met Edward Abbey and helped inspire The Monkey Wrench Gang. The beautiful mountains and serenity of the wilderness were exactly what Doug Peacock needed to help combat the demons from the war. Doug Peacock claims that it was the Grizzlies that healed his soul, and he wanted to return the favor. Doug Peacock began traveling between Yellowstone National Park and Glacier to document the struggles that Grizzlies face. Forty years later Doug Peacock has co-founded the Wildlife Damage Review, Vital Ground and Round River Conservation Studies, lectured and written widely about wilderness from bears and buffalo to tigers and deserts, and published several novels.
Barbara Fifer
Photo courtesy of Helena Independent Record
    Born in Ohio to Stan and Martha Fifer, Barbara Fifer was named after Barbara Stanwyck, the model of a fiercely independent woman. Growing up in Sidney, Ohio, Barbara Fifer was encouraged to pursue her interests by her parents and uncle. When Barbara Fifer was in eighth-grade she did a science fair project on Radiocarbon dating which was inspired by her love of history. She went on to become the editor of her high school newspaper the Sidney Daily News. After Barbara Fifer graduated from high school she went on to study creative writing and comparative literature at Ohio State University. In 1969 Barbara Fifer graduated from OU with a BA in her areas of study and later that year she married Cliff Rackley in Helena, Montana.
    After a brief journey to Pennslyvania, Barbara found herself back in Montana. Once back in Helena, Barbara Fifer began working for Montana magazine. After a while, Barbara turned her attention to freelance writing. As a primarily nonfiction writer, Barbara Fifer used her experience, creativity, and skills in analysis to write more than seventeen novels. Barbara Fifer also used her knowledge and experience to expertly review and critique short stories, films, novels, and music. Barbara spent her days living life, writing stories, and enjoying beautiful Montana all the way up until she passed away on a warm summer afternoon.
 Obituary appeared in The Missoulian written by Linda Fifer
By: Issa Rabideaux