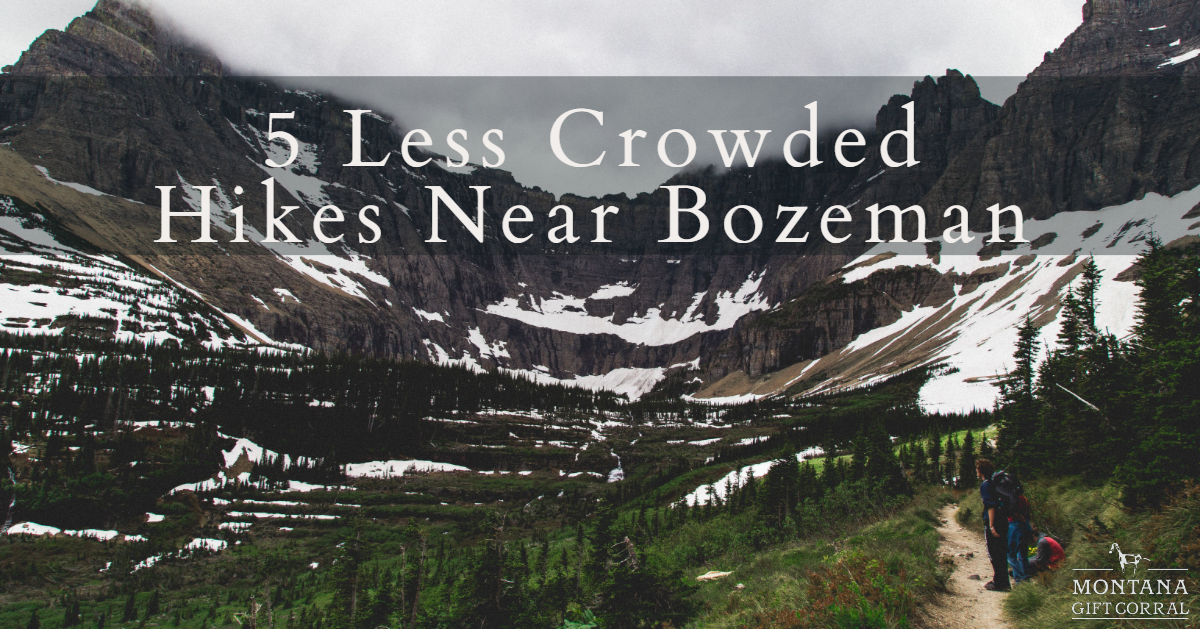 5 Less Crowded Hikes Near Bozeman
"I go to nature to be soothed and healed, and to have my senses put in order"
- John Burroughs 
Staying indoors and limiting interactions with others is a difficult task. With our attempts to practice social distancing, it may seem logical to head into the backcountry. While communing with others isn't an option, commune, instead, with nature. We're featuring five less crowded hikes near Bozeman. Our hope is not for these areas to have increased traffic, but to highlight options for you to get out and feel Montana underfoot. Please continue to practice social distancing, give other hikers space, and, if the trail head seems busy, save a hike for another day. This list may serve best as a guide for future hikes as you use this mud season to plan for long summer days.
Our connection to nature in Montana is something special, something sacred. It takes determination, will power, and a sense of craving wild spaces to be a Montanan. So, it makes sense that we take our hiking opportunities very seriously. Everyone should get outside and enjoy the great outdoors, but sometimes that creates crowds. That might deter someone from hiking those busy spots. Hyalite Canyon is gorgeous. Hiking the M Trail is a right of passage. Fairy and Lava Lake have dedicated champions. But, where do you go if you want a bit more solitude? If you want the experience to be uniquely yours? We're here to help with that!
  Madison Buffalo Jump State Park
Montanans are insanely passionate about our state parks. We love the national parks, too, but our unique state parks hold a special place in our hearts. One such place for a quieter hike is the Madison Buffalo Jump State Park. Now, it is a bit of a drive from Bozeman, but sometimes you need to do that for a little solitude. This state park has a few informational placards and kiosks, and you can either explore around the bottom of the cliff or hike to the top for a splendid view of the valley below. Rich in history, you can read about how Native Americans used the location during buffalo hunts and you might even be lucky enough to find an old artifact! But please leave it there for others to enjoy. It is open year-round, but be sure to pack for changing conditions because you just never know with that Montana weather! For a unique view of this state park, we recommend this awesome video produced by Montana State Parks!
Hike Distance: 3.1 miles
Elevation Gain: 725 feet
 Lewis & Clark Caverns State Park
You want to talk beloved state parks, just ask any Montanan who's been to the You want to talk beloved state parks, just ask any Montanan who's been to the southwestern part of the state about Lewis & Clark Caverns State Park. And yes, we are biased as we do run the gift shop and deli at the top of the mountain, but it is still one of the best state parks in Montana! Everyone knows about the fantastic cave tours where you'll get fascinating facts and information from the knowledgeable guides, but did you know you can also hike in other places around the park? There's a series of trails for the most experienced hiker to the newbie. In fact, the Nature Loop Trail and the Fishing Access Trail are both great for easy hikes and beautiful wildflower spotting. Want something more challenging? We recommend the Cave Gulch Trail. This sucker gains 1,000 feet of elevation in 1.9 miles, but it is closest to the historical journey early cave visitors took during Montana's pioneering days!
Hike Distance: 7.6 miles (total for all hikes)
Elevation Gain: 1,870 feet (total for all hikes)
  Mt. Ellis Meadow Loop
Calling all those wildflower lovers! This hike is perfect if you're looking for some gorgeous spring wildflower action. The great thing about this particular trail is that you can stop whenever you want to. The first mile takes you through a wide-open meadow, perfect for a pup or kids to run. It does quickly gain some elevation though, which means as you look back you can get some pretty beautiful views looking out over the Gallatin Valley! Most people don't complete the loop--they often hike up for the views and then go back the way they came--meaning if you do the complete loop, there's a good chance you'll be the only one on the trail. You get a little bit of everything on this hike: meadows, flowers, forest, elevation gain, and beautiful views. This definitely has a little something for everyone!
Hike Distance: 3.4 miles
Elevation Gain: 735 feet
 South Fork Spanish Creek Trail
Of the five, the South Fork Spanish Creek Trail might be the most trafficked, but we'd be remiss if we didn't recommend a hike somewhere in Gallatin Canyon. The drive down Highway 191 offers so many awesome hiking opportunities. This one is pretty great because, again, it gives you options. If you'd like a relaxing adventure with kids or dogs, the first 2-3 miles of this hike are fairly easy. They follow the creek and are easy to enjoy. If you want to push yourself a little further, you can traverse all the way up to Mirror Lake. The most strenuous part of this trail is probably the last 2 miles. This is bear country, so we recommend bringing bear spray and making plenty of noise along your way. This trail is also open to horseback riders, so exercising proper trail etiquette is a must. And watch out for horse poop!
Hike Distance: 7.5 miles (to Mirror Lake)
Elevation Gain: 2,256 feet (mostly in the last half)
 Jackson Creek Trail
This trail is particularly fun because it combines a beautiful drive with a beautiful hike. Located in the Bridgers, locals believe there's much less of a bear presence (if any) in those mountains, so if bears worry you, this is the place to go. The drive takes you along Jackson Creek Road, following the winding creek through some pretty forest land. The actual trailhead is a ways up the road but offers some neat views and good chances at seeing wildlife. In all honesty, you won't find a lot of information about this trail online. It's one you actually have to drive up to and experience. Also, this trail is used by dirt bikers in the warmer months, so it's something to be mindful of should you head out on this excursion. Taking all of that into consideration, this unique hike is definitely worth the travel!
Hike Distance: 8 miles
Elevation Gain: unknown
As with any outdoor experience, make it your own. Pay less attention to the hike distances and elevation gains, and more attention to the beauty and splendor around you. Don't be intimated by long hikes. Stop and turn around when you need to. Most of all, enjoy yourself. Montana has so much to offer hikers!
By: Cassi Miller
Photos Courtesy of AllTrails.com
Video Courtesy of Montana State Parks