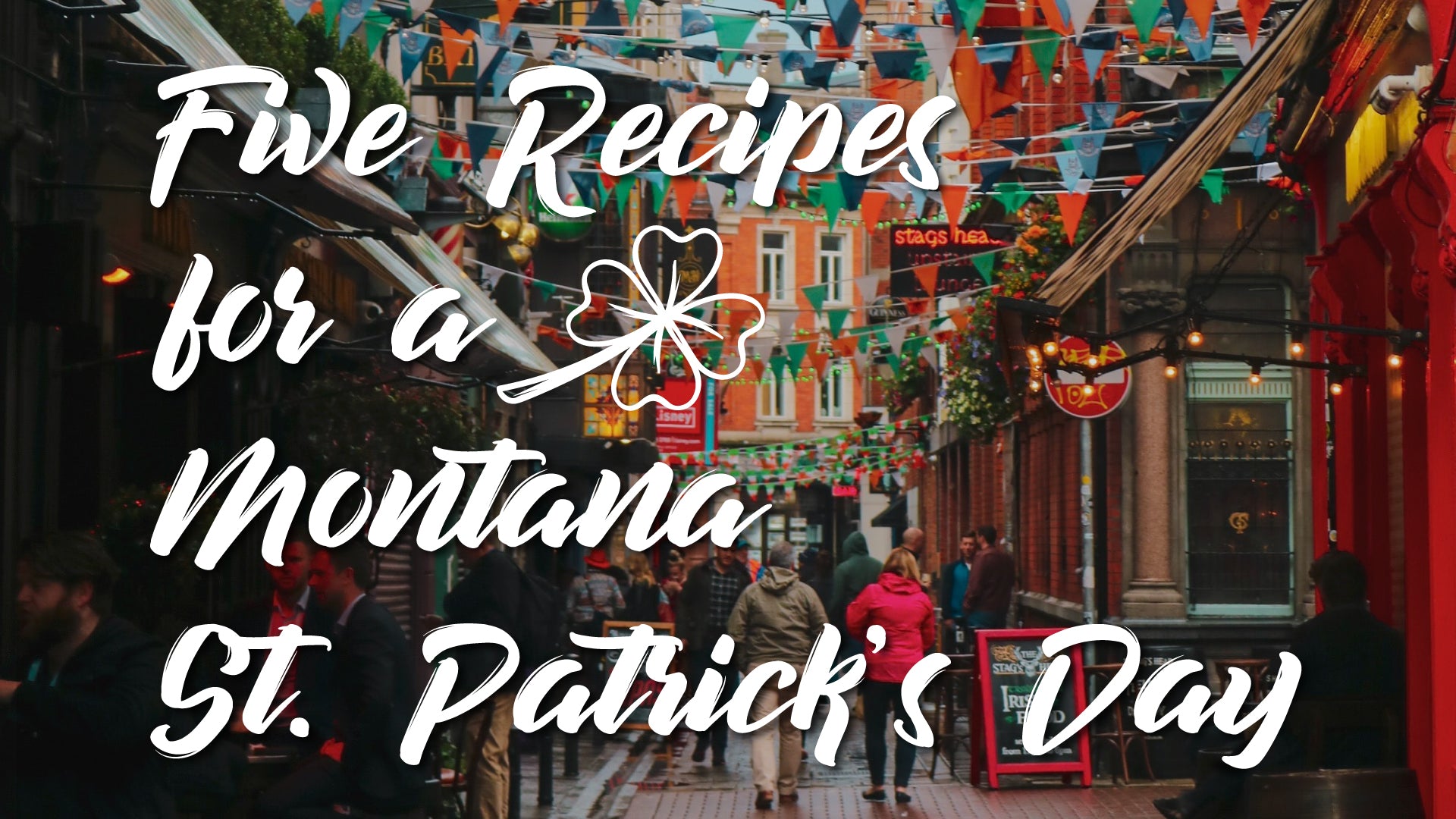 5 Recipes for a Montana St. Patrick's Day!
It's finally that time of year again! The time of year when you can dress up in green and drink as much as you can get your hands on! But St. Patrick's Day, also known as The Feast Day of St. Patrick, is more than just a day to pinch people and get drunk. Everyone knows the origin story of St. Patrick's Day. How St. Patrick was brought to Ireland as a slave but escaped, only to return to convert the pagans to Christianity. Afterward, St. Patrick's Day became a day for religious services and celebrating his legacy with grand feasts! So before you go out partying with your friends, why not try celebrating the Feast Day of St. Patrick with a small Irish-inspired homemade meal?
Your Very Own St. Patrick's Day Feast
Ireland is known for its corned beef, potatoes, and cabbage. And while bacon and cabbage and Irish stews are absolutely amazing, mix it up a little this St. Patrick's Day. To have a hearty feast on this Feast Day of St. Patrick, look no further than these delightful and traditional Irish recipes that have been loved for generations! Make all three recipes for a fantastic feast or make one or two to get you in the St. Patrick's Day mood! The fact that these recipes are the perfect way to warm up on a chilly Montana day is just an extra bit o' luck.
1. Butte Montana Meat Hand-Pasties
The traditions of St. Patrick's Day that we know and love today came mostly from emigrants. Cities in the United States with a large Irish population would celebrate their heritage on St. Paddy's Day. It was a chance to celebrate a shared heritage and culture. And the bustling mining town of Butte, Montana has a hearty Irish population. St. Paddy's Day in Butte is a sight to behold, the usually quiet streets of this old mining town are suddenly loud and rambunctious. The perfect blend of Montana and Ireland, the Butte Montana Meat Hand Pasties are a must have for any St. Paddy's Day Feast!  
Serving Size: Two Pasties
Directions
To get started preheat the oven to 425°F (220°C).
Prepare dough in the food processor until it's a smooth and mold-able consistency. Mix the filling ingredient together in a separate bowl.
Roll the dough into 2 flat circles, each about 8 inches in diameter. Add half the filling to each and fold the dough over. Seal the edges with cold water, and crimp with a fork. Cut two slits in the top of each pasty, and place on a lightly greased or papered baking sheet. Bake for 30 minutes. Add a tablespoon of water to each pasty through the slits, and bake for 15 more minutes. Let cool on a wire rack. Enjoy!
2. Colcannon
Colcannon image via Taste of Home
Colcannon is a traditional Irish food that was once popular at all times of the year. Colcannon is primarily mashed potatoes and either cabbage or kale mixed in. These simple ingredients made it a low-cost and easy-access food. Today Colcannon is typically made in the winter when Kale is in season and it is traditionally made during Halloween with small trinkets and prizes hidden inside!
- Makes 2 servings
.
Directions

Peel and cut the potatoes into medium sized pieces, and place in a large pot. Add water until the potatoes are covered, then bring to a boil over medium heat until tender and soft. Drain well. Slice the cabbage into slivers while the potatoes cook, and chop the onions into small pieces – including some of the green parts will add a fun flourish. Mash the potatoes by hand or with an electric mixer, adding salt and pepper to taste. Add enough of the milk to get a creamy consistency.
To cook the cabbage, bring a pan of water to boil. Add a little salt, and cook the cabbage until it is just tender – about 3 to 5 minutes. Be careful not to overcook! Drain the cabbage well, then mix your potatoes, cabbage, and onion. Add the green parts of the onion on top as a garnish.
3. Traditional Irish Lamb Stew
When you have a bunch of root vegetables and some meat, what is the best thing you can make that is hearty and warm? Stew! Stew is a great way to take random vegetables and a random hunk of meat and make a meal that is amazing.
.
Directions
Place bacon in a large, deep skillet. Cook over medium-high heat until evenly brown. Remove bacon from the pan, crumble, and set aside.
Put lamb, salt, pepper, and flour in large mixing bowl. Toss to coat meat evenly. Brown meat in the skillet with reserved bacon fat. Transfer meat to a stock pot and leave 1/4 cup of fat in the pan. Add garlic and 1 large chopped onion to the skillet and sauté until the onion starts to become golden. Deglaze the pan with 1/2 cup water and scrape up any brown bits on the bottom of the skillet with a wooden spoon. Add garlic and onion mixture to the stock pot with bacon pieces, beef stock, and sugar. Cover and simmer for 1 1/2 hours. Add carrots, 2 large onions cut into bite-size pieces, potatoes, thyme, bay leaves, and wine to the stockpot. Reduce heat, cover, and simmer for 20 minutes or until the vegetables are tender. 
St. Patrick's Day Drink and Dessert
Now that you have your main course planned out, why not take time to enjoy the sweeter things in life? After all, no feast is complete without a sweet treat at the end! And all of this savory food has made you a little parched, but don't worry there are plenty of fun beverages to choose from! Check out this traditional treat with a St. Paddy's twist and the perfect Irish beverage for chilly Montana days! 
1. Irish Cream Truffles
Recipe from ThoughtCo and Image from Saving Room For Dessert
Satisfy your sweet tooth this St. Patrick's Day with some Irish Cream Truffles! Chocolate truffles are a tasty treat at any time of the year, made from a chocolate ganache middle and covered in more chocolate, nuts, or sprinkles. Chocolate truffles vary from place to place, like French chocolate truffles are made with fresh cream! Give the traditional treat a St. Paddy's twist by using Irish Cream Liquor in your truffle creation!
.
Directions

In a heavy saucepan over low heat, combine the Bailey's and chocolate chips. Maintain over very low heat so your chocolate doesn't scorch, and stir until the chips have melted. Add heavy cream and egg substitute. Blend until smooth. Stir in butter, whisking until thick.
Remove from heat, and chill overnight until firm. Once the mixture has firmed up, use a spoon to scoop it out and roll into 1" balls. Roll each ball in the cocoa powder until coated. Depending on the size of the balls you can get a few dozen truffles out of this.
2. Scaitlin - Whisky Milk Punch
The Irish twist on the traditional milk punch, Scaitlin is a great way to kick off your St. Paddy's festivities! Milk punches are a relatively common beverage throughout history, the alcohol in them made them easier to preserve and bottle. But Scaitlin has been brewed in Ireland since 1700s and was so popular that Queen Victoria granted Nathaniel Whissof's company the right to be the sole maker of Scaitlin for the crown in 1838.
- Makes 2 servings
.
Directions

Pour the milk and the whiskey into a saucepan. Slowly stir in the honey, ginger, and cinnamon. Whisk the concoction slowly while heating it, keep an eye on it! Turn it off and remove the saucepan from the heat just before it can begin to boil. Pour into your mugs of choice and top with nutmeg!
For some variations, try adding whipped cream, a touch of Baileys, or a bit of vanilla for an even smoother taste – if you use vanilla, add it close to the end of the cooking process so it won't steam off!
Whether you decide to celebrate the Feast Day of Saint Patrick with a small feast using some or all of these recipes or celebrate St. Paddy's Day by skipping the feast and hitting the bars, be sure to bundle up and stay safe! Just because there's an extra bit o'luck out tonight, doesn't mean we should push it!
-Emma Katherine Roberts
Edited by Issa Rabideaux, Alexa Jorgenson