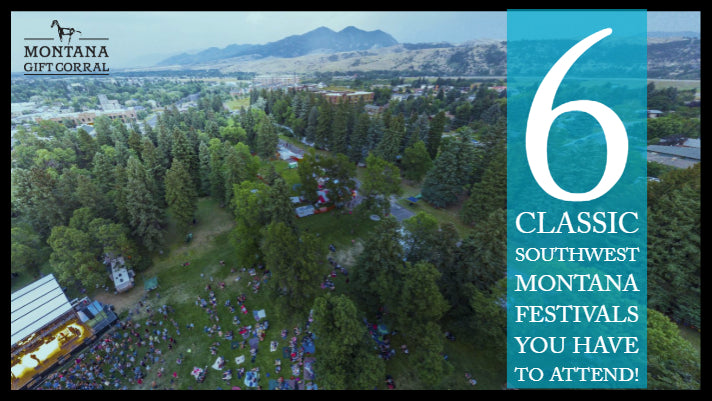 6 Classic Southwest Montana Festivals You Have to Attend!
     When Montana got the nicknames "The Treasure State" and "Big Sky Country" it was probably with images of Southwestern Montana in mind. This beautiful region of Montana is nestled perfectly between Glacier National Park to the North and Yellowstone National Park to the South, with plenty of smaller national parks within! With three of Montana's biggest cities, some of the states most infamous ghost towns, and miles of national forest; there's a lot going on! So when you're not admiring wildlife in the Beaverhead-Deerlodge National Forest or experiencing the living history at the Virginia City ghost town, why not check out the amazing culture of Montana's cities at these fantastic festivals.
1. Sweet Pea Festival
Saturday Night's Concert 2017. Photo courtesy of Sweet Pea Festival facebook and drone.
     Bozeman's Sweet Pea Festival is an exciting three-day festival celebrating the arts. Founded back in 1978, the Sweet Pea Festival had one mission, to promote and cultivate the arts. Now, forty years later, the festival is successfully doing just that. Held the first full weekend of August at Bozeman's Lindley Park, the festival features food vendors from around town and the locally made craft-vendors. The event actually begins Tuesday with the Sweet Pea Festival sponsored Chalk on the Walk. On this day children, adults, and even professional artists alike draw fun and unique pieces all over downtown Bozeman, with chalk provided by local businesses. The fun continues with Wednesday's Bite of Bozeman. Starting at 5:30 and going for three hours, Bozeman's historic Main Street transforms into an exciting pedestrian-only zone with local food vendors and live music. Sweet Pea officially kicks off Friday evening with a performance by Montana Shakespeare in the Parks. The festivities continue Saturday with a parade and the children's run that lead the crowd to Lindley Park. From then until 7 pm on Sunday there are over 100 arts and crafts vendors to browse, exciting family-friendly activities and workshops to participate in, a flower show and a beer garden to enjoy. All of this can be done while watching several performances from local theatre, dance, and music groups. Sweet Pea Festival is a Bozeman classic in every way, with great food, great music and an even greater community its one you surely don't want to miss.
2. Last Chance Stampede and Rodeo and Fair
A cowboy rides a bucking bronco at the Last Chance Stampede. Photo courtesy of Last Chance Stampede Facebook page
A list of Montana's festivals wouldn't be complete without at least one rodeo. And Helena's Last Chance Stampede at the historic Lewis and Clark County Fairgrounds is one you do not want to miss. Which, if it wasn't for Helena's citizens, you might have. The grounds originally belonged to the Montana Agricultural Mineral and Mechanical Association before Helena's citizens raised $10,000 to purchase it. They then handed the grounds over to the Montana State Legislature, who started the first state fair back in 1903. However, after 30 years of success the effects of the depression became obvious, and after the 1935 earthquake that killed two people and destroyed most of the buildings on the site, the fair was officially moved to Great Falls. Then in 1959 the Fairgrounds Association came back with a plan to reopen the 160-acre park to the public and managed to pull it off in time for the first Last Chance Stampede Rodeo and Fair in 1961. Today, more than fifty years later, the fair opens on a Wednesday with local commercial and food vendors as well as local 4-H exhibits. At 5 pm the Northstar Amusement carnival opens and the festivities really kickoff with the Night Show at 7:30. The rest of the week is full of fun with the Kiddie Parade on Thursday and the Stampede Parade on Saturday with a rodeo each night and live music after. Guests are treated to all seven of the PRCA sanctioned events at the rodeos, including the Mutton Bustin and the Steer Riding events at the beginning of each night. If you want to enjoy a real Montanan festival, then come experience the hard work and dedication of Helena's community at their fifty-seventh Last Chance Stampede Rodeo and Fair.
3. Music on Main 
An excited crowd gathers for Music on Main 2017. Photo courtesy of Downtown Bozeman's Instagram
     If the live music was the only part about the Sweet Pea Festival and the Last Chance Stampede you cared about, I have an event for you. Every Thursday evening starting in late June at 6 pm. roadblock s are set up along Downtown Bozeman and pedestrians take to the streets. It's time for Bozeman's 18th annual Music on Main. Spanning from Black Ave. all the way to Rouse, and including a section of some side street, this event goes until 9 pm and is a time for friends, family, and fun! During the three hour festival, that section of Main Street waves away the open container laws and allows you to go to your favorite local bar, grab a beer, and head out to enjoy the live music and warm summer air. If you have little ones there is no need to fret! On Bozeman Ave, a thrilling Kids Zone has been set up! Complete with hula hooping and even some bouncy houses your little ones will spend the three hours playing and tumbling the way only kids can. The estimated 2500-4000 people who attend Music on Main get really fired up at 7 pm, when local musicians like Montana-based Shakewell, Off in the Woods, and John Roberts Y Pan Blanco take the stage. So grab your drink of choice and come join us for an exciting Bozeman experience.
4. Alive @ 5
A crowd enjoys an evening at Alive @5. Photo Courtesy of Downtown Helena
     Is one night a week of live music not enough for you? It certainly isn't enough for me! Which is why I proudly present Helena's Alive @5. Every Wednesday evening starting in early June, Downtown Helena sees crowds of 1500-3000 people gathered at different sites. That's right, one of the unique and exciting things about Alive @5 is that each week it's located at a different location, providing not only live music but a tour of Montana's state capital. Alive @5 also invites local food vendors to attend, so you can grab a bite to eat. Or browse through the various local arts and crafts vendors while listening to live local bands like Skavocado, Matt Strachen and the Hoot Owls, Hawthrone Roots, and the Helena Blues Project. With local food, crafts, and music you'll start to feel like a local yourself at this Montanan festival!
5. Rockin the Rivers
Photo courtesy of Rockin the Rivers and Ryan Wilson
     When you think of Montana, you undeniably think outdoors and country. When you imagine going to a concert in Montana you probably picture the lead singer with a cowboy hat and at least one fiddle or banjo in the background. But country music isn't the only thing we enjoy. Back in 2001, a group of cowboys and old rockers got together to discuss the lack of musical diversity. At the unofficial meeting, they formed a plot to bring excellent classic rock to the masses and began a tradition of music at the beautiful outdoor venue that came to be known as The Bridge. Located near Three Forks, Montana, The Bridge is 159 acres and completely open to the gorgeous Montana sky. With 60 acres dedicated to camping, the Rockin the Rivers Music Festival is a truly exciting three-day experience. With bands that range from local artists like Helena Blues Project to nationally known artists like Blue Oyster Cult and Kansas, there is something for anyone of any age who enjoys classic rock.
6. Downtown Bozeman Art Walk
Photo courtesy of Downtown Bozeman
     Bubbling rivers race into crystal clear lakes while snow-capped peaks tear jagged holes into the vast blue sky. Trees grow into giants and meadows are filled with wildflowers of every color. I'm not quite sure what, but something about Montana seems to inspire the inner artist in us all. Come and see some of the most amazing local artists Montana has to offer at the annual Downtown Bozeman Art Walk. The second Friday of every month starting in June and going until September is the best time to stroll down Main Street. Local businesses with a love of local artists display featured artists each month and some occasionally offer complimentary hors-d'oeuvres to nibble at while gazing at the works of artists like Dean Crouser and Shelle Lindholm. The Downtown Art Walk is a wonderful celebration of the arts that was originally put on by the local art galleries. However, after several years of conflicting schedules and advertising plans, the Downtown Bozeman Association agreed to take over the event. The Downtown Bozeman Association decided to open the event to all the local businesses and the Downtown Bozeman Art Walk has since become a favorite Summer event. It's the perfect way to experience art and Montana culture and attending at least one is a must do this summer.
By: Issa Rabideaux