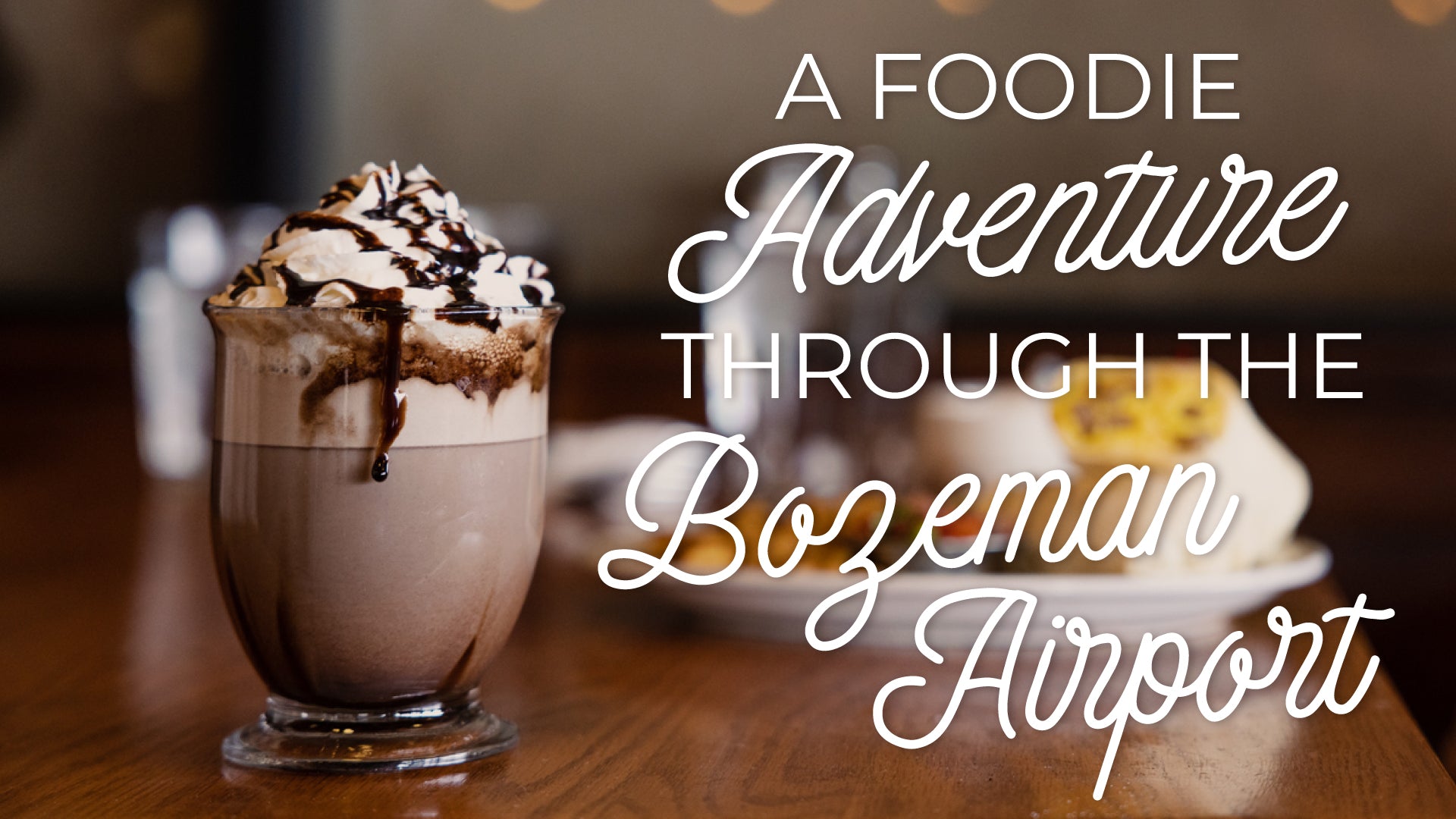 A Foodie Adventure through the Bozeman Airport!
From near and far, people travel to Montana to experience its breathtaking beauty! Not only is the Gallatin Valley and outdoor wonderland for recreators, but just an hour and a half drive away lies Yellowstone National Park, drawing in tourists from around the world who fly into the Bozeman Yellowstone International Airport for a central location. There is no doubt that epic memories await in Big Sky Country!
The perfect way to start or end your vacation: refuel at one of the awesome eateries at Bozeman Airport! From Copper Horse Restaurant to Ross Peak Grill and convenient Grab & Go's - your taste buds will thank you. Recently, our Creative Content Team here at Montana Gift Corral had the opportunity to head over to the airport and support our neighbors, and trust us, we did not leave disappointed (or hungry)! 

Ross Peak Grill
Setting off on an adventure at the Bozeman Airport? Our first stop was the Ross Peak Grill - with views of the breathtaking Bridger Mountain Range and delicious food options to fuel your journey, this spot is definitely worth a visit before or after your flight! 
Kickstart your vacation with a toast to some deliciousness! Averi and Alexa enjoyed bloody mary and mimosa mocktails from Ross Peak Grill. Trust us nothing says holiday mode like devouring a yummy meal paired with a yummy cocktail! Overall, we had an incredible breakfast feast at Ross Peak Grill. We especially loved their 406 Steak'n & Eggs, Bison Benedict, and that one-of-a-kind Cinnamon Roll French Toast - yum! Our Creative Content Team was fueled up and ready for the day ahead!
We had the most delicious mix of sweet and savory from Ross Peak Grill , but wait there's more… We've saved room for round two at Copper Horse Restaurant - because why not! Who's joining us?
Copper Horse Restaurant
Since 2010, Bert and Sharon Hopeman have been proudly offering amazing food, drinks, and genuine hospitality at Bozeman Yellowstone International Airport. They provide diverse options for sit-down or on-the-go dining, plus gluten-free, vegetarian, and vegan meals. Make your travels through Big Sky Country more wonderful with a quick visit to the Copper Horse Restaurant!
After filling up at the Ross Peak Grill, we decided to go light at Copper Horse Restaurant, luckily, they serve several smaller options that will keep you fully satisfied, yet not over satiated! Our Campfire Wrap, Oatmeal, and delicious hot cocoa were perfect to keep us from being overstuffed. 
Start your morning off right with a light and nutritious breakfast at the Copper Horse Restaurant. Nothing like some good flight fuel to get your adventure started off right!
Don't forget to swing by Montana Gift Corral when flying in or out of Bozeman Yellowstone International Airport! Pick up a delicious snack or a sweet souvenir from our beautiful state. Get your Montana fix before you take off!
No need to worry if you miss us at the airport! You can still find us at our downtown Bozeman, Gallatin Valley Mall, and Walmart locations. See you soon!

***
Written by: Alexa Jorgenson, MGC Content Creator
Photography by: Luke Clark, MGC Photographer
Blog Cover by: Averi Thompson, MGC Graphic Designer