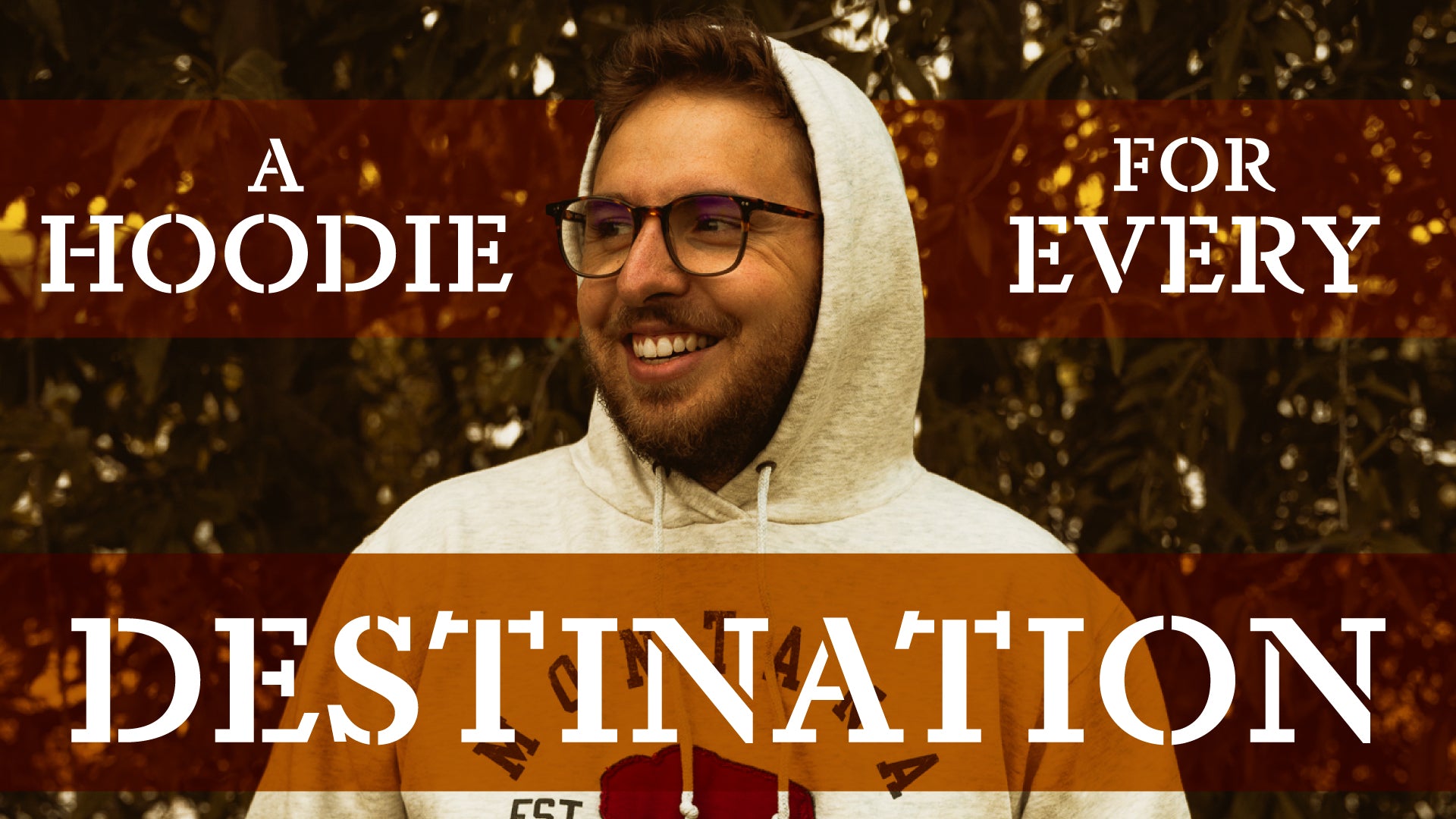 A Hoodie for Every Fall Destination!
Fall is in the air, and it won't be long until we start noticing a cooler shift in the weather and the leaves will begin changing from vibrant green to beautiful shades of orange, red, and yellow. While we will surely miss the warm Montana summer, there is something so special about autumn in the Big Sky state! 
Autumn in Montana is known for being very inconsistent when it comes to weather. One day the weather might resemble a warm summer day, and the next, it might be 40°F and snowing! Luckily, with our line of lovely sweatshirts and hoodies, you will be well-prepared for anything the coming autumn season in store for us. Talk about a lifesaver! 
Lake Day Vibes!
One of our favorite activities during the summer is spending time at the lake. Did you know that there are over 3,200 recognized lakes and reservoirs in Montana alone? Whether you enjoy swimming, fishing, kayaking, boating, or even just relaxing on shore, the lake is a lovely place to unwind. Who said the lake fun has to end when fall rolls around?
Grab your favorite hoodie from Montana Gift Corral, and head out on your next adventure!
Yellowstone National Park Hoodie - Available In-Store!
A Day at the Park!
One of our favorite things to do in the fall is spend a much-needed day at the park with friends, family, and loved ones. In fact, according to the University of Alabama at Birmingham, studies show that spending 20 minutes a day at a local park are happier and have elevated moods! There is nothing better than packing up a delicious brunch in your favorite cooler or picnic basket, and heading out to enjoy the perks of spending time in nature. Make sure to pack your favorite hoodie, MT can get chilly in the fall! 
As a Belgrade based business, our team enjoys spending time at River Rock Pond. Located just around the corner from our MGC fulfillment center, this park is perfect for fishing, floating, or even just having lunch at one of it's many picnic tables! 
Bozeman MT Hoodie, Yellowstone National Park Hoodie - Available In-Store!
Into the Woods!
Montana is well-known as a hub for outdoor adventure. In fact, surrounding Bozeman, there are over 70 established trails! Whether you are looking for a short and sweet hike like the famous M Trail, or something a bit more substantial like Mount Blackmore, we are sure that you will find a trail that is perfect for you within the Gallatin Valley.
While spending time in nature, you need to be prepared for some wild weather. Whether you get hit with some unexpected rain, or even just a cool breeze, a sweatshirt will undoubtedly come in handy! Trust us, there is nothing worse than getting caught in unfavorable weather conditions without having something to throw on. Head over to our vast sweatshirts and hoodies collection to get a new sweater that is both functional and speaks to your passion for Montana! 
Oatmeal Duty Free Buffalo Montana Hoodie by Lakeshirts
A Stroll Through Bozeman! 
While we love all of Montana, there is something about Bozeman that truly stands out. Maybe its the close-knit community, its ease of access to nature, or even its booming downtown scene! In the Autumn, one of our favorite things to do is just stick around town. Wanting to go on a refreshing walk? Head over to Peet's Hill for a wonderful view of the city! Wanting to try some new Montana-made cocktails? Journey to the Cannery District and take a seat at WildRye Distilling! On the hunt for some much-needed retail therapy? Visit our beautiful Montana Gift Corral location in downtown Bozeman! 
Before embarking on your Bozeman journey, make sure to grab your favorite hoodie from Montana Gift Corral. If you forgot it at home, don't worry. We are here to help! 😉
Written by: Alexa Jorgenson, MGC Content Creator
Photography by: Luke Clark, Haven Windsor - MGC Photography Team
Blog Cover by: Averi Thompson, MGC Graphic Designer