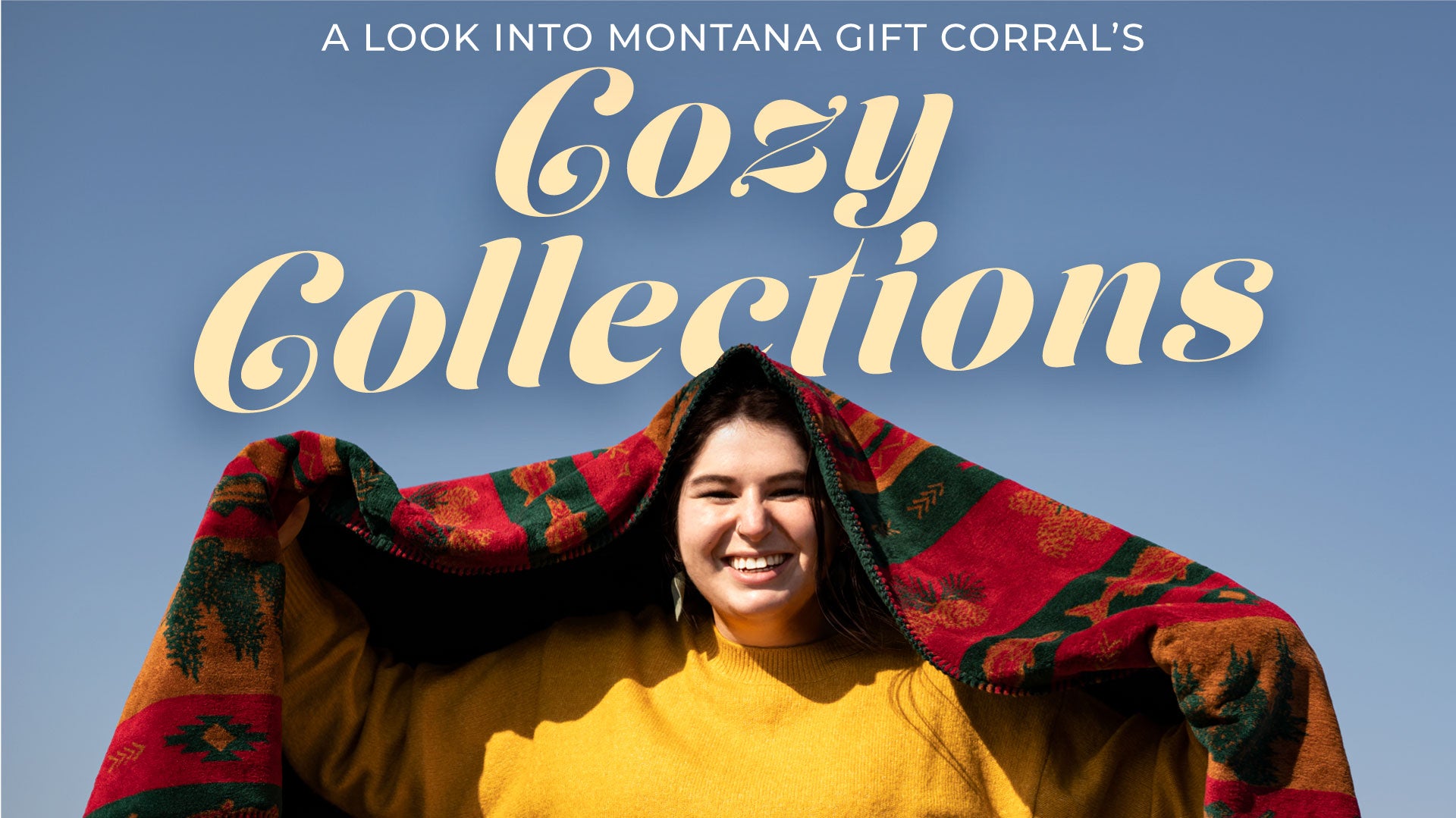 A Look Into Montana Gift Corral's Cozy Collection
Fall is the time to get cozy, and boy do we love to get cozy at Montana Gift Corral! When the air gets colder, the leaves change and start falling and buying scented candles gets a little more tempting, we got your back! Blankets and pillows are the first thing that we bring out as soon as we get a whiff of pumpkin spice. If you are torn on what blanket or pillow may be right for you, fear not (even though it's the spooky season) because we've given you an in-depth look at our cozy options! 
Any of the Sherpa Throw Blankets by Carstens are a wonderfully cozy option for the chilly fall weather turning to winter! This blanket is more on the thicker side but delightfully soft. One side has fluffy sherpa and on the other...so many pattern choices! For those of you who aren't familiar with sherpa, it's known for being super soft. It generally resembles wool or sheepskin and is the perfect eco-friendly alternative to fleece. Since you can choose from the many different patterns, there is unlimited potential for where you can put the blanket that doesn't jeopardize the tone of the room. Not to mention the affordability of something that feels like a bear made of hot chocolate giving you a life-changing hug.
If you are looking for a blanket that is not as thick as a sherpa blanket but still provides a great amount of cuddly warmth then this is the blanket for you. Not only is this fleece throw straight out of a cartographer's dream, but it's one of our softest blankets only second to the Carsten's sherpa cover. Don't let the thinness of this blanket deter you though, because this is the perfect in-between! It's also great for accenting a home or cabin. A win/win all around. 
For all you Montana travelers out there, this is a pillow you don't want to miss! The Lewis and Clark Caverns State Park Map Pillow by Eric & Christopher is the perfect collector's item for anyone who absolutely loves Montana's first state park. This canvas pillow features a custom-drawn map of the intricate cave system along with a little paragraph on the back which details some of the history of the state park and what it meant to the Lewis and Clark expedition. This pillow measures about 13" x 13", so if you a looking for a small graphic accent pillow, then your search is over.
If you are looking for an artsy piece to add some color to a room, the search is over! Any of the Shelle Lindholm pillows by Meissenburg Designs are an amazing way to bring a painting off the wall and into your arms. One thing you should know about this pillow is that it's vinyl coated fabric so it's not as soft as polyester or sherpa, but feels more as if it has a thin plastic coating on the outside, which is perfect for if you are looking for decorative pillows to place outside or are wanting a pillow that cleans easily.
One of the things that is great about Carstens is that you can often find a matching pillow and blanket that are equally soft! With patterning on one side and sherpa on the other, this pillow is one of the softest things you can lay on. These pillows are great for living rooms, chairs, and bed sets! They can be accompanied by their blanket pair or be a stand-alone piece, but no matter what they are great to cuddle into with a good book! Both the Carstens pillow and throw blanket are also great options for those with children because they are machine washable! Quick and easy clean up!
So whether you are looking for some cozy common room components that are soft or durable, indoor or outdoor use, simple or decorative there is something out there for everyone! Fall is here and winter is approaching so it's a great time to stock up on everything warm and fuzzy!
Written by Averi Thompson