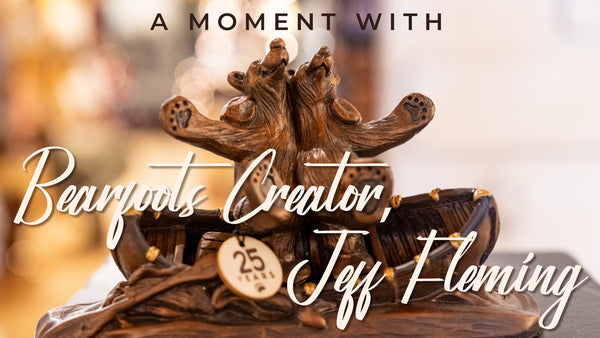 A Moment with Bearfoots Creator, Jeff Fleming
Let's be honest, there is nothing more iconic in Montana than the Bearfoots Bears collection by Jeff Fleming. Recently, we had the pleasure of interviewing this well-known artist, and are happy to report that he is just as wonderful as you could imagine! Our crew at Montana Gift Corral is inspired by the passion he holds for his craft, as well as the happiness that each of his wood carvings and resin crafted figurines bring to Bearfoots collectors throughout the nation! 
Jeff Fleming's story starts right here in Montana. Born and raised in the Treasure State, Jeff quickly became enamored with the outdoors. As a self-proclaimed outdoor enthusiast, Jeff is obsessed with all things wild. In fact, his family adventures as a youngster remain as the primary inspiration behind his Bearfoots Collection of resin casted bear figurines!
As an adult, Jeff still actively participates in outdoor activities and enjoys adventuring throughout Montana with his own family. He values all that Montana has to offer including hiking, horseback riding, fishing, rafting/kayaking, and skiing! Jeff continues to draw inspiration from the nature that surrounds him, and much of this inspiration is observed within his wood carvings and Bearfoots Bears!
Jeff began his career in woodcarving in 1985 when he was driving back to Montana after finishing his time served in the Marine Corp. On his way home, he stopped alongside the road where he witnessed a man carving wood with a chainsaw. At that moment, he was sure he would be able to carve wood just as well, and adopted chainsaw carving as a hobby. This hobby soon turned into a passion, and then into his lifetime career! 
As the demand grew for his famous bear carvings, Jeff was tasked with discovering a new and more efficient way to reproduce them. In his search, he began working with Big Sky Carvers, a company that was then based in Manhattan, Montana. Big Sky Carvers owned wood carving machines that were able to reproduce 24 bears at a time. Big Sky Bears quickly became a hit at popular destinations including several National Parks, and Disney World!
In an effort to innovate his products, Jeff decided to begin producing his world-famous collection of Bearfoots Bears. These bears are originally carved in clay, and are casted in resin as they are reproduced. Bearfoots Bears depict scenes that are inspired by things that people typically do including family activities, outdoor adventures, and even portray the quirks of relationships! These Bearfoots figurines quickly became a hit, and are now a beloved wildlife-inspired item that are collected nationwide! You can typically find Jeff sculpting new Bearfoots in the wintertime, soaking up the warmth from his wood stove with his dog lounging nearby. Jeff believes that these figurines are timeless rather than trendy, and attributes the overwhelming success they have received throughout the years to their timeless appeal!
Bearfoots Quilting Bear Cubs Figurine by Jeff Fleming
Bearfoots Honey Bears Grand by Jeff Fleming
You can find Jeff and his wife running their picturesque Bear Country Gallery in Kalispell, Montana, year-round! Head out to view his original artwork, and catch a glimpse into the outdoorsy lifestyle that Jeff Fleming and his family live on a daily basis!
This year will mark 25-years since Jeff created his unique collection of Bearfoots Bears. Jeff is sincerely grateful to all of the folks who have tirelessly loved and collected this line of figurines, and feels as though he owes his success to those who have supported him along the way! To this day, Jeff Fleming still maintains his intense passion for carving, and can never see himself retiring! Our crew at Montana Gift Corral is so humbled to have the opportunity to carry Bearfoots Bears in our shops. We love how these simple figurines are able to light up a room and make someone's day! 
Check out our extensive selection of Bearfoots Bears by Jeff Fleming here!
By: Alexa Jorgenson