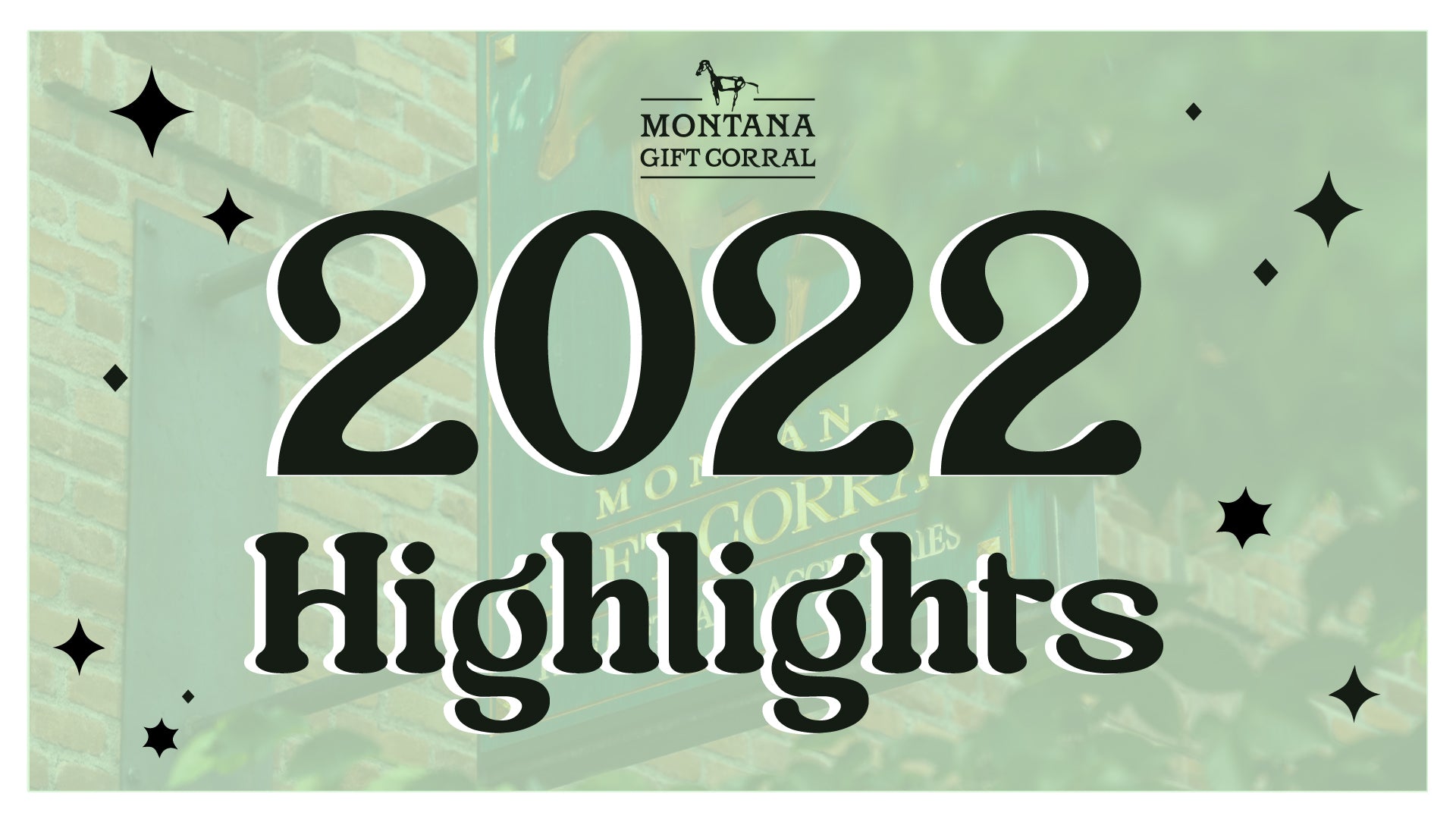 A Montana Gift Corral Review of 2022
2022. What a year! We are ever grateful to serve the beautiful community here in the Gallatin Valley and are honored at the opportunity to take part in your gifting experience. Here at Montana Gift Corral we carry more than 6000 Montana-made and inspired gifts; this being said, our loyal customers definitely have their favorites!

Here are just a few of our customer's go-to products we have online and in our shops:
Gift Baskets
One of our favorite ways to serve our customers is by offering one-and-done gifts that take the stress out of gift giving. This being said, we are proud to offer several hand curated gift baskets that are just perfect for any occasion! From housewarming baskets to self-care, wedding gifts, or even baskets full of made-in-Montana goodies, we've got exactly what you need. 
Our gift baskets that sell online and in our shops are carefully curated, staged, and heat-wrapped (depending on the basket) by our in-house Creative Content Team. Once prepared, these gift baskets are then packaged with care and shipped off to their final destination, or hand-delivered to our Gallatin Valley locations for our customers to pick up. The sense of ease offered by our selection of gift baskets has simplified the lives of gifters in our area!
Last year, in 2022, we sold 141 gift baskets. From individuals picking up curated gifts to show appreciation for their loved ones, or even companies purchasing gifts for their employees and clients, we've been quite busy!
Coffee Beans
In our opinion, the only way to start off any morning is with a good brew of coffee! Obviously, many of you agree as we sold 539 bags of coffee beans in 2022. Crazy!
Not to brag, but when it comes to coffee, Montana Gift Corral does things right. In fact, we have so many coffee options to choose from. One of our favorite companies is Morning Glory Coffee, based in West Yellowstone, MT. Since 2005, this family-owned business has been roasting and serving coffee using ethically and sustainably sourced coffee beans. Morning Glory Coffee ensures that every brew you get is great for your taste buds and our planet!
If you are looking for recommendations, we love a big cup of the Campfire Blend, Buffalo Bold, or of course, Huckleberry Coffee. From 1.75 oz pouches, to full bags of full-bean and ground coffee, or even Keurig pods, you can enjoy these unique blends no matter how you brew your favorite caffeinated beverage!
Stuffed Bigfoots
Montana is known for its vast array of fascinating wildlife. This being said, there is one legendary creature that is rumored to lurk in our forested areas! The legends of bigfoot are known to pre-date recorded history. Oftentimes, you'll hear bigfoot believers sharing stories of seven-foot-tall hairy creatures roaming the woods, known for spooking outdoor recreators! Obviously, here at Montana Gift Corral, many of our customers are bigfoot fans, as we've sold 445 stuffed bigfoots!
Stuffed Animal House, a company that we know well here at Montana Gift Corral, has been producing and manufacturing unique plush animals in British Columbia since 1984. They uphold a high standard of quality, constantly testing products to make sure they are safe for children and ethically made. The Bigfoot Plush and the She-Squatch Bigfoot Plush by Stuffed Animal House are wonderful souvenirs or cute little gifts for those Sasquatch believers in your life!
Huckleberry Lip Balm
Montana winters can be brutal and unpredictable. In fact, just a couple weeks ago it was -40°F in Bozeman, and as we write this it is a warm 40°F. Talk about a temperature swing! The cold and dry Montana climate can truly take a toll on our lips; this being said, it's no wonder why we sold 5,132 tubes of Huckleberry Lip Balm.
There's nothing quite like experiencing huckleberries from Montana. With a healthy dose of SPF 15, this yummy Chapstick also includes coconut, cocoa butter, beeswax, shea, mango, almond, vitamin E, rosemary extract and, of course, natural huckleberry flavoring. It is made in Montana and is the best way to give relief to those dry, cracked lips that sometimes come with the Montana elevation. 
Cake Toppers
There is nothing quite as beautiful as a wedding in Montana. From rustically-styled celebrations to western-inspired bashes, Montana is known as a one-of-a-kind destination wedding location for couples all throughout the nation! From gifting to rustic décor, we love being a small part of weddings throughout the Big Sky state. 
This year, we have become the exclusive seller of the Prairie Rose Cowboy Cake Topper by Big Sky Carvers. Crafted from hand-cast resin, the Prairie Rose cake topper adds a western touch to any couples special wedding day. With a romantic design of a bride leaning down from her horse to give her other half a smooch, it's no wonder why this cake topper is a favorite here in Montana. 
This year alone, we have sold 177 Prairie Rose Cowboy Cake Toppers. This means we've been a part of over a hundred weddings. Thank you for choosing us to make your wedding day that much more special in 2022!
*****
Written by: Alexa Jorgenson, MGC Content Creator
Blog Cover & Graphics by: Averi Thompson, MGC Graphic Designer