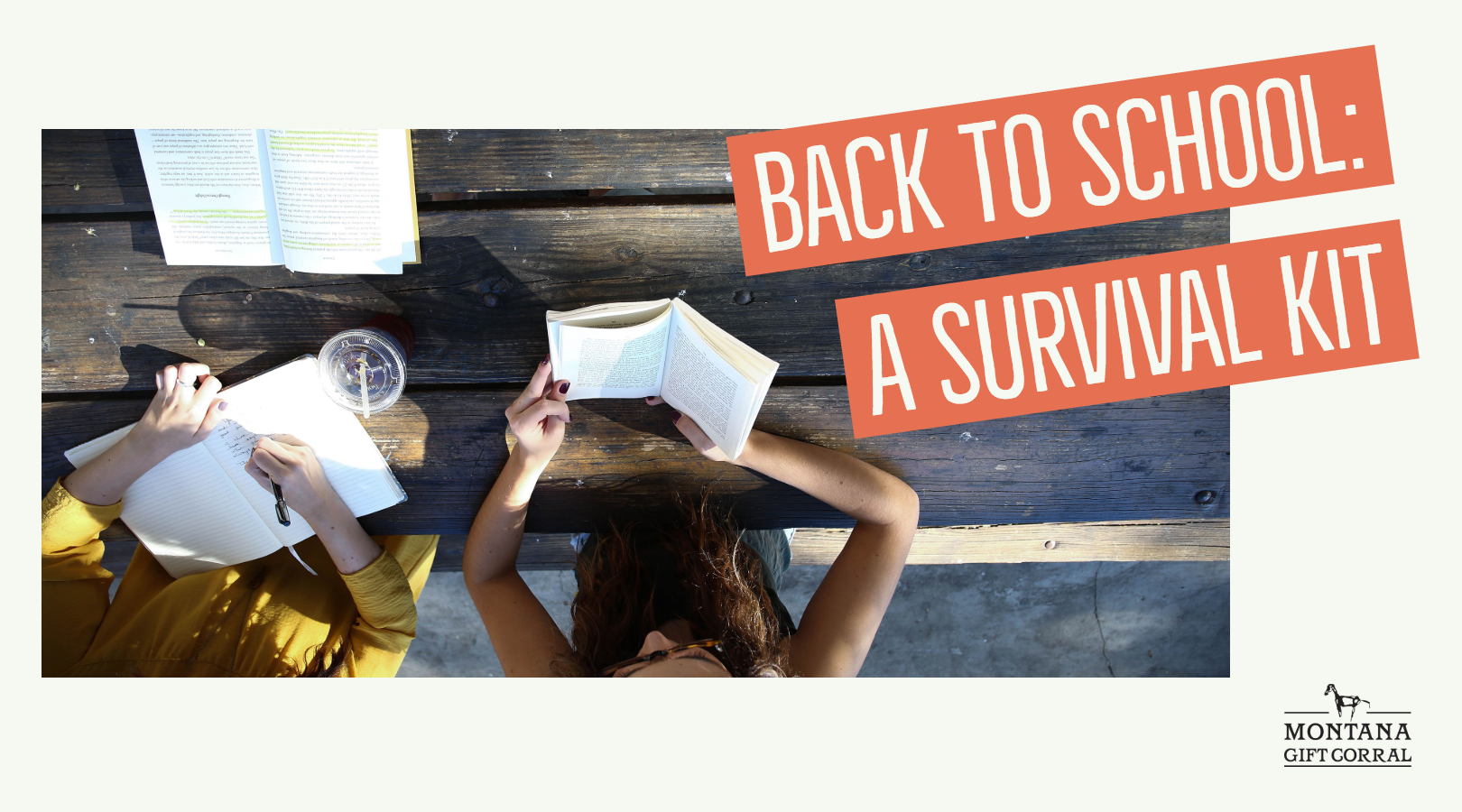 Back to School: A Survival Kit
Are we already talking about school again?
It feels like summer is just getting started! Whether your kids are starting kindergarten or you're headed off to Montana State University (go Cats!), school is just around the corner for just about everyone.
With August being National Back to School Month, we wanted to help you get ready for the storm of homework, group projects and the bittersweet end to a wonderful summer! Here's Montana Gift Corral's Back to School Survival Kit!
Safeguard Mountain Sandwash Bozeman Montana T-shirt

Make a statement on your first day back with this mountain t-shirt for the outdoor enthusiast! These soft cotton shirts come in a natural sandstone color, and feature a screen-printed mountain graphic in navy blue ink. Perfect for the proud Bozemanite, this particular design includes Montana's date of entry into statehood.
Journals by PNW Artist Dean Crouser

Ditch those tired old ruled journals and treat yourself! They a beautiful journal will inspire you to write. These journals feature the beautiful artwork by Dean Crouser and are perfectly travel-sized. Bring one with you the next time you go to the mountains and write about the breathtaking things you see, pick a wildflower and press it gently between the pages, let it get dirty and rough and let it tell the whole world that you are here and you are alive.
Novelty Pens by Big Sky Carvers 
It's hammer time! These novelty pens by Montana-based Big Sky Carvers are sure to make note-taking fun! Started by father-son duo Marc and Eric Pierce, Big Sky Carvers boasts 35 years of delivering iconic pieces of the western outdoors to homes around the country. Check out the other designs!
Huckleberry Coffee by Huckleberry Haven 
Wake up with a fresh, hot cup of Montana huckleberry coffee each morning! The warm, rich taste of coffee infused with ripe, wild huckleberries is what you'll get with every pot you brew of Huckleberry Coffee from Huckleberry Haven. Freshly roasted in the Northern Rockies, the essence of wild huckleberries will put that extra pep in your step as you head off to class!
Boxed Notecard Sets by Dean Crouser
Make some beautiful flashcards or just pass some notes to your friends during class - it's up to you!  Since Dean Crouser's Boxed Notecard Sets come in different styles you will be able to select the perfect set of note cards for every occasion!
Huckleberry Milk Chocolate Bar by Huckleberry Haven
Sometimes, deep in the study cave, you just need a little pick-me-up. Chocolate is the answer. The Huckleberry Milk Chocolate Candy Bar is a delicious little chocolate treat from Huckleberry Haven. This company is located just outside of Glacier National Park where they have been specializing in the robust flavor of huckleberry products since 1987!
By Zach Altman