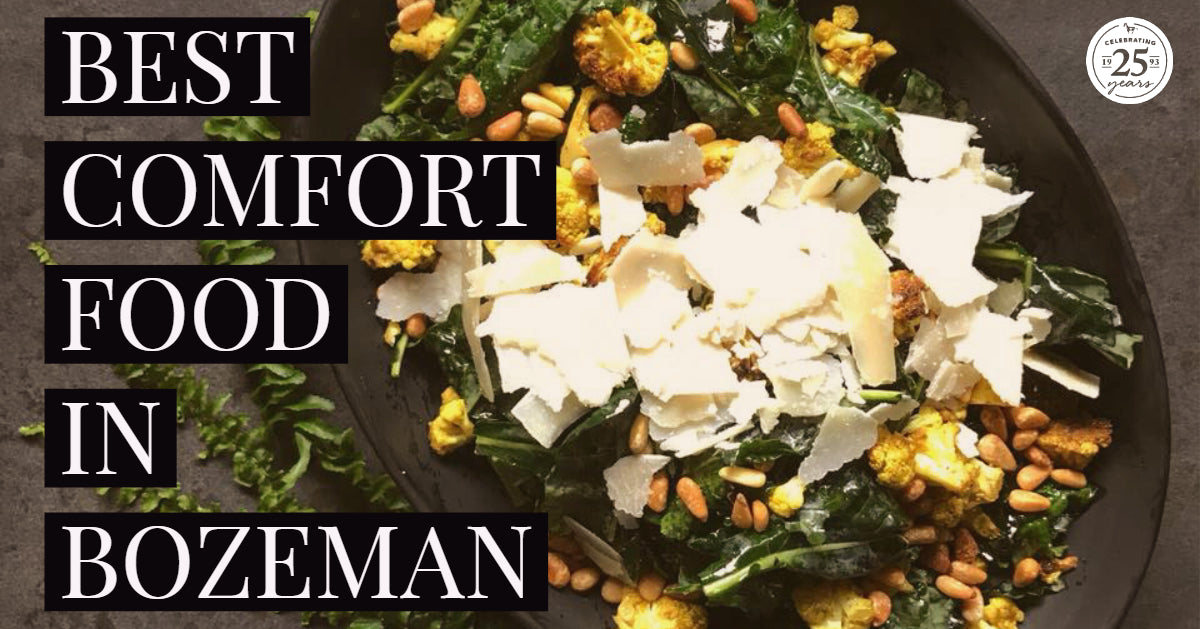 Best Comfort Foods in Bozeman
Winter is creeping into the Gallatin Valley again, and that can mean only one thing: hearty meals, soups and late morning breakfasts as the first flakes of snow start to fall. That's right, its comfort food season! 
Stuffed Crepes + Waffles
Crepe or Waffle?

If you're in the mood for the ultimate savory experience, try the Florina: a cracked egg, ham, melted Swiss cheese, spinach, red peppers, and topped with pesto. Feeling simply sweet? Treat yourself to the Brittany: strawberries and bananas drizzled in Nutella and dusted with confectioner's sugar.  
Montana Ale Works
Enjoy artfully-crafted upscale comfort food – local and naturally-raised Montana beef & bison burgers, hand-cut steaks, fresh seafood, hearty sandwiches, salads, gluten-free dishes, and an array of nightly chef's specials and happy hour small plates – all featuring locally-sourced produce, meats and cheeses.
Lot G 
Inclusivity and accessibility are important at Lot G, where the aim is to serve breakfast and lunch to people with a variety of preferences and dietary restrictions. With a naturally gluten-free menu and customizable options that range from grass-fed beef to tofu, diners can create and enjoy a personalized meal in the bright, greenery-filled café, on the patio outside or back at their office or home. Hearty comfort food like chicken fried steak and pancake lasagna share the menu with lighter options such as a vegetable and whole grain bowls and cold pressed juices. Lot G Café lives by its motto, Good Food For All and is happily at home in the place that inspired its creation.
Jam on Main
Jam is an urban-modern restaurant in downtown Bozeman featuring an eclectic menu with creative spins on traditional American fare. They also feature a full-service coffee bar to make your favorite hot drink. Try one of their delicious eggs benedict, or go for lunch and get the Reuben melt! 
Roost Fried Chicken
Roost Fried Chicken is Bozeman, Montana's eclectic Southern restaurant that offers family-approved, traditional recipes with a twist here and there. Their menu will remind you of mom's cooking, while others may surprise you. Their approach is based on fresh ingredients presented with a friendly, contagious energy. Plus they have recently been featured in Food Network's Diners, Drive-In and Dives! 
Western Cafe
Locally owned and operated The Western Cafe of Bozeman specializes in American home cooking. Serving breakfast and lunch daily, they are known for simple, tasty dishes like chicken fried steak and eggs, biscuits and gravy, and "Bobcat" french toast. Proudly using local products and services whenever possible, The Western Cafe embodies traditional Montana: simple food, simple environment, simple comforts.
Nova Cafe
Breakfast is served daily from 7 a.m. - 2 p.m. and lunch is served Monday through Friday from 11 a.m. - 2 p.m. The menu provides traditional diner fare such as pancakes, eggs benedict and omelets as well as a variety of vegan, vegetarian and gluten-free options. Nova strives to serve the highest quality, most sustainable ingredients sourced as close to home as possible.
By Zach Altman