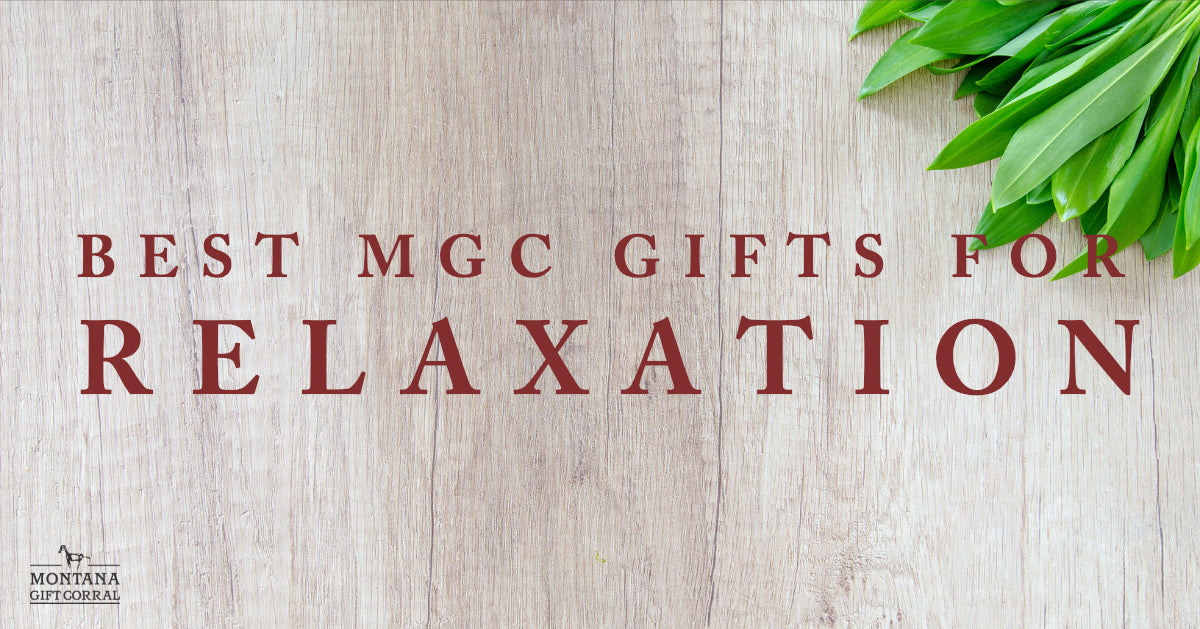 Best Gifts for Relaxation
Before I tell you about some of the best Montana Gift Corral products to help you relax, let's do a little relaxation exercise. Find a comfortable chair to sit in. Close your eyes. Focus on your breath; gently inhaling for a count of four, hold it for four, and exhale 1...2...3...4. Starting at the top, relax your face, unfurrow your brow and unclench your jaw. Now relax your shoulders and let your arms rest limply on the arms of your chair or lightly in your lap. Feel the chair beneath your thighs and your feet against the floor. Take a moment and just...breathe.
I don't know anyone who isn't due for an evening of self-care and relaxation. We're here to share some of the items that will help you let go of all that stress and tension. 
If you're like me, you know how lighting a good candle can almost instantly help you unwind after a long day. Boondocks Candle Co. in Ennis, Montana makes some of the absolute best scented candles to help your worries melt away. Boondocks Candles will take you to the places they're named after: smell the summer sweetness of Flathead Cherry, the gentle refreshing air of Fairy Lake,  and the rich scent of ponderosa pine along Jack Creek.
When I think of relaxation, I imagine drawing a bath and sinking into the warm water. To get the best bath (or shower) experience use Windrift Hill Goat's Milk Soap. With a wide range of fragrances inspired by the natural beauty of Montana, there's something for everyone. No preservatives are used in the making of these soaps, just high quality fragrances and essential oils. Windrift Hill makes all their products in Montana with help from their goats, a herd of 40 happy, healthy Nubian Goats who spend their days grazing in the shadows of the Rocky Mountains. Your skin will feel replenished with Windrift Hill moisturizing goat's milk soap! 
Take your relaxation to new levels with Mixture's new travel sized containers of fresh foaming bath salts! The perfect little way to say "I Love You" to yourself or to another, these spa treats are available in three distinct scents: Grapefruit & Sweet Vanilla, Lavender Lemongrass, and Relaxation. Mixture produces candles, bath & body blends, and home cleaning products, all hand-mixed in small batches with over 60 luxurious fragrances. Mixture supports small businesses with thousands of locally and family owned retail stores all over the country! An environmentally friendly company, Mixture uses packaging chosen to minimize their carbon footprint.
Huckleberry Body Cream is a must-have staple for your bath and body products. Made in Montana, this luxuriously decadent cream takes care of dry skin while leaving a light, fresh scent of Montana huckleberries on your skin. This rich cream contains sweet almond oil, shea butter, and vitamins A, D, E, and B to invigorate skin and make you crave the mountains of Montana. Let Huckleberry Haven's Huckleberry Body Cream give you the touchably soft skin of your dreams!
Whether it's to get your day going or to sip while you read before bed, a cup of tea always brings a sense of calm. Make your tea ritual something special with this beautiful teapot by Firehole Pottery. This piece is handcrafted by Carl Sheehan right here in Bozeman, Montana. His color palette is inspired by his passion for the Rocky Mountains and Yellowstone National Park. During the summer months, you can catch Carl Sheehan shaping ceramic art at the Old Faithful Inn. Featuring bison and wildlife imagery in scenes inspired by the Montana sunsets, rivers, and nightlife, each piece is designed with home or kitchen use in mind.
We hope we can help you find what you need for peace, quiet, and relaxation all throughout the day with these products that we love.
Written by Stephen McNeal