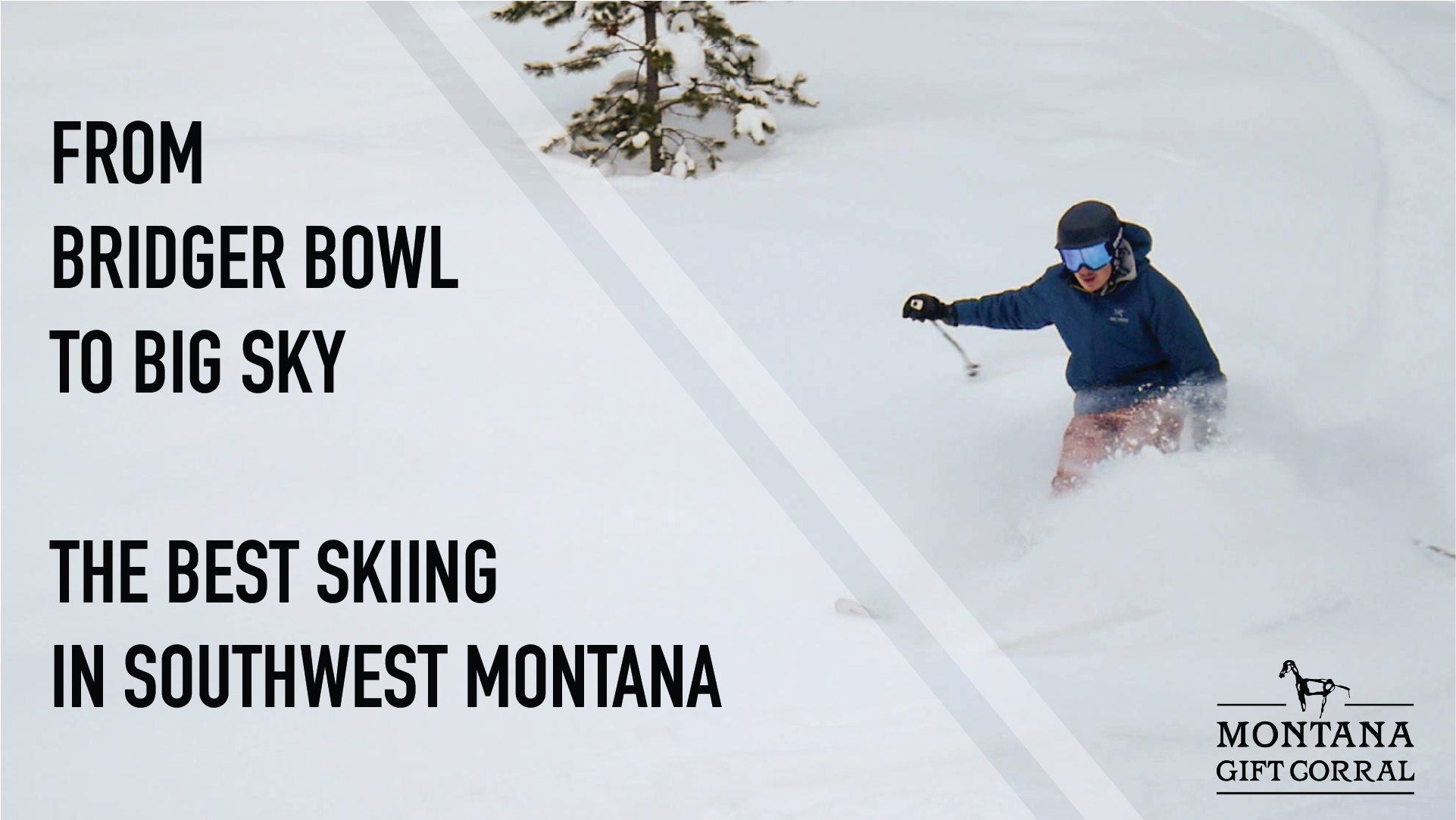 Best Skiing in Southwest Montana: From Bridger Bowl to Big Sky
Montana is known for its vast mountain ranges and big open sky. Regionally, Southwest Montana is full of deep valleys, raging rivers, and six mighty mountain ranges. The breathtaking scenery is home to rich wildlife, passionate communities, and endless adventures. When you are brainstorming the things you want to do in Montana for your Montana vacation, don't forget to include Southwest Montana on that list. Especially if you are looking for a place to have your ski vacation! The snow in this area if always deep and pure, which makes it the hot destination  for winter recreation. From ski trails to ski lodges, check out these Southwest Montana ski destinations!    
The Legacy of Bridger Bowl
Photo courtesy of Bridger Bowl
People had been skiing in the area now known as Bridger Bowl since the mid-1940s. However, the oldest of Southwest Montana's ski resorts opened officially in 1949 after the State of Montana purchased 120 acres of land from local landowners. They installed a rope-tow in 1951 and everyone hit the slopes. Three years later, the Bozeman State Park and Recreation Association was founded. In January of 1955, the Bozeman State Park and Recreation Association and over 60 volunteers worked together to build the original platter lift. Later that year the mountain was granted 501(c)(4) nonprofit status. After that major accomplishment, Bridger Bowl's main goals were growth. More and more people were flocking to the beautiful mountain and it had to keep up with the demand. An upper platter was added in 1956 and the original was replaced with a T-bar in 1958. More lifts were added throughout the 60s and 70s. In 1971 the Bozeman State Park and Recreation Association had its name changed to the Bridger Bowl Association. In 1973, Ridge Skiing was opened for the more "hardcore" locals.
Photo Courtesy of Bridger Bowl
The next couple of decades saw more growth and development. Chairlifts were installed and replaced, new slopes were added, and in 2008 the Schlasman's Lift opened and added 311 acres of ridge terrain for experienced skiers. Today Bridger Bowl has over 2,000 acres of skiable terrain. Not only that but Bridger Bowl has sixteen green circles, twenty-nine blue squares, twenty diamonds, and eight double black diamonds, plenty of skiing fun for everyone, no matter the skill level. On top of Bridger Bowl's fifty slopes and professionals-only Ridge Terrain, they also offer two Terrain Parks that vary with conditions. This amazing and locally-owned mountain is a Montanan favorite and many local Bozamanites flock to its slopes every winter. In fact, on top of the Baxter Hotel on Main Street, there is a big blue beacon. Every time it snows more than two inches at Bridger Bowl, the light will flash and then stay on for the next twenty-four hours, letting everyone that the mountain is ready and waiting!
Under the Big Sky Ski Resort
Photo courtesy of Big Sky Resort
Chet Huntly was born and raised in Montana before he became the news anchor for NBC News in 1956. However, he had a dream to return to his Big Sky Country and eventually did. Once he was home he opened his dream ski resort, Big Sky Ski Resort, in December of 1973. He opened it on Lone Peak Mountain, the seventh highest mountain in Montana outside of the Beartooth Range. The first four lifts were installed under Huntley's ownership, three chairlifts, and a gondola. Unfortunately, Huntley was diagnosed with cancer and passed away in March of 1976. Later that year, Boyne Resorts purchased Big Sky Ski Resort. Under the new management, the resort continued to steadily grow. Over the next couple of decades, Big Sky added chairlift after chairlift. With each new chairlift more terrain become available and soon the skiable area more than tripled in size.
Photo courtesy of Big Sky Ski Resort 
In the 1990s, Boyne Resorts began building more amenities at Big Sky Ski Resort. Two buildings they added were the Shoshone Condominium Hotel and the Yellowstone Conference Center. However, Big Sky Ski Resort became one of the most famous ski resorts in the area after its expansion in 1995. Prior to the addition, the highest point was Lone Peak at 1,550 ft from the base of the resort. However, with the new Lone Peak Tram that changed. The Lone Peak Tram was designed to carry expert skiers to the very top of Lone Peak, which was a treeless and dangerous terrain. Lone Peak is 11,260 feet about sea level, and with the new Lone Peak Tram, it increased the vertical drop at Big Sky Ski Resort from 2,800 feet to 4,180 feet. With the added expansion at the base of the hill, the new official drop at Big Sky increased to 4,350 feet. Now, Big Sky is a popular ski resort located on one of Montana's most beautiful mountains and with over 5,800 acres of skiable terrain, there is something there for everyone of every level. In more recent years, Big Sky Resort has focused on expanding parking and adding state-of-the-art lifts like the Ramcharger 8 and Swift Current 6 to provide skiers with the most comfortable ride to some of the best powder in the world. 
Braving the Back Country
Photo courtesy of Friends of Hyalite
If you're not afraid of taking a little hike before hitting the slopes, then Southwest Montana has a wide range of valleys to choose from. With the almost endless number of mountains and hiking trails available in Southwest Montana, there are plenty of alpine and backcountry skiing options! Visit your favorite summer hike but this time pack in a pair of skis or your snowboard and hike up to the highest hill. These hikes are perfect if you're looking for a more relaxed and free way to enjoy the Montana winters. Hike up Drinking Horse and admire the beautiful view; it's a popular ski trail for a reason. Want something a little farther from Bozeman? Try History Rock, it's a popular skiing destination with a beautiful view of Hyalite Canyon at the top, cross-country ski in until you reach the large slope and ski back down! And if you're looking for a back country adventure, you'll definitely find it in Hyalite Canyon! 
Southwest Montana has some of the best skiing around, from backcountry to alpine, from local lodges to resorts fit for the rich and famous. Enjoy the beauty of Montana even in the dead of winter by taking a down-hill tour of some of Montana's natural wonders!
By: Issa Rabideaux
Updated and Edited By: Cassi Miller