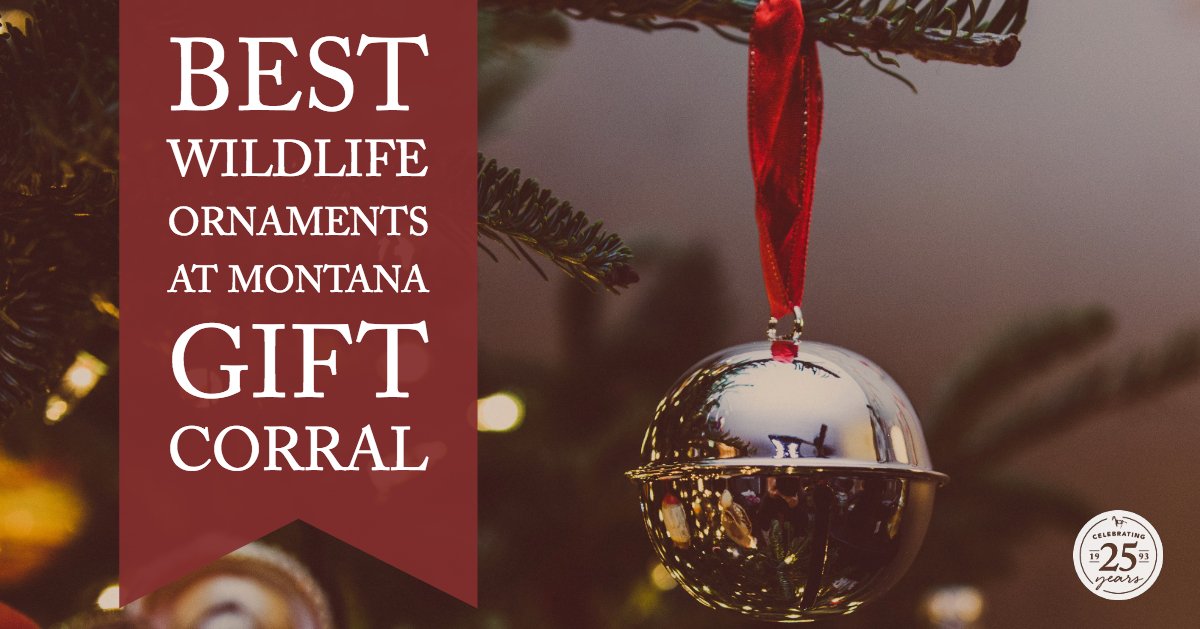 Best Wildlife Christmas Ornaments at Montana Gift Corral
Winter has made a dramatic appearance in Big Sky country, which means only one thing:
the holiday season is upon us! 
Christmas is a time to celebrate what's important to you, and any true Montanan knows that includes our beloved Big Sky Country!
And what could be more Montana than spotting an old bull moose drinking water near a trout-filled stream, or a bear ambling along in a distant meadow? According to the Montana Office of Tourism, the Treasure State has the greatest diversity of wildlife in the lower 48.
No matter where you live, wildlife ornaments are a great way to bring a piece of Montana into your festive home. At Montana Gift Corral, we have hundreds of wildlife ornaments to choose from, so you're sure to find the perfect fit for your Christmas tree!
Les Didier "Hiding Places" Wildlife Christmas Ornament by Inner Beauty
Make your Christmas a little more wild this year with the Les Didier "Hiding Places" Wildlife Christmas Ornament by Inner Beauty! The Hiding Christmas Ornament is an elegant mouth-blown glass ornament. This wildlife glass ornament also features the stunning image of a lovely pair of loons who've found a place to hide out for the evening. The image is carefully hand-painted on the inside of the glass, which is the trademark technique of all Inner Beauty artists. That means this particular wildlife ornament will last for years to come! 
Bearfoots "Holly" Ornament by Jeff Fleming
The Bearfoots "Holly" Ornament comes from their selection of Bear Ornaments. As part of that classic Bearfoots collection, you're getting that adorable black bear we've all come to know and love over the years. Jeff Fleming started designing Bearfoots bears 25 years ago and still handles creating all the new designs in his wood shop in Kalispell, Montana. This little daredevil also comes complete with a gold bell! 
Buffalo Ornament by Old World Christmas
If you are searching for unique Christmas tree ornaments, you have come to the right place! Old World Christmas is a Spokane, Washington-based company that was founded by Tim and Beth Merck, who share a love of rich European Christmas traditions. Following 19th century practices, molten glass is mouth-blown into carved molds before a hot solution of liquid silver is poured inside. The ornaments are then hand-painted and glittered in a series of labor-intensive steps- resulting in this remarkable buffalo!
Copper Moose with Swirl Ornament
Add some western wonder to your tree this year with the Elk Ornament by Old World Christmas! This bugling bull elk is the perfect gift for the avid or the amateur hunter, and makes a perfect addition to the decor of any cabin or lodge. With an exquisite attention to detail and a glittering Christmas charm, this ornament does a fantastic job of capturing the spirit of this big game animal and combining it with the spirit of the season.
Montana Wolf Christmas Ornament by Art Studio
A hotly contested member of Montana wildlife is the wolf. Whether you love them or you hunt them, this Montana Wolf Wildlife Christmas Ornament from Art Studio Company would look beautiful on your Christmas tree. With unique hand-painted images on each ornament, you can use this wildlife ornament to commemorate that trip to Montana or just because someone in the family loves wolves! With the Montana Wolf Wildlife Christmas Ornament on your tree, the holidays just got a little wilder!  
By Zach Altman
Edited by: Cassi Miller