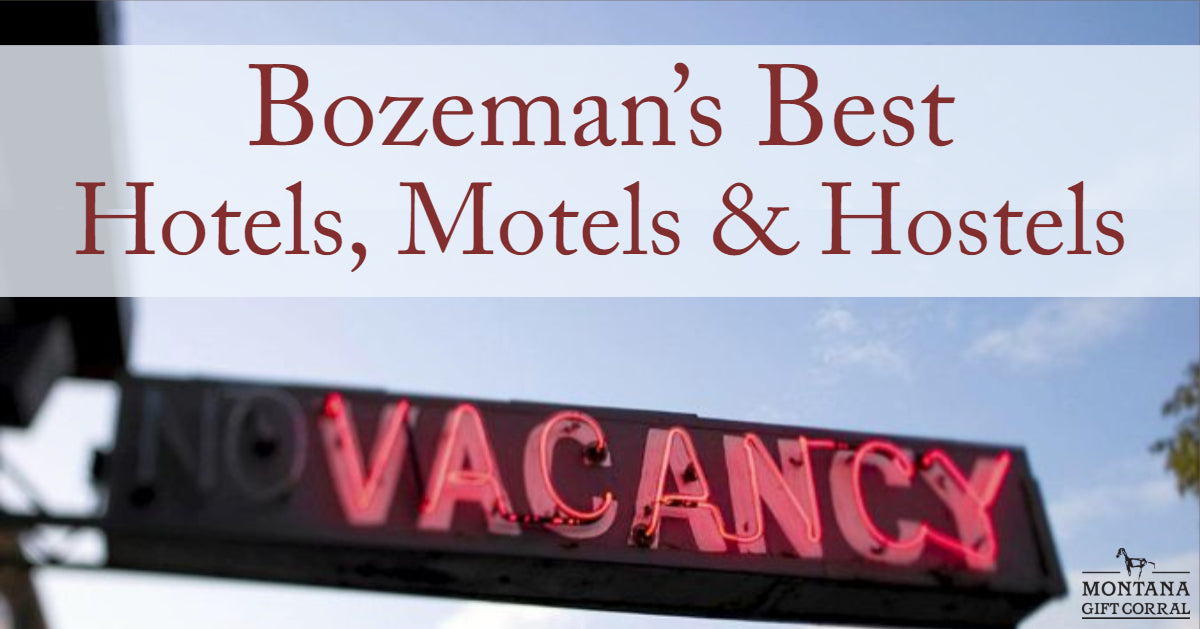 Bozeman's Best Hotels, Motels, and Hostels
    Bozeman is a brilliant place to live, but since not everyone is lucky enough to call it home, visiting it is the next best thing! Bozeman has something for everyone too! Situated between six different mountain ranges, Bozeman is home to endless possibilities for outdoor recreation. Visit in the winter and spend your days skiing at Bridger Bowl and Big Sky, or come in the spring and summer and get a chance to try stand-up paddle boards or enjoy a jog with your pup through some of the local parks. Maybe you would rather spend your time visiting Bozeman's many shopping districts like our beloved Downtown or explore the new Cannery District. Whatever you love, Bozeman is sure to have it in abundance! With so many things to do and only so much time to do them, you shouldn't have to worry about where you're going to stay. So this week the Montana Gift Corral has gathered a list of some of Bozeman's best places to stay while you explore our wonderful mountain city!
.
.
Loft 503
Photo courtesy of Loft
503
    Located at the edge of Downtown Bozeman, Loft 503 is the place to stay if you want to feel like a real Bozemanite! Loft 503 is a gorgeous house located on the corner of Mendenhall and Church, just one block away from beautiful Main Street. Loft 503 was founded with the goal to provide a new way of visiting Bozeman, by getting a chance to live like a local! People travel to experience a new way of life, and Loft 503 is the perfect start! The home boasts beautiful interior design and delightfully comfortable amenities to help you live in luxury during your stay. From free wifi and Bluetooth surround sound for entertainment to security cameras and incredibly comfortable beds for your comfort to a full kitchen and BBQ for your cravings, Loft 503 has it all!
.
.
Treasure State Hostel
Photo courtesy of Treasure State Hostel
    Looking for a cheaper, more adventurous way to travel? Look no further than the Treasure State Hostel! The Treasure State Hostel is located in the heart of Downtown Bozeman inside the Crossroads building between Tracy Ave and Black Ave. The Treasure State Hostel is dedicated to giving travelers a safe, affordable, friendly, and fun place to stay while visiting beautiful Bozeman or even just passing through the breathtaking state of Montana. The Treasure State Hostel offers a wide range of boarding options including a private room, a couple's queen-size-bed room, dorms that range from two beds to five beds. Not only that but the Treasure State Hostel also offers free wifi, free basic breakfast, as well as towels and a shared bathroom. They also offer a cozy common room with a world map mural and a small library with a sunroof! Take a chance and stay with some strangers in the five-bed dorm, or grab a group of your friends and get one together, however your traveling and whatever your reason the Treasure State Hostel is the perfect way to get your adventure started!
.
.
RSVP Motel
Photo courtesy of RSVP Motel
    What was once the old Rainbow Motel has been given new life in the form of the elegant and chic RSVP Motel! This beautiful motel was born after the owners were inspired by their world-wide travels. So they came back to Bozeman to change the way people stay and play in this bustling mountain town. Now the RSVP Motel is one of Bozeman's most popular boutique motels that has been self-described as a "place where Stetsons and whiskey pairs well with sun hats and a little bubbly." Not only does RSVP offer a beautiful and unique experience while you stay in Bozeman, but they also offer poolside relaxation, VIP treatment after days exploring Bozeman's bountiful outdoors, and a cute cafe that uses local ingredients. Treat yourself to luxury while exploring one of Montana's most beautiful cities at the RSVP Motel, because you deserve it.
.
.
The LARK
Photo courtesy of The LARK
    Most people can agree that Downtown Bozeman starts at Willson Ave, if not at Grand Ave. And situated perfectly between the two streets and right on Main Street is The LARK. The LARK is the first business before you start your stroll Downtown and they are more than happy to offer accommodations and to act as your local guides! At The LARK, they want you to fall in love with your modern one-of-a-kind Bozeman guestroom, but more importantly, The LARK wants you to get out and find your own version of Bozeman to fall in love with. And it shows! Each of The LARK's guestrooms features beautiful views and local art as well as a place for you to keep your outdoor gear! In the lobby of The LARK, you can find local coffee makers, Treeline Coffee Roasters and something The LARK calls "The Map Room", a room dedicated to maps and all anything you would need to plan an adventure. So don't forget to swing by the Map Room and plan a trip, or ask The LARK about their local guides who are more than happy to share their knowledge with you! Because The LARK doesn't just want to provide you with a place to be a guest, they want to help you be a part of Bozeman's beautiful community.
 .
.
Lehrkind Mansion: Bed & Breakfast
Photo courtesy of Lehrkind Mansion
    Bozeman is a historic city with buildings that have been around since Montana first became a state! And even though it's been over a hundred years since Bozeman's beginning in 1864, Bozeman has worked hard to preserve the beautiful buildings that make up its history. The Lehrkind Mansion is one of those beautiful old homes. Lehrkind Mansion was built in 1897 and is an elegant example of Montana's Victorian-style past. An interesting fact about Lehrkind Mansion is that it was built by a brew-master, Julius Lehrkind, who needed a home next to his new brewery and when construction began felt it was only fitting to "bless" the home by soaking each brick in large tubs of beer. Today the Lehrkind Mansion is a beautiful bed and breakfast that has kept that classy 1900's feel. And with a host who was once a park ranger for Yellowstone National Park, the Lehrkind Mansion is the perfect place to kick off your Bozeman adventure!
.
.
Lindley House
Photo courtesy of Lindley House
    Another historic home turned bed-and-breakfast, the Lindley House is located just off of Main Street at the corner of Olive Street and Lindley Place. The beautiful Lindley House features the classic Victorian style that was prominent during the 1890s when the Lindley House was built. However, it wasn't until 2016 that the Lindley House was bought by the Udall's, who began to renovate it from an old home into a beautiful vintage bed and breakfast. After learning new skills and working tirelessly alongside some of Bozeman's best, the Udalls's dream of having a bed and breakfast was finally a reality. Today the Lindley House is a cute little bed and breakfast with five bedrooms, each capable of housing two guests and one that can fit four, a private yard, and a great room that's perfect for relaxing and planning before you head out! The Lindley House is the perfect place to stay if you are looking for a small-scale yet classy getaway!
.
.
    There are plenty of things that bring people to Bozeman. Some come for our breathtaking mountain ranges and thrilling outdoor activities. Some come to explore the bustling shopping districts that are steadily blooming across the city. Some people come to experience our thriving arts. Whatever your reason, there's sure to be a Bozeman hotel, motel or hostel that compliments your needs and desires perfectly. Because in Bozeman you aren't just a guest, you're a part of our community.
.
.
Cover Photo courtesy of Daily Examiner
By: Issa Rabideaux