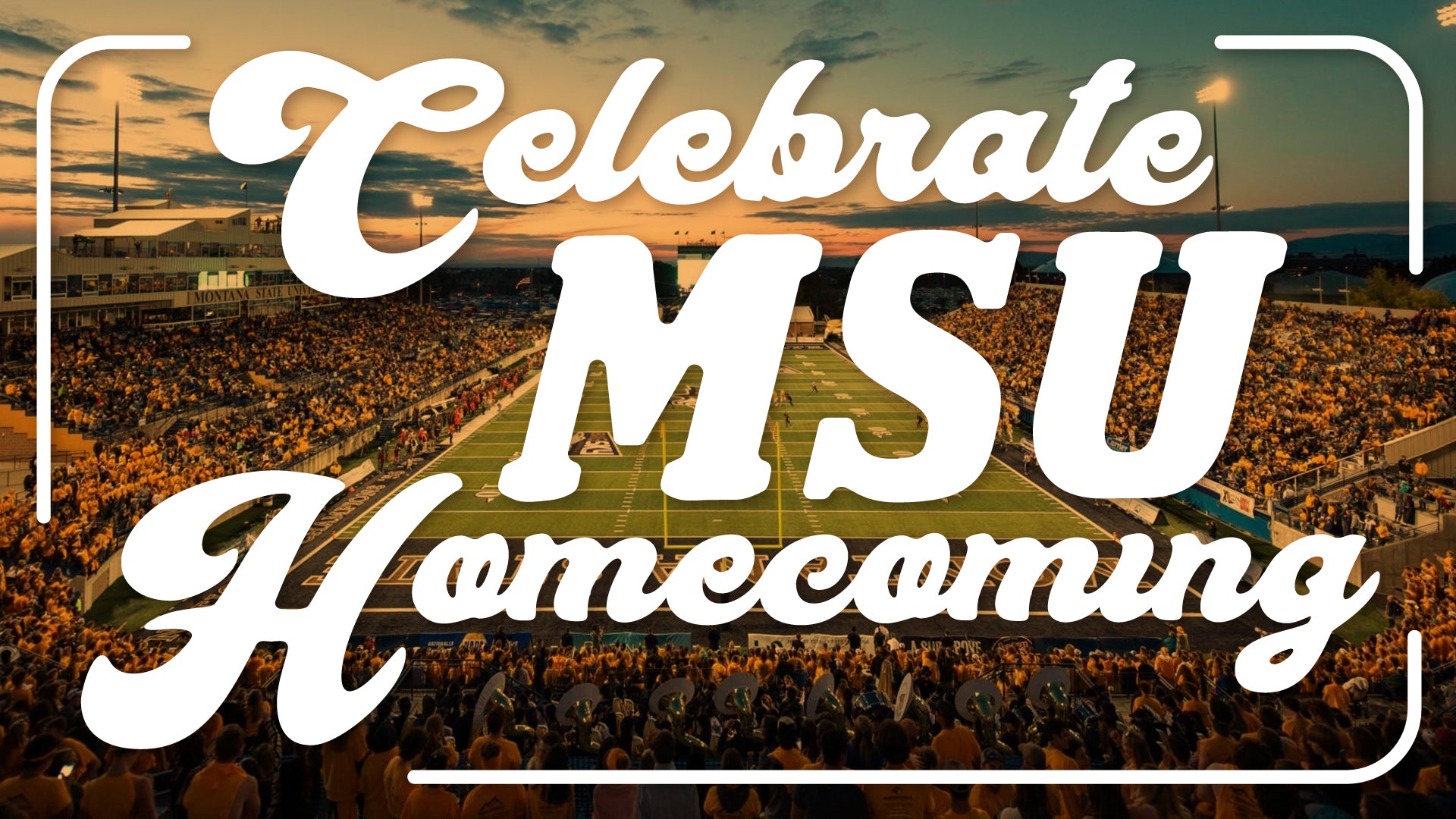 Celebrate Montana State University Homecoming!
Homecoming week is an absolute blast within our Bozeman community, and we're here to make sure you don't miss out on any of the exciting details. Each year we are full of pride as we rally behind our beloved Montana State University Bobcats. They're gearing up to face off against the Portland State University Vikings on September 30th – mark your calendars!
Homecoming in Bozeman isn't just a single-day celebration. This year the fun will kick off on September 25th. This year's theme for Homecoming 2023 is "Bobcats Through the Decades," promising a trip down memory lane and a whole lotta fun! Throughout the week, MSU and the MSU Alumni Foundation will be hosting a jam-packed schedule of events for students, alumni, and fans alike.
So, get ready for an unforgettable week filled with Bobcat spirit! 🐾 
September 25th, 2023
Kick the celebration into gear with the Homecoming BBQ under the large tent east of Montana Hall on the MSU campus. Later in the evening, get ready to rock as Foreigner takes the stage at the Brick Breeden Fieldhouse, performing their iconic hits from the 1970s and 80s as part of their "Historic Farewell Tour." 
Homecoming BBQ — 11 a.m. to 2 p.m.
Foreigner Concert

 

— 7:30 p.m. at the Brick Breeden Fieldhouse
September 26th, 2023
Mark your calendars for September 26th as students light up the iconic College M on Mount Baldy with LED lights. For those looking to celebrate together, head over to Story Mill Park at 698 Bridger Drive for a watch party. And don't miss the Watch Party Bike Parade kicking off at 7 p.m. on the Malone Centennial Mall on the MSU campus. It's a night of community, lights, and excitement you won't want to miss!
Lighting the M — 7-9 p.m.
Image courtesy of Montana State University
September 28th, 2023
Celebrate the Lewis Hall 100th Anniversary, honoring a century of history. Later in the day, head over to the MSU Bookstore for the VIA Bookstore Open House, an alumni event featuring trivia, appetizers, beverages, and great deals on Bobcat merch. And as the evening rolls in, be part of the Go Cats Lighting event at South Hedges Hall, a lively tradition brought to you by University Student Housing and MSU's Office of Student Engagement. Thursday, September 28th will be full of nostalgia and community spirit!
Lewis Hall 100th Anniversary Celebration — 3–4 p.m.
VIA Bookstore Open House — 6-9 p.m.
Go Cats Lighting – 7-9 p.m.
September 29th, 2023
On Friday, September 29th head down to the Rocking R Bar on 211 E. Main St. for a fulfilled alumni gathering. Then, celebrate the rich history of Roberts Hall with a 100th Anniversary Open House. Later in the evening, the Choral Reunion Rehearsal takes place at the Holy Rosary Catholic Church on 220 W. Main St. And don't miss the spirited Pep Rally at Main Street and Wilson Avenue, where you can meet Bobcat football coaches, players, homecoming ambassador candidates, and soak in all of that MSU spirit. It's a Friday filled with camaraderie!
Alumni Friday — 4-7 p.m.
Roberts Hall 100th Anniversary Open House — 4:30–5:30 p.m.
Choral Reunion Rehearsal — 5:30–6:15 p.m.
Pep Rally — 6-7 p.m.
September 30th, 2023
Saturday, September 30th, is the big day! Start your morning with the Serenade Before the Parade at Holy Rosary Catholic Church on 220 W. Main St., featuring performances by MSU ensembles. Then, don't miss the highlight of the day, the Homecoming Parade, where you'll see floats from various student and alumni groups along Main Street in downtown Bozeman!
As the festivities continue, head to the Homecoming Tailgate on the Dyche Practice Fields, just north of Bobcat Stadium, hosted by the MSU Alumni Foundation. It's the perfect place to celebrate the Blue and Gold spirit before the main event. And finally, cheer on the Bobcats as they face off against Portland State University at Bobcat Stadium for a thrilling game of MSU Football. Cheers to a fantastic homecoming week, and go Bobcats!
Serenade Before the Parade

 

— 9:30-10 a.m.
Homecoming Parade

 

— 10-11:30 a.m.
Homecoming  Tailgate

 

— 11:30 a.m.
MSU Football

 

— 2 p.m. 
Photo Courtesy of MSU Bobcats


Written by: Alexa Jorgenson, MGC Content Creator
Blog Cover by: Averi Thompson, MGC Graphic Designer
All Information Gathered from: Montana State University