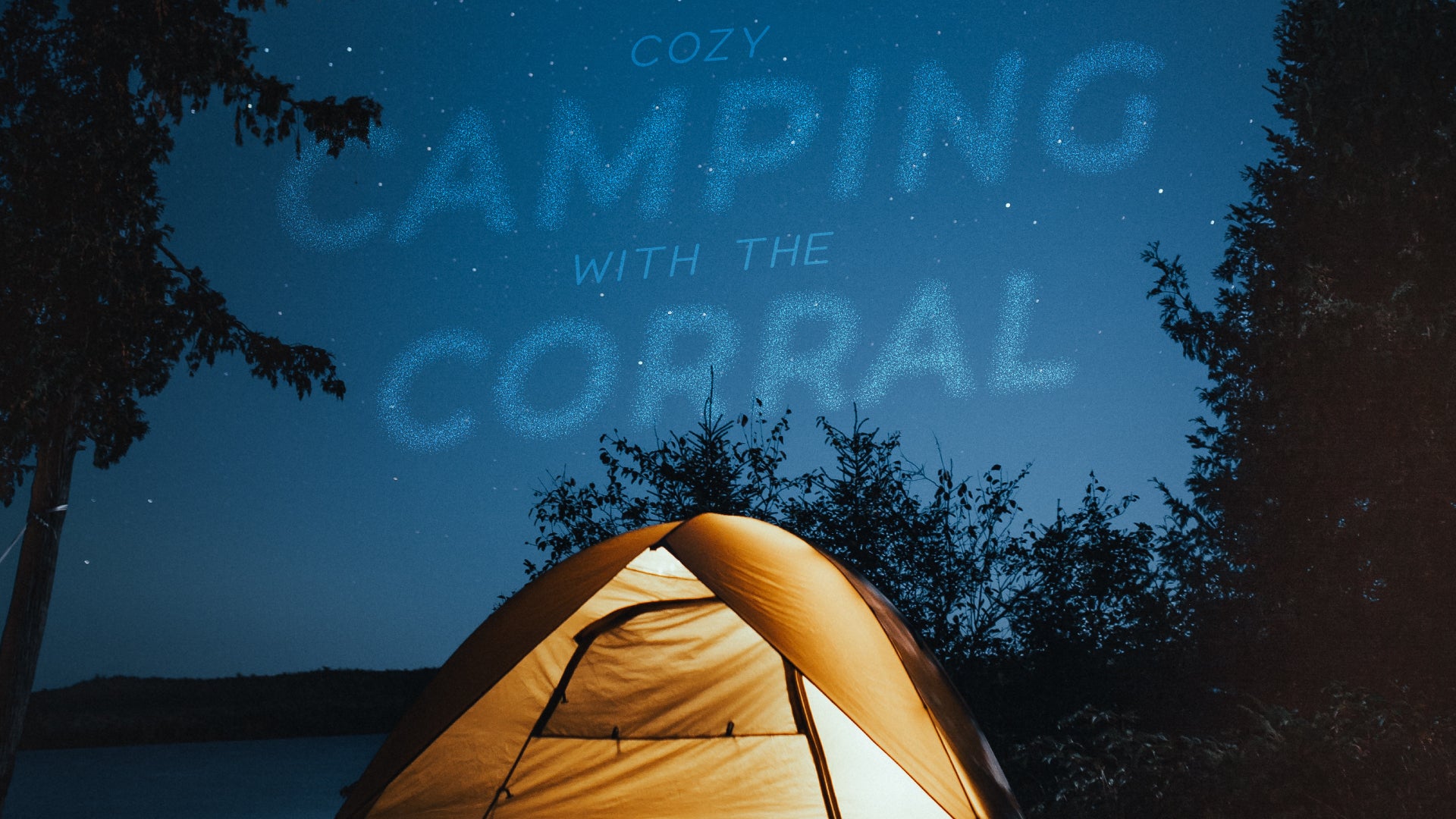 Cozy Camping with the Corral!
Nearly 150,000 square miles of breathtaking beauty spreads across the state of Montana. The Treasure State is home to over three thousand lakes, hundreds of rivers, fifty state parks, and over seven hundred different campsites. Top it all off with a diverse wildlife and Montana is an outdoor enthusiasts dream. From mountain biking to canoeing, Montana has it all! One of the best ways to enjoy the Montanan wilderness is to spend a night or two in it! Camping is a fun and exciting way to get away from the stress of life while also appreciating nature! As lovers of all things Montana, it's only natural for the Montana Gift Corral to adore camping too! However, why sacrifice comfy for camping? Check out some of our favorite cozy camping gear!
The Mountains are Calling!
The light of dawn filters lazily through your window. The world is slowly waking up, sleepy people drink coffee and listen to sleepy birds. But not you. Oh no, your eyes are wide and bright as you move through your home. Resting on your bed is your favorite picnic tote. Today you're going backpacking with your friends and sleep had eluded you all night. You already have your tent and sleeping bag handy. You were grateful for your Picnic Time Snack and Drink Cooler, it was perfect for this trip, thank goodness your friends had encouraged you to get it when you all stopped at the adorable gift shop downtown. Now all you need is to grab your favorite snacks, beverages, coffee supplies, and some s'mores ingredients. As you shove the last of your belongings into your bag you hear the tell-tale honk that lets you know your friends are outside and waiting. You slip on your favorite hat and grab your pup, you could never hike without them!
Heathered Grey Frontier Utility Cooler by Picnic Time
Under a Blanket of Stars
After a day hiking and exploring the area you plan to call "Home" for the next few days, you're ready to make camp. Together you pitch the tents and begin to gather firewood, you can already see the sun slowly slipping behind the mountains. Before you know it, that Montana chill seeps into the air! As you settle into your seat in your canvas tent, all snuggled up in your favorite blanket, you take a deep breath. The smell of the rich pine scent of Montana's mountains makes you feel relaxed and at home, you had missed this. Nestled at your side, your canine companion drifts to sleep while your friends are ready to get the party started.
 Large Yellowstone Blanket by Art Studio Company, White Toddy Tumbler by Brumate
Life's S'more Fun in the Mountains 
You've hiked up a mountain or two today, you've set up camp and the fire is crackling merrily along. Before you can drift into a content dozing, your friends explode into cheers. It was time for the most traditional of all camping activities; s'mores! Even if you don't enjoy s'mores it's hard to resist the temptation to skewer a marshmallow on a stick and watch it turn into a warm golden brown. Whether you prefer your marshmallows cooked rapidly in a ball of flames or if you prefer to take your time and make it the perfect shade of golden brown the Montana Gift Corral has the best chocolate for every s'more lover! If you have an insatiable sweet tooth why not bring your s'mores game to the next level with the Montana S'mores Bar? Made with graham cracker crumbles and even more marshmallow the Montana S'mores bar will bring a whole new element to your campfire game. Do you enjoy the traditional Montanan huckleberry chocolate but are feeling adventurous? The Huckleberry White Chocolate Candy Bar takes the typical huckleberry flavor and pairs it with the subtly sweet flavor of white chocolate. With white chocolate's fresh milky-taste and the sweet-tartness of huckleberries, it's almost like dipping the treats in cream. Whether you want delicious Montana s'mores, s'more flavored s'mores, or Dark Chocolate Bourbon s'mores, the Montana Gift Corral has your back! 
 Montana S'mores Bar, Gently Rounded Long Elegant Board by Teak Haus 
Blessed are the Caffeinated, for They Have Adventures.
One of the most beautiful parts of camping is the slow morning after a night snuggled in your sleeping bag. The air is usually still a little cold and dew may still be on the ground. If you're the first awake you begin building a small campfire for coffee and breakfast. The only thing you can think of is the coffee, luckily you had planned for this. Sitting next to the fire pit is your favorite campfire mug. Inside is your favorite beverage, the Campire Blend by Morning Glory Coffee, of course! You sleepily pull your coffee cup toward you.
After a few sweet sips, you feel like a human again! Now that you are alive, awake, enthusiastic you can make food and coffee for the rest of your companions. You fill the percolator with water and add in your favorite brew. You toss it on the grill and watch the fire work its magic. When the tell-tale bubbles begin hissing into the fire you grab two mugs and go to wake your friends.
Campfire Blend by Morning Glory Coffee, Toddy Tumbler by BruMate, Wanderlust Campfire Mug by Lester Lou Designs
What is Adventure without Snacks?
Now that you have had a nice cup of joe it's time to make breakfast! But cooking can take a while, plus you have to get the fire going again after brewing your coffee. Not to worry! You can have a snack or two. That's the best part about camping, snacks are always a good idea. And lucky you, you brought some of your favorite boxes of jerky along for the ride. The trail mix that you got at Montana Gift Corral sets your taste buds alight with the delicious flavor. As you snack and begin whisking some eggs together you let your gaze travel to the other packet of jerky. Maybe you could add some of your teriyaki jerky to the breakfast scramble? Why not? You break a few pieces up and toss it into the skillet, the mouthwatering smell that comes from the pan tells you that this was a good idea.
Blue Moon Snack Bag by Hammonds Candies
After everyone has eaten you grab your Picnic Time Cooler again. Today is for exploring the wonderful mountains you have found yourself in. You grab your trusty snacks, some journals and other things you consider important. You slap your cap back on and you're ready to go. You only have a few days left before you have to head back to your mundane life. However, today you get to go into the forest, it's time to lose your mind and find your soul. After all, adventure is waiting.
By: Issa Rabideaux, Alexa Jorgenson
Edited by: Alexa Jorgenson, MGC Content Creator
Photography by: Haven Windsor & Luke Clark, MGC Photography Team
Cover Designed by: Averi Thompson, MGC Graphic Designer