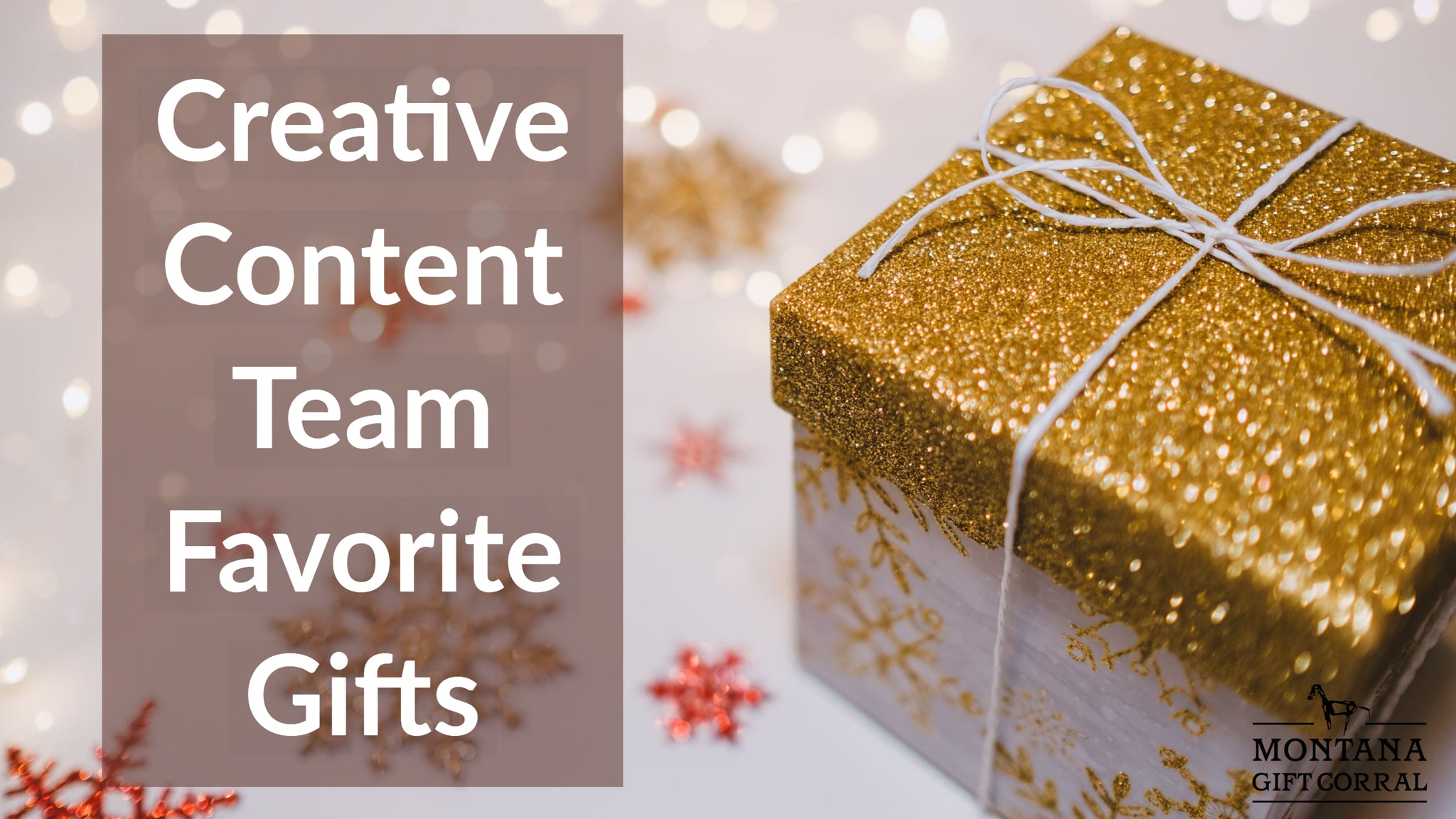 Creative Content Team Favorite Gifts
What do you give the people you love? Of course, nothing compares to words of gratitude and messages of kindness, but adding something tangible to those sentiments can really make them feel special. Plus, it makes you feel good, too! I know when I find that perfect gift for someone and watch their eyes light up as they unwrap it, I am rewarded. Our Creative Content Team put their heads together and decided to share with you our favorite gifts for giving!
Averi's Favorite GIft

It's cozy season! That means as the temperatures dip and night, you should be snuggly and warm! Averi recommends this awesome blanket for Kennebunk Weavers. Made in the USA, the cool thing about this throw is that its made with several styles of yarn, so it has a lot of texture. It looks great as a visual piece in the living room or den and is perfect to grab for a cuddly movie night! If we could have blankets in the office, this wouId definitely be Averi's first choice for snuggling. I mean, look at the joy on Averi's face! You know this is a throw blanket that is going to make the receiver of your gift very happy. Warm with joy, if you will:)
Cassi's' Favorite Gift

One of my favorite things about working here is getting to know the makers and creators behind the goodies we sell. That's why I love anything from Wood You Tell Me. Based out of Minnesota, Jo and her family have built this awesome business laser-etching the cutest wood pieces that add a nice little rustic charm to your home. Some of their items are made with beetle kill wood, which is a great way to make use of that kind of wood ravaging forests in the northwest and they also use rainbow popular, like in this candle votive, which has a really unique color scheme. I think giving something made with love is a great way to show someone how much you love them!
Chris' Favorite Gift
Coffee is love! Chris knows that all to well because his favorite gift to give is anything from Morning Glory Coffee. You want rich scents, delicious flavors, and just a satisfying cup of coffee, you're going to get that from Morning Glory! This is Montana coffee made by Montana people. Chris and his family roast all their own beans fresh on the edge of Yellowstone National Park in the adorable little town of West Yellowstone. With an array of coffees and teas to for all types of delicious drinks, this is definitely a gift worth giving. Chris is obsessed with their huckleberry flavor (because, Montana) but the Buffalo Bold and Grizzly Blend are also big winners. There's really nothing finer than giving the gift of good coffee. 
Stephen's Favorite Gift
Around here we love Meissenburg Designs! This is a Montana-based company that has really made a name for themselves in putting together some of the coolest metal and wooden signs to help decorate your home. I mean, if you want to put really personal touches in your favorite spaces, look at anything from them! And, it's fun to convey that sentiment in your gift-giving as well. Stephen particularly loves this vintage Bozeman map on wood. The image itself comes from a Montana artist, Lisa Middleton, and paired with Meissenburg's fine craftsmanship, this is the gift you give to someone who can't get enough of Bozeman! Featuring an aerial view of Bozeman, this is a great gift to give anyone who loves their favorite Montana town!
Zach's Favorite Gift

Sustainability and giving back are Zach's jam! Rescued Wine is a company based out of California that recycles wine and beer bottles to make candles! The scents are often inspired by craft beer, too, which is an added bonus. Their Stout scent is particularly awesome, featuring hints of dark chocolate, oatmeal, almond, and vanilla. Yum! What's more, they give 10% off all their profits to animal rescues across the country! Zach is a dog lover (ask him about his pup Paul), so this company really speaks to his heart. When you can give a gift to someone and tell them what the company stands for, that's a great way to show your appreciation through gift. 
By: Cassi Miller