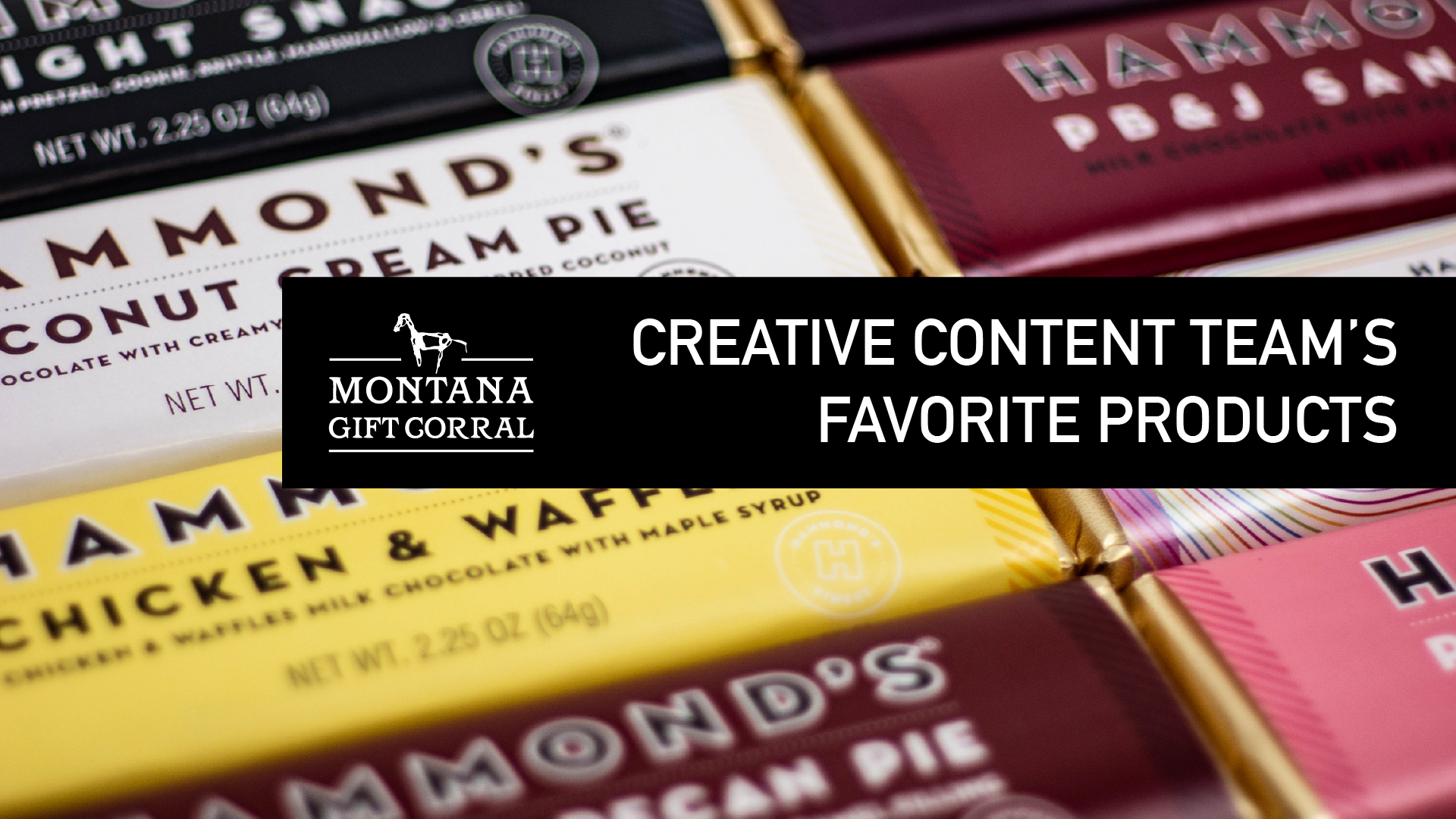 Creative Content Team's Favorite Things
Everyone has their favorites. Now if that is a favorite car, color, place, kid... that is all subject to what you like the most. Here at Montana Gift Corral pick our favorites too. With almost 5,000 products online alone, we had a tough time with this one. 
If you remember back to around Christmas time and happened to come across our previous favorite-things Christmas Blog, you may have realized that the products we choose have some sort of special meaning to us directly. Now for the fun part...
Stephen: Stuffed Animal House Products
Stephen is one of our amazing writers. Every piece that flows from his brain is pure excellence. He can paint a vivid picture of any scene he writes. His job sometimes doubles as the "office nurse" as Stephen is currently working with his accelerated nursing program at Montana State University. We like coming to him for our current medical questions, even when he may not know the answer! He also is a Ski Instructor at Big Sky Resort, therefor he works with kiddos on a day-to-day basis. Now stuffed animals aren't usually what come to mind when an adult thinks of favorite products, but Stephen plans on leading his career towards Pediatric Nursing where he will be able to help children even more than he already does. We have carried Stuffed Animal House Products for quite some time, and luckily we don't plan on stopping! These are always a hit with the kids, especially in our downtown store where we have seen first hand, kids go up to the stuffed animal bin instantly and pick out their new best friend! And to Stephen, he is our co-worker that is more of a kid at heart. Our beat-boxing friend who loves to crack jokes for most of the day... we are so happy to have him on our team! 
Zach: Tall Tails Animal Products
Zach has one of the best eyes for perfection. As one of our visual photographers and videographers for the team, he spends his day creating endless pieces that reflect his passion for the arts. Zach is one to spend most of his time in the outdoors. With his wife and furry buddy Paul by his side, Zach lives a modern-day explorer life style. To keep his pup Paul entertained, he looks to Tall Tails for help. Many of Tall Tails toys are natural, meaning you wont have to be too worried when your furry friend rips the toy to shreds (as dogs do). Zach and Paul spend a lot of time together, and Zach most definitely knows what's best for his fur-ball. As Zach continues his pursuit in the visual career path, he continues to bring forth some of the most amazing photography there is! Zach is a wonderful addition to the team, and we love all he brings to the office every day!
Averi: Windrift Hill Soaps
Averi is talented... no other way to put it. There aren't too many people out there that take the utmost pride in their work. Whatever she puts her hands to, there may be multiple renditions before the final product. This isn't due to direct change, she is so involved with delivering the best product there is, that she only brings perfection! Averi took a recent trip to New York City to see her favorite show, Beetlejuice and once she got back, the Coronavirus began to take off. She realized well maybe we should be pushing more of our soap! Walmart and Target aren't the only options for hand soap and body soap. We sell a plethora of wonderful cosmetic and body products that are made locally in Montana! She has chosen her favorite soaps which is a new product from Windrift Hill! As one of our top-selling brands for years, you'll be sure to smell better yet be able to keep clean during what could be a stressful 2020. Don't let the Coronavirus slow you down, and live like Averi does. She is one of the best people to share an office with, and will always be able to crack a joke that will make everyone crack up. Thanks to all you do Averi, we are happy to have you as part of the team. 
Chris: SK Designs
Chris is somewhat of the Goof Ball of the Creative Content Team. This guy seems like he is straight out of the Bozeman stereotype; the dog owner, Volkswagen Van builder, ski enthusiast photographer. Chris has a passion for being behind the camera, capturing wonderful photos and showing his creativity through video work. He loves his traveling and seems to always have his dog by his side! Chris loves SK Designs for one that they're right down the road from the office. His van is in the building stage, and SK is the perfect asset to have. He plans on grabbing a few of the 406 Mugs and some new glasses to deck out the utility side of his van. We love seeing Chris everyday and the office is happy to have the "emotional support" dog, Stanley joining as well! 
Cassi: Hammonds Chocolate
Cassi is the joy of the office. There is not one day you'll find her without a smile or a laugh. In fact she's so full of joy that when you tell her to laugh... she will! Cassi leads the Creative Content Team here at Montana Gift Corral. Her creative mind flourishes in the workplace, pushing her staff to work hard, while having a more than enjoyable time. Cassi believes in her staff, and this mentally ultimately creates the best work environment one could ask for. Her sweetness reflects her favorite product! Hammonds Chocolate has arrived at Montana Gift Corral. Her favorite flavor is the Chicken and Waffles bar that sounds interesting at first, but when you try it; your tastebuds will be blown from the most amazing flavor of chocolate you can taste! Cassi is a wonderful boss, friend, co-worker, and dog owner! Our team would be nowhere without Cassi, and we are beyond thankful for her and all she does!
Make sure to keep up-to-date with new products that are updated almost daily on the website! If you're in-town, make sure to stop by any of our locations, we'd love to say hello! Find your favorite at Montana Gift Corral.
Written by: Chris Wood