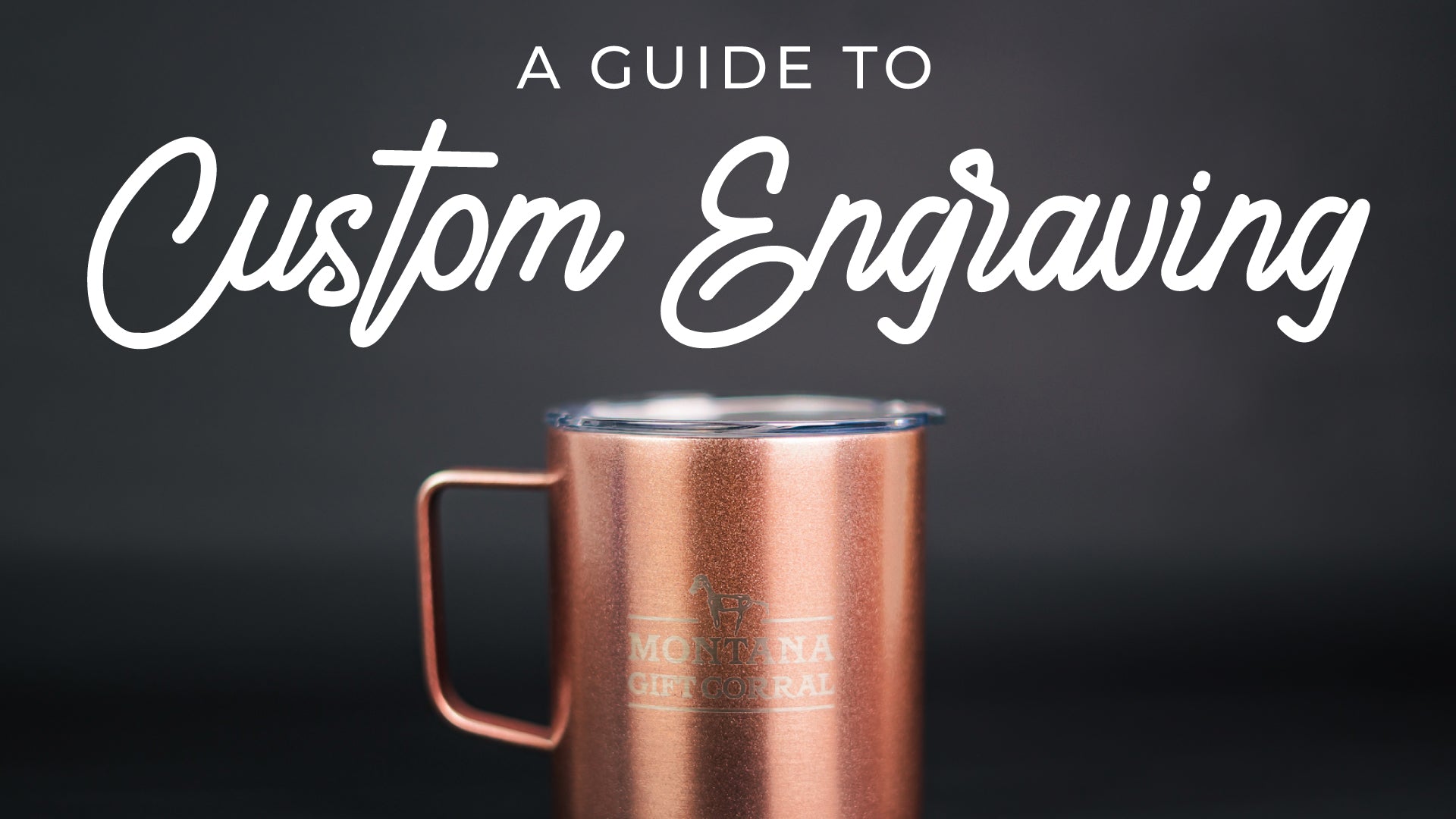 Custom Laser Engraving at Montana Gift Corral
If there is one thing we know for sure, it's that personalized gift giving is all the rage. Whether you choose to custom engrave somebody's name, an inside joke, or even a sweet note, we guarantee that your recipient will find joy in the fact that you went the extra mile to pick up something that you know they would love. 
Here at Montana Gift Corral, custom laser engraving is totally our jam. In fact, we love to experiment by engraving a variety of products. We offer custom engraving for a range of our cutting boards, mugs, tumblers, and even flasks! We've even custom engraved Apple Airpod cases! 
If you've always wondered the process behind custom engraving, you are in luck! Follow along while we walk you all through the laser engraving process here at Montana Gift Corral!
1. Choose Your Vessel 
When it comes to custom laser engraving, we are able to customize a variety of awesome products that we sell both online and in-store! From cutting boards, to wine tumblers, coffee mugs, and even water tumblers, we do it all. 
Currently, we are loving a new line of drinkware that we carry - BruMate! Started by Dylan Jacob, an entrepreneur with a passion for creating, BruMate was created with innovation as its core focus. This unique brand constantly strives to push the boundaries of innovation and is passionate about creating and fostering communities. 
We are thrilled at the opportunity to show off these innovated and unique products. Here are a few of our current favorites (all of which can be engraved):
For this specific engraving, our content creator, Alexa, chose the Toddy Tumbler in the color Daisy!
2. Choose Design + Measure the Vessel
The second step to custom engraving is obviously, choosing your perfect design! To do so, we refer to our Engraving + Personalization Design Catalog. Within this catalog, you will find dozens of fun pre-designed engraving options, some of which are customizable! If you don't see something you love, reach out and we are willing and able to create a simple design specific to you!
When it comes to custom engraving, the dimensions are extremely important. In the next step of engraving, we need to measure both the diameter of the vessel, as well as how large we are expecting and/or wanting our design to be. By doing so, we will ensure that the rotary in our laser engraver is equipped to engrave each vessel perfectly!
3. Focus Laser Engraver
Once your custom design has been loaded into our engraving computer, it is time to put the vessel inside. Once place in our engraver, we make sure that our laser is perfect focused on the vessel itself. By doing so, we are able to perfectly measure the distance between the laser head, and the vessel. 
Once our engraver has been accurately focused on the specific vessel, we are ready to engrave!
4. Engrave the Vessel
Once our engraver has been focused, we are now ready to engrave the vessel. Before we laser engrave, we always run a test to ensure that the design is perfectly place. If it is not, we will make sure to realign the design, and if it is, we turn on our laser engraver and let it do it's magic!
Usually, each individual laser engraving only takes a few minutes, however, this timeframe can run shorter or longer determined by the size of the design. 
5. Enjoy your New Custom Designed Product!
Once our laser engraver has finished working its magic, we are able to remove the vessel from the engraver, and ensure that the design is perfectly placed and engraved. We have a strict quality standard here at Montana Gift Corral, and ensure that each and every one of our engravings is of the highest quality. After inspecting the vessel, we will clean it with 100% isopropyl alcohol, removing any dust, debris, or residue.
Now that the vessel has been engraved, quality inspected, and cleaned, it is ready to be sent off to its new home. 
If you have been thinking about ordering a custom engraved product from Montana Gift Corral, now is the time to do so! We guarantee you or the recipient of the custom engraving will be enamored!
Written by: Alexa Jorgenson, MGC Content Creator
Photos by: Haven Windsor, MGC Photographer