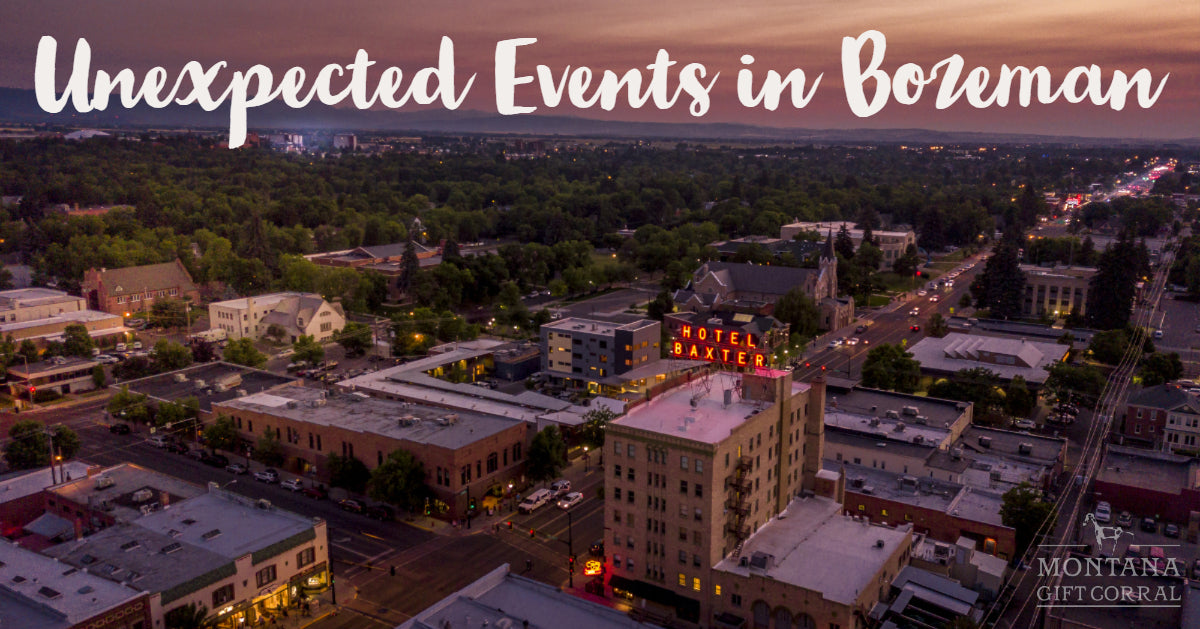 Exciting and Unexpected Events in Downtown Bozeman!
    When most people think of Montana they think of small towns where everybody knows everybody. They think of big open skies and mountains that take your breath away. When people think of activities Montanans enjoy they picture fishing and hunting before anything else, then they probably think of mudding and shooting and tailgating. Even if you offer the name of one of Montana's cities, people still probably think of rodeos and cowboy hats and shotgunning beers on our tailgates. However, Bozeman is so much more than a compilation of Montana stereotypes. Bozeman is a breathtaking crossroads of diversity and change. And with so much inspiration around us, it shouldn't be surprising that Bozeman's art scene is stunning.
.
Dance Academies

Photo courtesy of Mountain Air Dance
    For children who can't stay still when they hear a good beat, to people interested in learning how to fly through the air, Bozeman's dance scene is a sight to behold. The Bozeman Dance Center is the perfect place to get your kiddos interested in the art of dance. While the Bozeman Dance Academy is more than willing to welcome anyone and everyone with a passion for dance. And if you're love for dance sores above the clouds, the Mountain Air Dance group is perfect for you. Mountain Air Dance is a dance academy dedicated to bringing you a step closer to our big sky. From aerial silks to hammocks to hoops, Mountain Air Dance is happy to help anyone learn how to spread their wings.
.
.
Drag Shows
First photo courtesy of Sophia Gloria Hull
Collage photos courtesy of Jason Roerhig Film and Photo
    The Countship for the Imperial Sovereign Court of the State of Montana is a local nonprofit that is dedicated to helping provide and foster LGBTQIA+ spaces, educate and raise awareness about drag and LGBTQIA+ issues, and give back to their community. Nearly once a month, the Countship hosts a drag show with varying themes from burlesque to masquerades to dancing through different decades. All proceeds from shows are donated to charity, the community, and used to create scholarships. Drag shows are wonderful and exciting events that are bound to be enjoyed by anyone who has a heart and mind as open as our big sky.
.
.
Art Walks
Photo courtesy of Downtown Bozeman
    One of Bozeman's most popular summer events are the monthly Art Walks! On the second Friday of every month starting in June and going until September. Starting at 6PM, you can stroll down Main Street and explore the many art galleries that call it home. Businesses that display local art also participate and host galleries for two hours. The galleries and businesses feature different artists every month and often provide hors d'oeuvres and complimentary refreshments. Local musicians will also often set up and perform so you can enjoy some local music while admiring local art!
.
.
Theaters
The Ellen Theater photo courtesy of TripAdvisor
    There's something about Bozeman that makes people want to jump on stage and shine as brightly as the stars at night. It's probably why Bozeman has so many theaters and theater troupes! From the Kaleidoscope Youth Theater to the Black Box Theater on campus to the Bozeman Actors Theater, Bozeman has a theater for everyone. Each theater has a unique feel, but they have a common goal; to provide professional, thought-provoking and thrilling live theater to the Bozeman community. From established performers to new-comers who have only ever dreamed of being on a stage, the theater troupes in Bozeman are more than happy to give you your chance to shine!
.
.
Bozeman Symphony Orchestra and Choir

Photo courtesy of Bozeman Symphony
    The Bozeman Symphony Orchestra and Symphonic Choir is one of Bozeman's oldest performing arts. The version of Bozeman Symphony Orchestra and Symphonic Choir that exists today was established in 1968. The Bozeman Symphony Orchestra and Symphonic Choir originally started as the Montana State University Symphony Orchestra but because of it's growth it was established as the Bozeman Symphony Orchestra and Symphonic Choir! And the growth the Bozeman Symphony Orchestra and Symphonic Choir has experienced has only fueled their mission. To preserve musical excellence for our generation and generations to come through performance and community participation!
.
.   
    In Bozeman, our passion for the arts can be seen all over the place. From beautiful paintings and photography on our electric boxes near traffic lights to murals on any building with a blank wall to week long festivals dedicated to the arts, Bozeman has a beautiful art scene. So in between attending the local rodeo and going backpacking in our mountains, take a moment to appreciate the beauty of Bozeman's artistry.
.
.
By: Issa Rabideaux