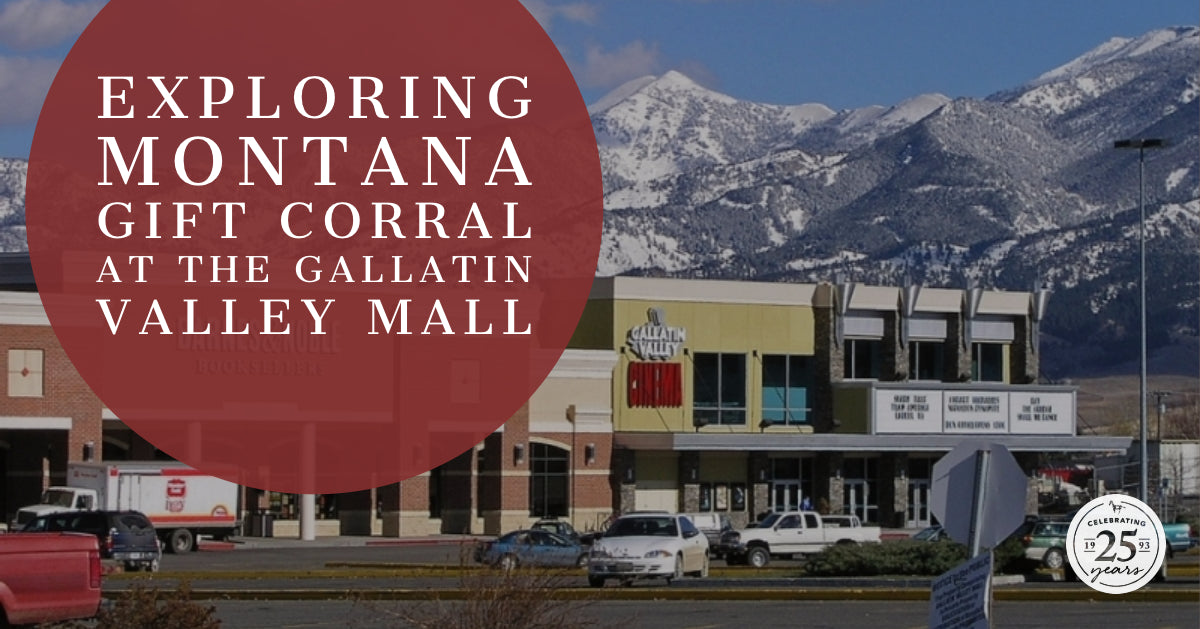 Exploring Montana Gift Corral at the Gallatin Valley Mall Store
Nothing says holiday season like a trip to your local mall!
For several years, Montana Gift Corral has been proud to host a storefront in the Gallatin Valley Mall. Explore this location and you'll discover metal wall art by Meissenburg Designs, plenty of ornaments by Old World Christmas, and much more! 
All over the country, families are preparing for the holidays - bringing out the Christmas decorations from storage and buying gifts for friends and family. This week, we explored the Mall location of Montana Gift Corral in search of inspiration, and we found it! 
Ornaments
Christmas ornaments make fun gifts and decorations. Our Mall location is loaded with rustic ornaments, everything from Old World Christmas to Ne'Qwa!
We especially love Montana Christmas ornaments! From brilliant blown-glass wildlife ornaments to those featuring wood-cut designs and homely worn metal construction, we've got just the thing to get your Christmas tree holiday ready!
Whether you're looking for a hand-painted glass ornament for your tree, or a cute bird ornament for someone special, you'll find it here!
Here's a few of our favorites:
Get into the Christmas spirit this holiday season with the Bearfoots Santa Bear Swing Christmas Ornament by Jeff Fleming! The adorable Bearfoots Santa Bear Swing Christmas Ornament by Jeff Fleming is a new member of the beloved Bearfoots Bears collection with a fun Christmas twist! The Bearfoots Santa Bear Swing Christmas Ornament by Jeff Fleming features an adorable little black bear swinging happily on his swing, reminding you to stop, breath, and enjoy the simple things in life. To top it off the cute Bearfoots Santa Bear Swing Christmas Ornament by Jeff Fleming is also wearing his very own Santa hat to help him get into the holiday spirit too!
The tradition of painting ornaments from the inside has been passed down for centuries. It takes a unique skill combined with a creative, artistic eye to be able to recreate such beautiful works on the inside of the glass. The Angela Anderson "Merry Christmas Reindeer" Ne'Qwa Ornament is no exception. Plus, it comes with a Certificate of Authenticity, assuring you it's part of the unique Ne'Qwa ornament family. In order to help you preserve this new family heirloom, it also comes in a gorgeous velvet-lined box, assuring it stays vibrant and beautiful for years to come.
Figurines
Montana Gift Corral has no shortage of adorable figurines to spruce up your mantle this holiday season. Choose from an army of friendly Santas or an adorable moose - no matter your tastes, we have a figurine to suit your needs!
The Heartwood Creations Russian Santa Figurine has everything your would expect the jolly Santa to have. From the top hat to the colorful design of the Kremlin this Russian Santa has the perfect style. The festive staff has a lovely piece of holly and is finished off with a colorful swirl on top of the staff!
Add a little Western flavor to your nativity set this year with Forest Nativity Friends by Big Sky Carvers! This set features animals you would find out in the wilderness near the mountains such as; a mountain goat, bunnies, a fox, a skunk, and a moose.
Home Decorations
Christmas time is a great opportunity to bring the cozy Montana cabin atmosphere into your home - no matter where you live! We have all the rustic decor for your holidays: from rustic signs to cute snow globes! At Montana Gift Corral, you can find the western vibe all year around.
A truly special decoration to honor a truly special time of the year, this unique MOVA globe features art by Christmas favorite Andy Russell, and is just the thing to kick off the holiday season in a new home, or in a well loved house with the family.
By Zach Altman
Photos by: Kree Gullings