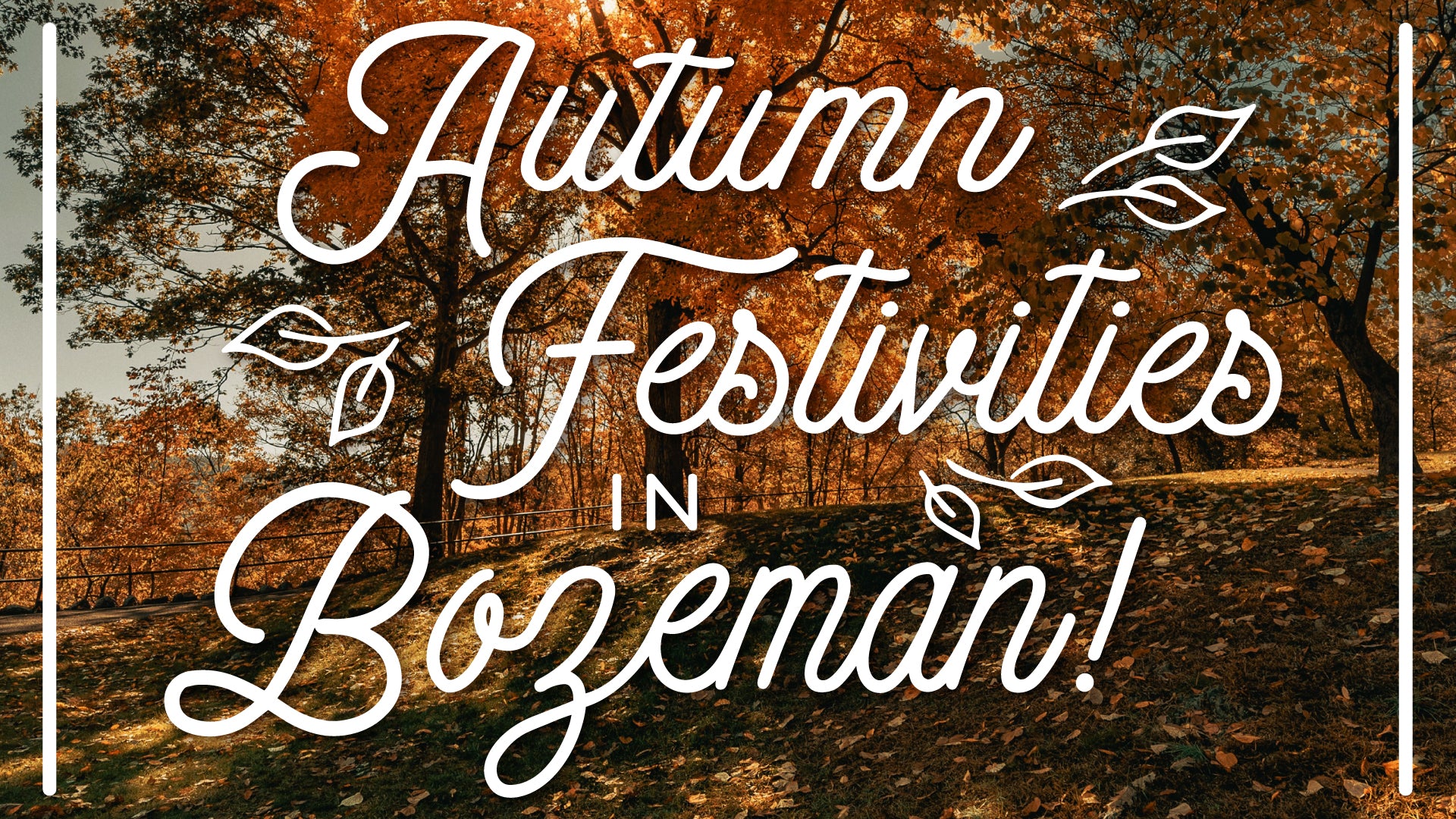 Fun Fall Festivities in Bozeman!
Each year, as the chill in our mountain crisp air gets colder, the leaves turn orange and the days get shorter, we welcome the season of Autumn together as a community. Getting out and involved in each years fall activities in Bozeman is a great way to stay connected to a sense of belonging, which is important to have as we head towards our coldest, winter months. To help you stay in the spirit of the season, we've compiled some select, autumn festivities that are sure to keep you feeling in good spirits for the changing of the seasons. Grab you favorite local coffee roast, spice it up with some pumpkin, get a fire going while snuggling under the perfect blanket, and plan your 2023 fall festivities in Bozeman with us!
Bozeman Fall MADE Fair
Right around the corner is the Bozeman Fall MADE Fair, which is scheduled this year for October 6th from 5pm to 8 pm and October 7th from 10pm to 4pm. We love the MADE Fair and are excited to share that many of our local, Montana vendors we carry will be in attendance this year! Located on the Montana State University Campus in the Brick Breeden Fieldhouse, the Bozeman Fall MADE Fair is a great way to discover over 195 local, Montanan artists and makers while shopping and supporting small, local business.
From fiber artists and artisans to locally harvested wax candle companies and jewelry makers, there is truly something for everyone at the Bozeman Fall MADE Fair. The best part is that this event is totally free! They do have early bird options for those wanting to get a first look, so how ever you want to do it, make sure you do it with friends or family, because the best part about our Autumn festivities list is that it's better done with the ones you love.  
Photo courtesy of Body of Earth
Photo courtesy of Hindu Hillbilly Farm
Fresh Apple Cider & Farm Stands
The best thing about fall, besides the sweater weather, is the amazing produce that is in season. Some of our favorites are pumpkins and apples. For us, fresh-pressed apple cider is the most delicious sign that the seasons are changing! So we had to find out the best places to get fresh apple cider in Bozeman.
Luckily for us locals, we live in a town full of local farmers bringing us fresh produce. One of our favorites is the Gallatin Valley Botanical at Rocky Creek Farm. If you want to put on your cutest fall fit to visit a farm stand this season, Rocky Creek Farm is the place to go. With their stunning views of the mountains and their absolutely breathtaking farmland, you will want to check them out because visiting their farm stand provides all of the best autumnal feelings for you this 2023 fall season. 
Be prepared to feel like you are in a Hallmark movie with their fall farm stand. They carry seasonal produce, carving pumpkins, decorative gourds, dried flowers, apple cider, and more. The farm stand at Rocky Creek Farm is open Tuesday through Saturday from 9 am to 5 pm and on Sundays from 10 am to 3 pm.
Bozeman Straw Bale Maze
Every Autumn, Bozeman is lucky to have access to this a'maze'ing opportunity. The Bozeman Straw Bale Maze is an awesome fall activity for all ages. Each year, the maze is created to look like a piece of art from the sky, but from the ground, it is a challenge us Bozemanites are willing to accept. 
Image courtesy of Bozeman Maze
We want to leave this years design a surprise, but what we won't leave up to the imagination is how much fun it is! Perfect for friends and families to come together, to get outside, and to try and solve your way out of their Hay Bale Maze. After, you can enjoy a hayride perfect for relaxing into the autumnal evening while enjoying apple cider and other concessions they have available. 
Image courtesy of Bozeman Maze
Anderson School Haunted House
There is nothing better than getting spooky during the Autumn months. From watching scary movies, to visiting haunted houses, we love a good scary event to get us in the spooky spirit. Luckily, getting spooked for a good cause is an Anderson School Haunted House tradition.
Each year, the 8th grade class at Anderson school has out on a haunted house to scare the locals. The best part is the Anderson's Haunted House is a community event sponsored by Anderson's 8th grade class as a fundraiser for their trip to Yellowstone National Park and Washington DC. When you visit this haunted house, you are supporting a good cause. Plus, they are giving you an awesome fall experience. We are excited about this year's theme, which is "The House of Phobias!"
Don't let the fear of of phobias stop you from making new, fall memories this year!
 Photo courtesy of Anderson School
Haunted Mountain Theater
There is just something so cozy about cuddling up on the couch with a candle lit while watching a scary movie. The spookiness of the chill in the air as the wind sends leaves dancing really adds to the over all feeling of fall. If you are like us and love watching scary movies during the autumn season, you will love the Haunted Mountain Theater. The Museum of the Rockies presents the spooky history and folklore told through production and live theater in the Taylor Planetarium. You will watch real history about ghosts, lake monsters, train crashes and more, re-told in a way that will have the goosebumps on your arm raised. After the film, you then tour the historic Tinsley House at the Museum of the Rockies by lantern light!
Photo courtesy of Haunted Mountain Theater
Trick or Treat Downtown Bozeman
The most classic fall activity has to be Trick or Treating. Here in Bozeman, we honor this tradition each year by bringing the community together in our Downtown Trick or Treating! Businesses of downtown Bozeman (like us) hand out candy to every family that participates. It is a very fun way to see each other dressed up and celebrate Halloween safely. This year, Downtown Trick or Treating is on October 31st from 4 pm to 6 pm. 
Check out some photos from last year! Our community always shows up dressed in the best costumes. We hope to see you there!
No matter how you spend this Autumn in Bozeman, just know this community prioritizes togetherness. So if you are feeling lonely, isolated, or even bored, check out our local communities event board the Bozone to find something to do! Or you can come check out our small business in downtown Bozeman or at any of our other locations! 
Written by: Haven Arnold, MGC Content Creator