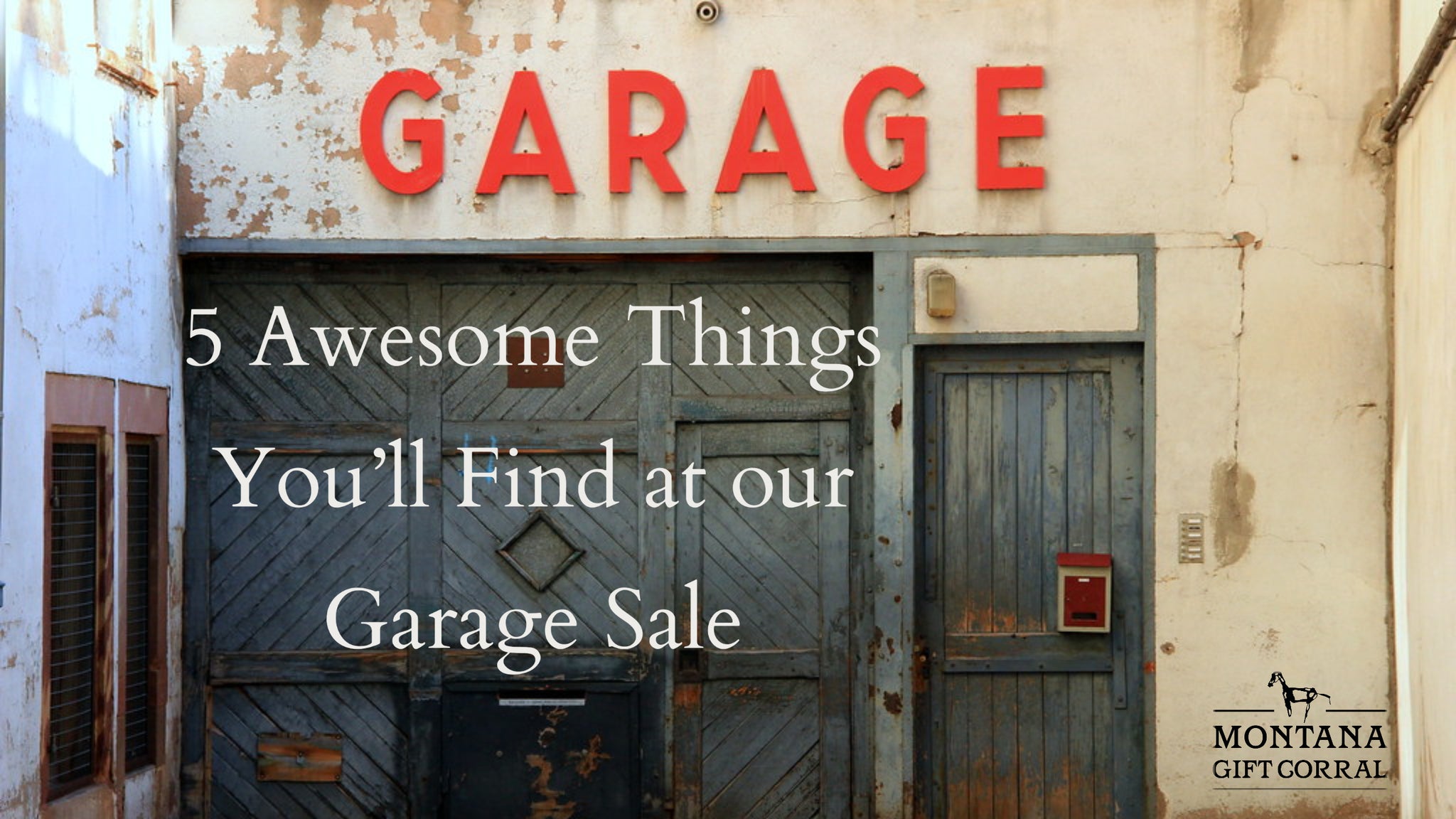 Five Awesome Things You'll Find at our Garage Sale
Our garage sale is already underway and, with products starting at 65% off, items are moving quickly! The Garage Sale will be at our warehouse, 109 Pipkin Way, Belgrade, MT starting on Thursday, June 4th, to Sunday, June 7th, each day from 7am-4pm. Stop by and see everything we have during this incredible sale and grab a coupon good for 15% off at our downtown, Walmart, and mall stores through Sunday, June 14th! 
We want to share five awesome things you'll find at our garage sale!
Cherry Fly Boxes by Stonefly Studio
Stonefly Studio brings you the handcrafted beauty of a Montana artisan with the goal of preserving memories that can be handed down from generation to generation. What started for Daniel Mazel as a hobby has become a full-fledged small, local Montana business that now he and his son enjoy together. When you buy a Stonefly Studio Cherry Fly Box, you know you're getting something quality made with love. Each Cherry Fly Box by Stonefly Studio starts as a hand-selected piece of wood. It is then hand-sanded and a clear lacquer is applied to make sure the laser engraving is preserved for years to come. On the inside, you'll find a millstream ripple foam which helps preserve and secure your most precious flies. This is the perfect Montana-made gift for the avid flyfisher in your life. Beautiful and handcrafted, you'll want a Cherry Fly Box by Stonefly Studio for yourself, too! 
Ne'Qwa Ornaments
You know it's always Christmas at the Corral and this is the perfect time to stock up on some beautiful ornaments that you'll cherish for many years to come. Ne'Qwa (pronounced nay-kwa) is the Mandarin term for the centuries old tradition of hand-painting on the inside of mouth-blown glass. From outlining to shading and coloring, all the work that goes into these beautiful ornaments if painstakingly hand-done by skilled and experienced artists. Each of these works of ornament art come with a certificate of authenticity, feature the artist's signature etched into the glass, and are packaged into a special satin-lined and hinged gift box. Come by the Garage Sale and pick up enough ornaments to fill your Christmas tree!
X's and O's Sherpa Throw Blanket
If you spent any time in Montana, you know you should never be without a good throw blanket, regardless of the time of year. The X's and O's Sherpa Throw Blanket is a delightful blanket brought to you by Carstens and features a simple yet eye-catching design. Dashes in red and green are accompanied by pale yellow circles and little white arrowheads, and of course a series of blue X's and O's make up the fun pattern of the X's and O's Sherpa Throw Blanket! The X's and O's Sherpa Throw Blanket is perfect for anyone looking to add a splash of color to their home. It is also incredibly soft, making it the ideal blanket to throw over the back of a couch so you can snuggle into it the next time you're relaxing. Soft, warm, and stylish are all that you need to know about the X's and O's Sherpa Throw Blanket.
Montana Reloaded
Montana Reloaded brings you necklaces to accessorize any outfit from the office to a night out on the town. Made in Townsend, Montana by local artists, these necklaces will help keep Montana close to your heart. Each necklace comes from hand-cut reclaimed license plates and copper, while recycled ink and magazine-page packaging finish off these unique pieces of Montana craftsmanship. All chains are nickel free and hypoallergenic. You'll love this environmentally conscious addition to your jewelry collection!
Pallet Art Creations
Pallet Art Creations brings you magnets handmade in Montana. These magnets come in the shape of this great state and feature a number of breathtaking scenes and the incredible wildlife of Montana. These full-back magnets will stay right where you put them making sure your fridge art and filing cabinet notes don't slide. These sturdy magnets will be the unsung heroes of your house or office. Stock up with these magnets from Pallet Art Creations and show off your state pride!
We have plenty more great merchandise on sale during our Garage Sale. Come to Belgrade and see everything for yourself!