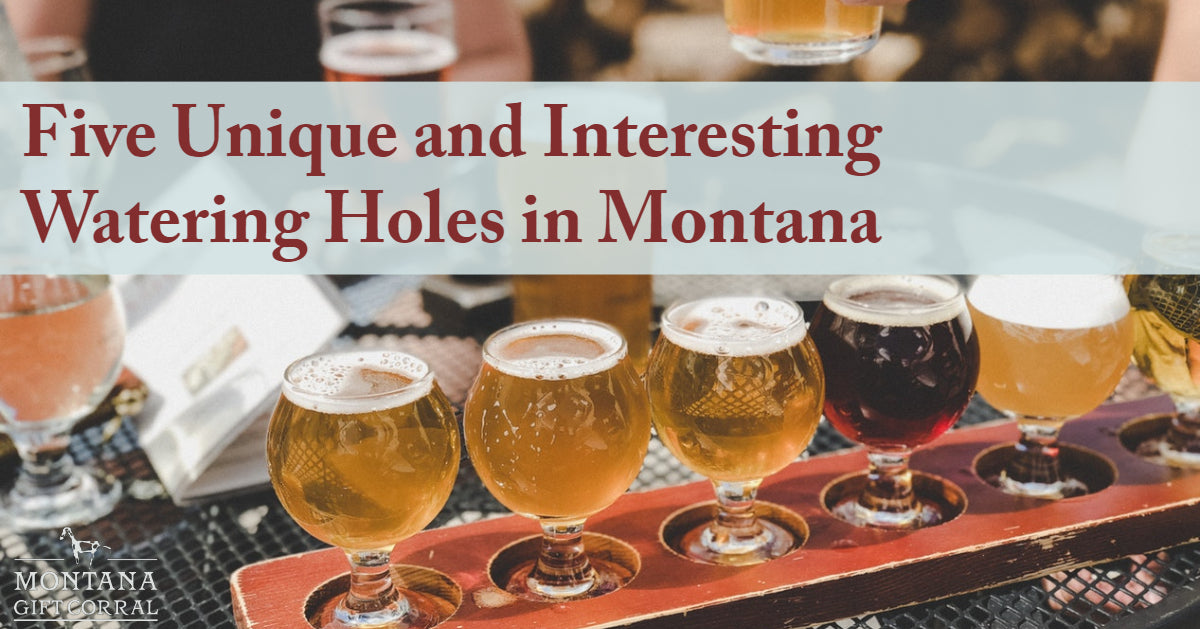 Five Unique and Interesting Watering Holes in Montana
    Are you looking to have a wonderful night on the town, Bozeman-style? But what does a night on the town look like in Bozeman? Lots! From clubs with flashing lights and bass-dropping music to dive bars with a classic cowboy feel, Bozeman has it all! Check out the Montana Gift Corral's blog this week on five unique and interesting watering holes in Bozeman! From classics that everyone's been to a time or two to speakeasies that just opened, there's something for everyone in beautiful Bozeman!
The Barmuda Triangle
Haufbrauf photo courtesy of Kevin Grastorf of Google, Scoop photo courtesy of the Scoop, and Molly Brown photo courtesy of Ellis Johnson
    On the corner of Seventh and Main Street, there's not one, not two, but three bars all Bozemanites have been too. The Barmuda Triangle is a trio of three popular bars arranged around a famous backlot at the heart of Bozeman. The Haufbrau House is one of the three bars there. The Haufbrau was founded in 1969 as a place for people to gather and for community to grow. Since then, the Haufbrau hasn't changed much. There is still graffiti on the walls, peanuts crunching underfoot, and patina on more surfaces than not. But there is also still a bartender with a warm smile, someone with a story worth hearing, and a wonderful sense of community. And after listening to live music there you can stumble on over to The Molly Brown, the second bar in the Barmuda Triangle.  The Molly Brown has an open area that is perfect for playing pool! With four pool tables, TV's to watch the latest game or fight, and poker nights the Molly Brown has something for everyone! And if you aren't too far gone after visiting these classically Montana bars, check out The Scoop Bar, the third bar in the Barmuda Triangle. With five more pool tables, a foosball table, keno, and two dart boards, you are bound to find good activities, great beer, and the best company.
.
.
Valhalla Meadery
Photos courtesy of Issa Rabideaux
    The Hall of the Slain is what the Old Norse word "
Valhöll
" translates to and is the origin of the word Valhalla. Valhalla is the mythical hall for the dead in Norse mythology where fallen soldiers can wait for the day when Odin calls upon them to fight in Ragnarok, the end of times. Thankfully, losing your life in battle isn't required to enjoy Bozeman's new winery, Valhalla Meadery! Valhalla Meadery is a refreshing and beautiful winery located north of Bozeman's Cannery District. However, Valhalla Meadery doesn't serve wine, but one of the oldest versions of alcohol, mead! And their mead is made with Montana's best honey. To make it even better, Valhalla Meadery offers a small food menu inspired by Scandinavian cuisine that is beautifully plated and absolutely delicious! Don't forget to stop by the next Sunday you can, that's game night at Valhalla Meadery and the more the merrier!
Devils Toboggan
 Insert Photo Here
    Take a step back in time to the days of speakeasies, gangsters, and flappers with Bozeman's latest tavern! The Devil's Toboggan is a new "speakeasy" in Bozeman's growing Cannery District. The Devil's Toboggan features elegant decor, designed to make you feel like you just stepped into The Great Gatsby and a fantastic cocktail menu. But don't let the fancy lighting, classy couches, elegant glass bar, and sophisticated styles the servers wear intimidate you, after all, it's still Bozeman. Which means that The Devil's Toboggan has some amazingly tasty treats and a warm and welcoming community that makes this speakeasy the perfect blend of bustling Bozeman, small-town community, and 1920's class.
 .
.
Crystal Bar
Inside photo courtesy of Crystal Bar, Rooftop photo courtesy of Kathryn Manning on Google
    Take a trip to Bozeman's small-town past with a trip to the Crystal Bar! The Crystal Bar is located at the heart of Downtown Bozeman near the Copper Whiskey Bar and Grill and the Zocalo Coffe House. And if you're looking for a classical cowboy dive-bar, the Crystal Bar is the place for you. The Crystal Bar features walls heavily decorated from years of love, a pool table, a foosball table, and fantastic prices. The Crystal Bar has even been described by patrons as Downtown Bozeman's very own "Cheers", the atmosphere is more than enough to keep the place packed. To make your visit to the Crystal Bar even better stop by in the summer and enjoy their rooftop bar. When at the Crystal Bar you can enjoy gorgeous views of Downtown Bozeman, drink great beer and be a part of the Bozeman family! 
.
.
Kitty Warren
Photo courtesy of Kitty Warren Facebook page
    If you find yourself wandering alleyways of Downtown Bozeman, see if you can find an old green door located twenty steps below Main Street. If you're lucky enough to find the door, the Kitty Warren Social Club is a worthwhile tavern for anyone looking to enjoy all things aged, twisted and weird. The Kitty Warren has an air of secrecy with its use of elegant decor, dim lighting, and obscure directions. Elegance and mystery are to be expected though when you name a tavern after one of Bozeman's first and wealthiest madams. And even though Miss Warren and her doxies have since lost their kingdom, Bozeman's history of debauchery and chaos lives on just a simple twenty steps below main.
.
.
    Stop by one, two or all of these wonderful watering holes you can find in Bozeman! From classy and elegant speakeasies to crowded and rowdy cowboy bars to wineries straight from the days of Vikings, Bozeman as a tavern for everybody. So grab your friends, designate your DD, and go find the tavern that's perfect for you! Just remember to have fun and be safe.  
.
.
By: Issa Rabideaux