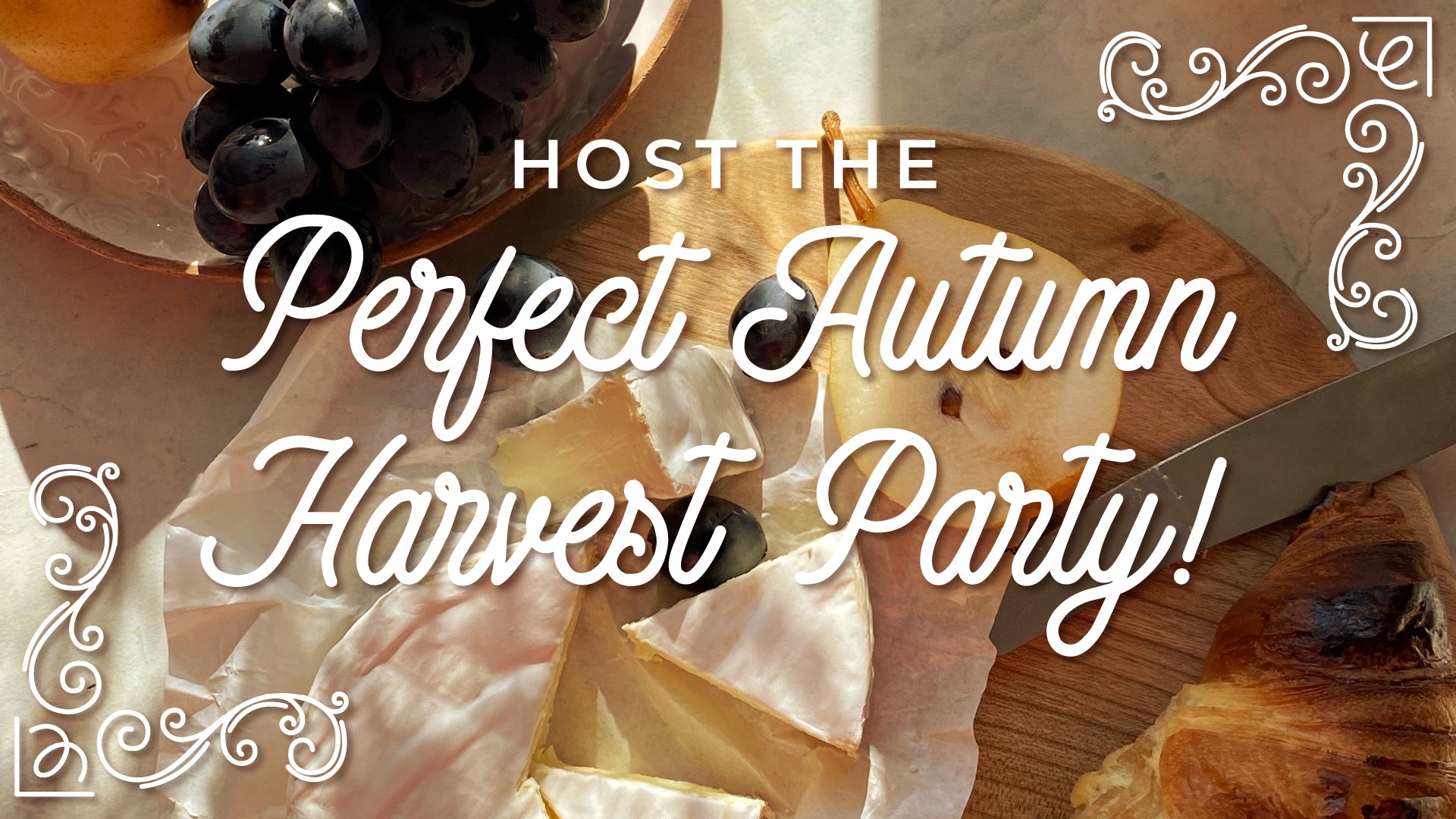 Host the Perfect At-Home Fall Harvest Party
The air is crisp and the mountains are turning stunning shades of orange and red. We've reached the peak of Autumn here in Montana, and it's time to celebrate! There's no better way to celebrate this change in seasons that with a Fall Harvest party. But what's a Fall Harvest party, you ask? We're here to tell you! In this post, we'll delve into the heartwarming decor and delectable bites that define this seasonal gathering. So, slip into your coziest sweater, pour a cup of something warm, and join us in embracing the beauty of fall as we explore the essence of this beloved autumn tradition. 
Autumnal Home Decor
Preparing your home for a Fall Harvest party is the first step towards creating a warm and inviting atmosphere for your guests. By incorporating a few autumn-inspired decor pieces, you can bring the cozy essence of the season indoors, making your space the perfect spot for connecting with friends, family, and loved ones.
If you're searching for a beautiful piece of art to bring the warm, autumn hues right into your home, you're going to fall in love with our Nancy Seiler Colorful Aspen Trees Box Art by Meissenburg Designs! This unique piece has been proudly made in Montana and has been skillfully designed by Nancy Seiler. Its vibrant colors are like a mirror to the stunning fall foliage you'd find in New England, making the Nancy Seiler Colorful Aspen Trees Box Art a perfect choice to breath some life into your dining room!



Another way to draw the magic of the season indoors is with beautiful fall-inspired tableware. When it comes to curating the perfect table setting, those little details matter! Beautiful dishes, table runners, and silverware are a fantastic way to make an event feel extra special. And we can't forget the often-overlooked yet essential detail—napkins!
Here at Montana Gift Corral we are proud to offer a vast array of beautifully designed paper napkins. In fact, we literally have a a set of napkins that are called the Harvest Party Napkins by Paperproducts Design! How perfect!


Autumn Harvest-Inspired Recipes

With your home all decked out in festive autumn decor, the next step in creating the perfect fall harvest party is curating a menu that embodies the spirit of the season. Autumn is known for its delicious, wholesome, and comforting meals, alongside yummy warm beverages. Here's a few recipe suggestions that will pair perfectly with the cozy and welcoming theme of your event!
Autumn Harvest Baked Brie
When it comes to crafting the perfect appetizer for your fall harvest party, one dish that effortlessly captures the essence of autumn is baked brie. This indulgent, creamy recipe allows you to express your creativity, as you can make it entirely your own with an array of toppings. Whether you opt for a drizzle of honey, a mix of freshly-picked herbs, or even a fig jam, the possibilities are truly endless. For a fall-inspired twist, we recommend topping your baked brie with our Boot Scootin' Cranberry and Green Chili Salsa. This salsa brings the perfect blend of seasonal ingredients, featuring the richness of port wine and cranberries alongside the bold kick of jalapenos and green chilis. Each bite is full of flavor! The cranberry and green chili combination will elevate your baked brie, creating a taste that definitely deserves a spot on your autumn menu.
What You'll Need:
1 4" Wheel of Brie Cheese
Directions:
Preheat oven to 350°F.
Unwrap brie and place it on a baking sheet lined with parchment paper.
Bake for 15-20 minutes in oven.
Remove from oven and transfer to a serving tray/board.
Add a happy healthy helping of the Boot Scootin' Cranberry and Green Chili Salsa to the top of the baked brie wheel.


Huck-Apple Hard Cider
Another way to get festive at your fall harvest party is by offering a yummy autumn-inspired cocktail to your guests. You can get creative with a spiked chai tea, pumpkin spice martini, or even keep it simple with a classic old fashioned! One drink recipe that has really captured our hearts this fall is a Huck-Apple Hard Cider. Yep, you heard that right. We're adding a huckleberry twist to the classic autumn hard cider! Trust us, it's perfect way to get fall festive while staying connected to the Big Sky State of Montana.
If you're on the hunt for a truly exceptional hard apple cider, there's a local gem you shouldn't miss – Lockhorn Hard Cider! This family-owned cidery is based right here in Bozeman, Montana and is known for crafting top-tier, all-natural hard ciders. What sets them apart is their dedication to quality and their specialty – the "Bone Dry" ciders. These are tailor-made for folks who love a seriously crisp and refreshingly dry adult beverage, minus the added sweetness or chemicals!
What You'll Need:
Directions:
Open a can of Lockhorn hard cider and pour into a chilled glass.
Add a drizzle of huckleberry syrup - mix or serve as is!
Garnish with fresh huckleberries and an apple slice.
Autumnal Serveware 
Last but certainly not least, one way to amp up the magic of your fall harvest party is with beautiful serveware. You decorated your home, made drool-worthy meals and drinks, and now its time to add that finishing touch! Montana Gift Corral is proud to offer a vast array of unique items that will make your event extra special.
Colorful utensils from Totally Bamboo, stunning cutting and serving boards from Teak Haus, rustic-chic placemats by Capitol Earth, and the charm of made-in-Montana dishware from Fire Hole Pottery are the missing puzzle pieces that will make your gathering truly special!




**

Written by: Alexa Jorgenson, MGC Content Creator
Photography by: Luke Clark, MGC Photographer
Blog Cover by: Averi Thompson, MGC Graphic Designer