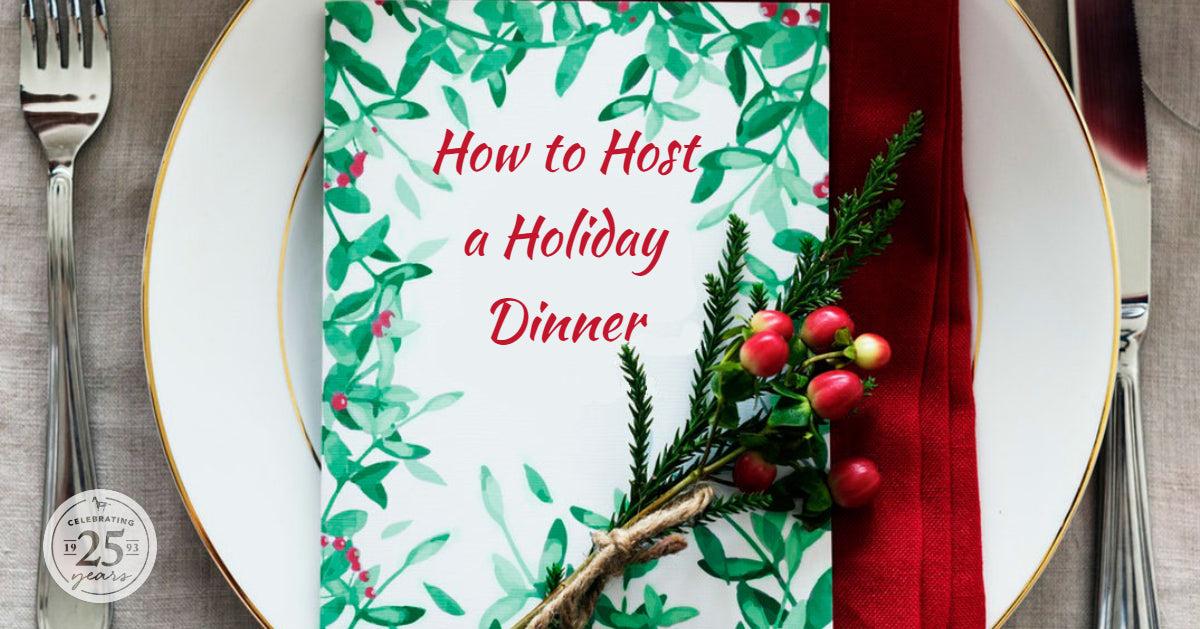 How to Host a Holiday Dinner
    The holiday season is finally upon us! December alone has over a dozen different holidays from around the world. And how are you celebrating your holiday this season? Maybe you are just lighting your candles or decorating your alter. Maybe you are planning to host a party of some sorts? Or maybe you are planning to host a holiday dinner but aren't sure where to start? Don't worry, the Montana Gift Corral has some wonderful Holiday Dinner host tricks and tips for you this week!
    The first thing to consider when planning for a holiday dinner is the main attraction, the center of everyone's attention and even in the title of your event. That's right, the most important thing to consider when planning a holiday dinner is the food! Food is an important and wonderful way to experience life. There are hundreds of thousands of ingredients that someone can use, each one with a unique flavor. And those ingredients can be combined into endless possible recipes. The endless possibility of food and flavor is exciting, however not all the ingredients are completely equal. For some ingredients they are simply found in different climates, making them rarer in some places and more common in others. Other ingredients depend on specific circumstances to be created. Because of the endless possibilities and circumstances for the endless number of ingredients, it would make sense that many people consider food to be culturally significant. The best example is traditional holiday foods.
How Many Courses?
    Before you can begin cooking, it's a good idea to know how you want to serve dinner. If you are planning an elegant sit-down dinner, maybe presenting the food in courses would be best. Having your food organized into courses gives your dinner party a sophisticated feel. However, if you aren't interested in planning the perfect courses, why not try a buffet style? A buffet is a sweet and simple way to display all of your hard work and saves you the trouble of bringing it all out on time. Better yet, if you aren't in the mood to attempt to cook enough food for everyone, why not host a holiday potluck? A potluck is always fun, allowing you and your guests to show off your best dish! Don't forget to consider your guest list when picking a dinner style. Friends and family are great for a potluck, but maybe a fancy sit-down dinner would be best for business guests. However you choose to display your food the next step is the same, what kind of food do you want to make?
What's on the Menu?
    To decide what foods you should serve at your holiday dinner party, you should look at what foods are traditionally served for your holiday. Some holidays, such as Christmas, have traditions that are unique to different countries. This is a great opportunity to explore foods from different countries, or as a chance to explore your heritage through taste. If you're lucky enough to have friends from different beliefs and backgrounds, maybe look into foods traditional to their heritage as well. If you are hosting a potluck maybe ask your guests to bring food that is unique to their holiday traditions. If you do decide to create a feast with food from all over the world and from different cultures, this could be a great opportunity to learn! While researching for the perfect recipe, do a little research on why that dish is culturally significant and include a little info card next to it!
How to Decorate?
    Now that you have your dinner menu prepped, a grocery list made of all the ingredients you need, and you have the table layout planned you are ready for the next step. Decorations are a must for any holiday party, even a dinner one! And now that all the hard parts of planning a dinner are out of the way, it's time for the fun part; decorating! This can be as simple as just setting a center piece on your table to being as extravagant as re-doing your entire home. A sweet and simple way to decorate is to simply get your home ready for the holiday season. Then you would have the decorating for the holidays done and a warm authentic display for your holiday dinner! A great way to decorate your table for the dinner is by using table cloths. If you have a beautiful table, a table run would be an eye-catching way to decorate without completely covering your gorgeous furniture. Using your best and matching dishware will also add to the presentation. Maybe create a beautiful centerpiece that is unique to your party and fits the theme!
    Hosting a holiday dinner doesn't have to be a stressful endeavor. It can be a fun and creative adventure! From picking your food to decorating your home, creating the perfect holiday dinner party should be an enjoyable experience! And I have one last tidbit of advice to help you have the most wonderful experience hosting your holiday dinner. The food isn't the most important part, neither is the decorations. It's the people, invite the most diverse and wonderful group of people you know and love to your dinner party. If you invite warm and happy people, you're party will be fun and successful, even if everything else manages to go wrong. After all, love is the true meaning of the holiday season.
By: Issa Rabideaux 
Photos courtesy of Unsplash