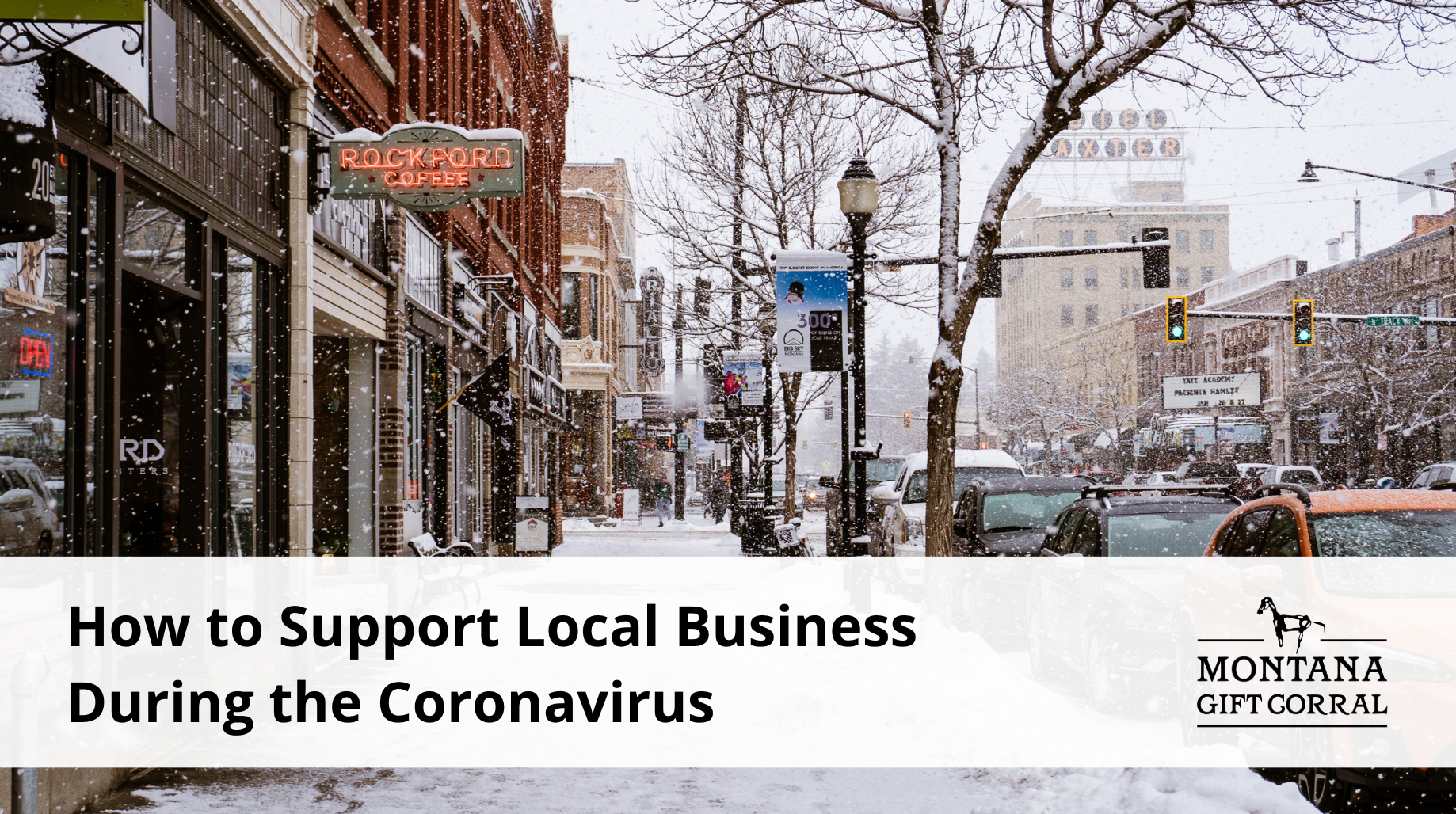 How to Support Local Business During the Coronavirus
Author's Note: The situation involving COVID-19 is changing quickly, and our priority as members of the SW Montana community is to encourage everyone to be safe, unite as a neighbors, and stay informed with CDC, State and local updates and recommendations. 
As the novel coronavirus COVID-19 begins to reach Montana, bars, restaurants, gyms, churches and retailers are taking precautions to slow the spread of the virus. However, these closures and changes come at significant cost for small local businesses and the employees who depend on them to pay their bills. This is a national concern, since small businesses account for nearly half of private sector employment in the U.S., according to the U.S. Small Business Association.
The future is uncertain, but businesses and individuals alike are stepping up for each other, and it's a beautiful thing. Here are some steps we can take, if we are able, to continue to support local businesses during this time. 
Share and Shoutout on Social Media
This is something anyone with a smartphone can do - for free! Share a post from a small business you support, and encourage others to support them, too. This helps that business without breaking the bank during this unpredictable time.
Buy Gift Cards for Later
Avoiding public spaces and large gatherings of people is a key component of preventing the spread of COVID-19, but if you are able, consider purchasing a gift card from a local shop or restaurant you want to support that you can give away or spend later! This provides that business with income now that allows them to continue to provide for their employees. Plus, you'll love remembering that you have a gift card later on!
Buy Local Produce
With the Bozeman Winter Farmers' Market shut down for the season, local vendors are getting creative to keep their businesses running and feeding the community. For example, Black Dog Farm, based in Livingston, is now offering local delivery services for their produce. Be sure to check in on social media with vendors to see what the current situation is - we'll surely be seeing more local growers and vendors getting creative too. The Farmers' Market is putting together a resource page to help you connect with a variety of small vendors in the area, so be sure to check their website for updates.
Shop Small Online
Many local businesses also run online shops, so consider shopping from your favorite local business online. Again, be sure to check in with the business to see what other services they are offering - some are taking phone orders and doing local delivery even if they don't have an online shop. Downtown Bozeman is running an up-to-date directory of services that local businesses are now offering, so be sure to check there, too.
Treat Yourself with Takeout or Delivery from Local Restaurants 
Many restaurants are now shifting to curbside or delivery options only. Consider these options if they feel comfortable for you. To be extra cautious, pay with a card rather than cash if you can. You can even request they leave the food at your doorstep to prevent unwanted contact if you prefer! 
It's not all doom and gloom; our community is coming together in a big way. Something as simple as calling your elderly neighbor to check in, or texting your immunocompromised friend to see if they need anything from the store - these have a huge positive impact. 
From the MGC family, we are wishing everyone health and wellness during this wild time.
Photos and story by Zach Altman.