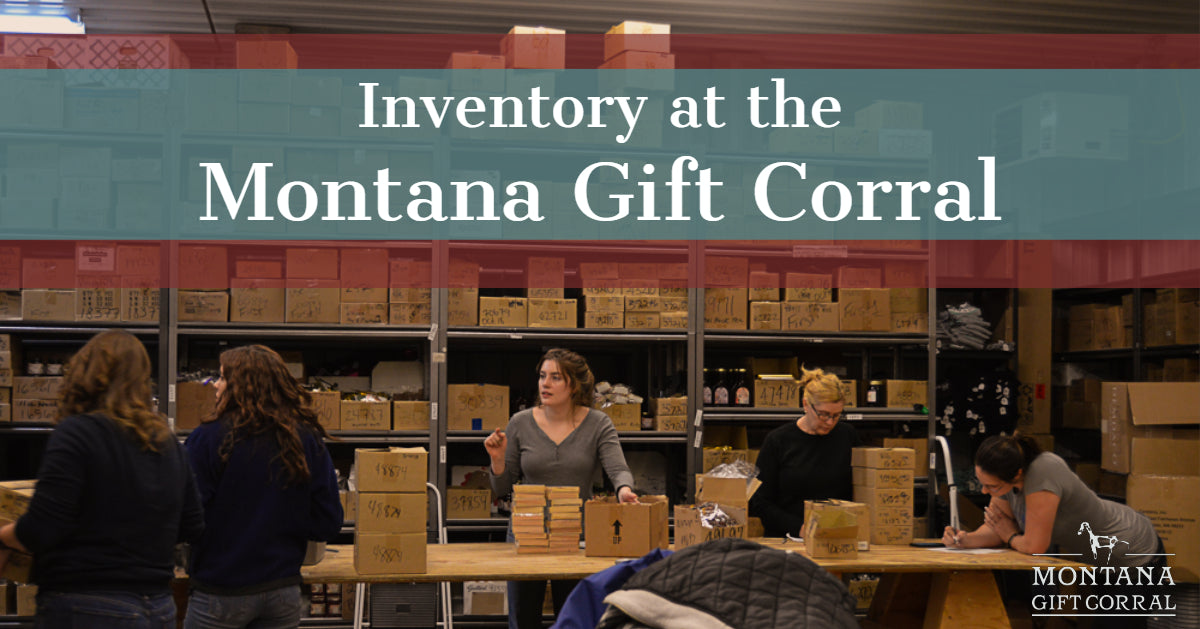 Inventory at the Montana Gift Corral
     About two weeks before Christmas, a list is shared at the Montana Gift Corral that has all the employees buzzing. Some grin when they see the contents of the list. Others focus in and begin the mental preparation required. Inventory is taking place after Christmas at the Montana Gift Corral, and the schedule has just been released.
What?
    But what is Inventory? What does that all entail? If you've ever worked in retail you probably have an idea of what Inventory is. Inventory takes place at the end of every year and is the process of carefully cataloging a complete list of all products and goods. It sounds simple enough. And the first time someone hears the word "inventory" they don't think it can be that bad. But then the realization that "every item" does mean "every. single. item." hits them, and suddenly Inventory is a bit more intimidating.
When?
    Inventory takes place at the end of every year to help with the organization process. The year just wrapped up, and for the most part, there won't be any more sales or transactions for the rest of the year. But when do you do Inventory? Do we just count everything during our usual shifts? Do we have an extra person or two doing Inventory while you're shopping? Nope! Inventory is done after hours for a number of reasons. For one thing, the Montana Gift Corral has a lot of items in stock and counting them all would take forever without a large enough team. A second reason is that our hours of operation are there for our customers; having a large inventory team in the store can make their shopping experience difficult. Third, not only would customers get frustrated trying to maneuver around the Inventory team, but the Inventory team would also get frustrated. Customers wouldn't be able to tell the difference between the Inventory team and the people on shift and having to constantly pause your counting to help someone could get challenging.
Where?
    The Montana Gift Corral has more than seven different locations. And every night or morning (depending on schedule) once each location has closed, a team equipped with item scanners descends. Stores like our Downtown Bozeman location are fairly simple to schedule Inventory for. Inventory is conducted on New Year's Day has the store is closed at set hours, making it easier for the team to work uninterrupted. However, locations like our gift shop at the Yellowstone International Airport are harder to schedule a time for. Hours at the airport vary widely depending on flight schedules, which means some nights the Montana Gift Corral is open past midnight. Do we still send in our team? Yup, individuals on the inventory team usually become temporarily nocturnal. This allows them to go to each location every night and try and scan as much as they can before the store opens again, sometimes after only five or six hours.
How?
    So how does a team of fifteen manage to count every single item the Montana Gift Corral carries? Well, Inventory takes roughly two weeks to complete and requires the team to double check every single store. Mostly it's because our Inventory team is full of amazing, competent people who know how to work hard. They all generously adjust sleep, family, and other work schedules to allow them to be members of the team. Even when they have the early morning shift after New Year's Eve, the people at Montana Gift Corral are as strong and dependable as the place we call home. With coffee offered when the Gift Corral can and a different lunch provided most shifts, the Inventory team is a force to be reckoned with.
Who?
    Are you ready to finally meet the wonderful team we owe it all too? For the 2018 Montana Gift Corral Inventory Team, please welcome…
     Michael, Sam, Donna, Jules, Livie, Kree, Cassi, Amy, Donna, Nanette, Les, Kellie, Mikayla, Courtney, Cindy, and Randie!