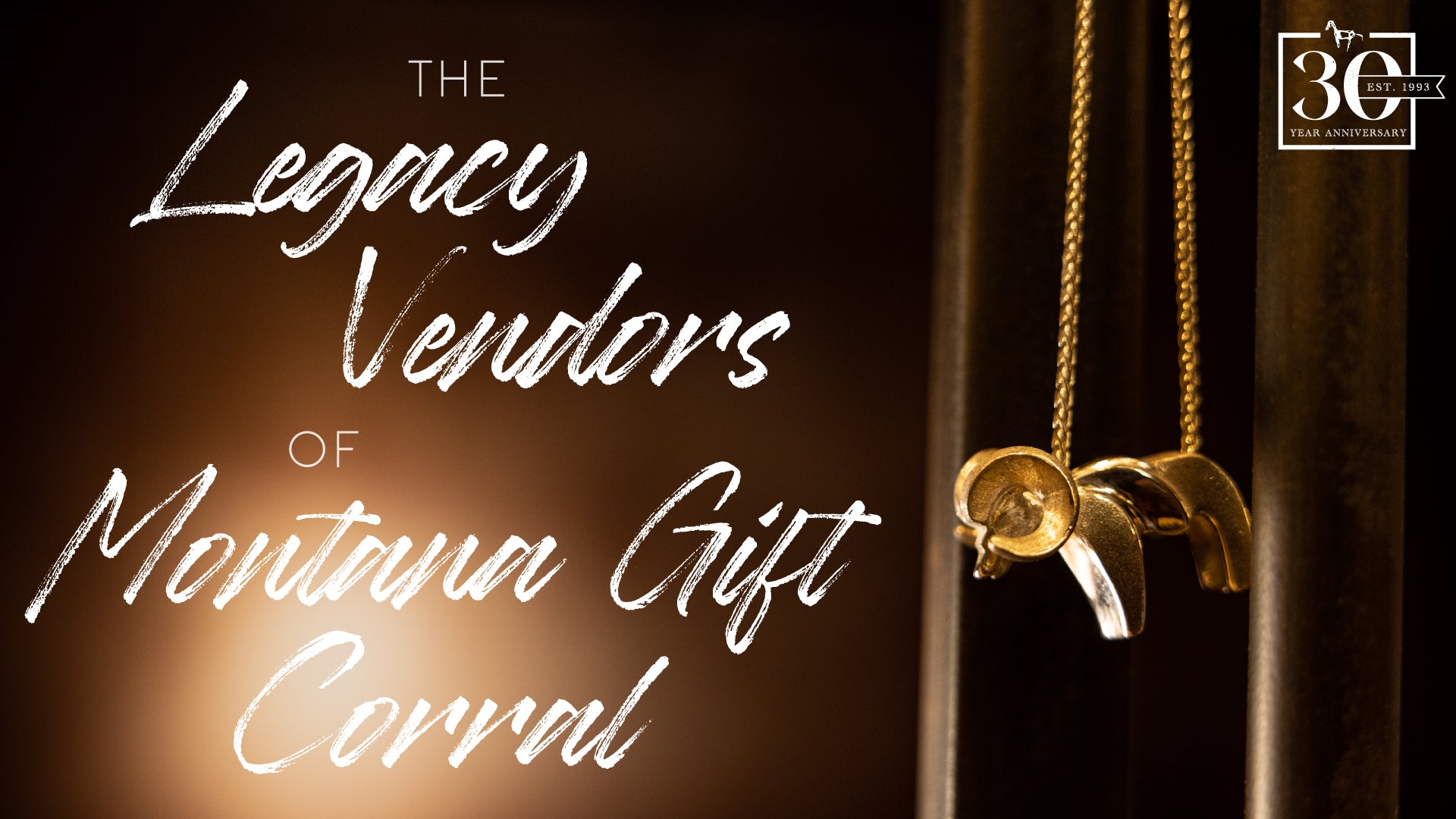 Legacy Vendors of Montana Gift Corral - Part 1
Montana Gift Corral is thrilled to commemorate its 30th anniversary, marking three decades of dedicated service to the community since our establishment in 1993. From our humble beginnings on Main Street, we have expanded our reach and now proudly opperate multiple conveniently-located stores in and around Bozeman, including Wal-Mart, the Gallatin Valley Mall, the Bozeman Yellowstone International Airport, Lewis and Clark Caverns, and an online presence through our website.
Throughout the years, Montana Gift Corral has upheld a proud tradition of catering to the needs and desires of both Montana-loving travelers and local residents. Our success can be attributed to our hardworking local employees who go above and beyond, and the talented local artisans, the reliable state vendors, and the worldwide suppliers who contribute to our diverse selection of Montana-inspired gifts. Above all, Montana Gift Corral owes its continued prosperity to our loyal and valued customers who have supported our business throughout these last 30 years.
If you've visited our website lately, you might have noticed some of our products sporting a new, Legacy Artisans logo. That's because we are celebrating our longest running, Montana vendors in honor of our 30th Anniversary!  From Montana made jewelry and handmade ceramics to huckleberry delights and fine-leather goods, our Legacy Vendors have been with us since the beginning. 
Sam Ferraro
Sam Ferraro has been a staple at Montana Gift Corral for over 25 years, establishing him as a revered legacy vendor. With a passion for crafting exquisite jewelry pieces, Sam Ferraro has been creating handcrafted jewelry since the early 1970s. Growing up on a ranch in Colorado, he developed a deep appreciation for the West, which he brought with him when finally made Bozeman his home. Utilizing traditional blacksmithing tools, Sam Ferraro expertly constructs and shapes his designs, resulting in unique and breathtaking jewelry pieces that captivate the hearts of our customers. His commitment to quality and dedication to his craft have made him a cherished figure in the jewelry industry, leaving a lasting impression on the Montana Gift Corral and the community we serve. 
Mountain Brook Studios
Mountain Brook Studios holds a special place, as one of the oldest ceramic studios carried by Montana Gift Corral, earning them the status of a Legacy Vendor. Renowned for their exquisite craftsmanship, they are known for hand throwing clay and creating stunning ceramic pieces with distinctive glaze finishes. Inspired by the beauty of nature, their designs bring the outdoors indoors, capturing the essence of Montana's wilderness. Based out of the picturesque town of Kalispell, Montana, Mountain Brook Studios continues to enchant our local community with their timeless creations, designed to celebrate the natural world and usefully support your everyday life. 
Dutch Brothers Bakery Co.
Dutch Brothers Bakery Co. was founded in Billings, Montana and they hold the esteemed title of being Montana Gift Corral's 'sweetest' Legacy Vendor. Since its establishment in 1987, this delightful bakery has been indulging customers with their authentic caramel cookie waffles, inspired by the beloved Dutch stroopwafels. With a commitment to using only the finest ingredients and traditional baking techniques, Dutch Brothers Bakery Co. has mastered the art of crafting these delectable treats. Each bite is a heavenly combination of perfectly, crisp waffle cookies sandwiched together with a luscious, caramel filling. The aroma of freshly baked waffles wafts through the air each time you open the bag, transporting you to the streets of the Netherlands. Dutch Brothers Bakery Co. has truly become a cherished part of the Montana Gift Corral vendor family, spreading sweetness and joy one stroopwafel at a time.
The Leather Store 
The Leather Store, the pioneer of buffalo leather wallets, has its roots deeply embedded in the heart of Montana since its creation in 1969. Even today, this esteemed brand operates from its base in Big Sky, Montana. Montana Gift Corral proudly carries this Legacy Vendor and has for decades. Each TLS wallet showcases the brand's unwavering commitment to excellence, beginning with the selection of top-notch leather hides. Their skilled artisans meticulously cut, brand, burn, and sew each piece by hand, ensuring unparalleled attention to detail and craftsmanship. With a reputation for creating timeless accessories, TLS Wallets continues to produce high-quality products that embody the spirit of Montana's rugged beauty.
Huckleberry Haven
Montana Gift Corral's legacy vendor, Huckleberry Haven, is a cherished local business nestled in the scenic landscapes of Northwestern Montana. With great care and attention, they have crafted their huckleberry recipe for over 30 years. Since the beginning, Montana Gift Corral has cherished Huckleberry Haven's sweet and robust flavors of the region's unique Wild Berries. From huckleberry jam and huckleberry syrup, to huckleberry chapstick and huckleberry hand cream, Huckleberry Haven proudly embraces the essence of Montana's natural bounty delivering a taste of the untamed wilderness. This Legacy Vendor is a customer favorite and a delicacy we have been proud to carry these past three decades.
Written by: Haven Windsor, MGC Content Creator
Blog Cover by: Averi Thompson, MGC Graphic Designer
Photography by: Luke Clark, MGC Photographer