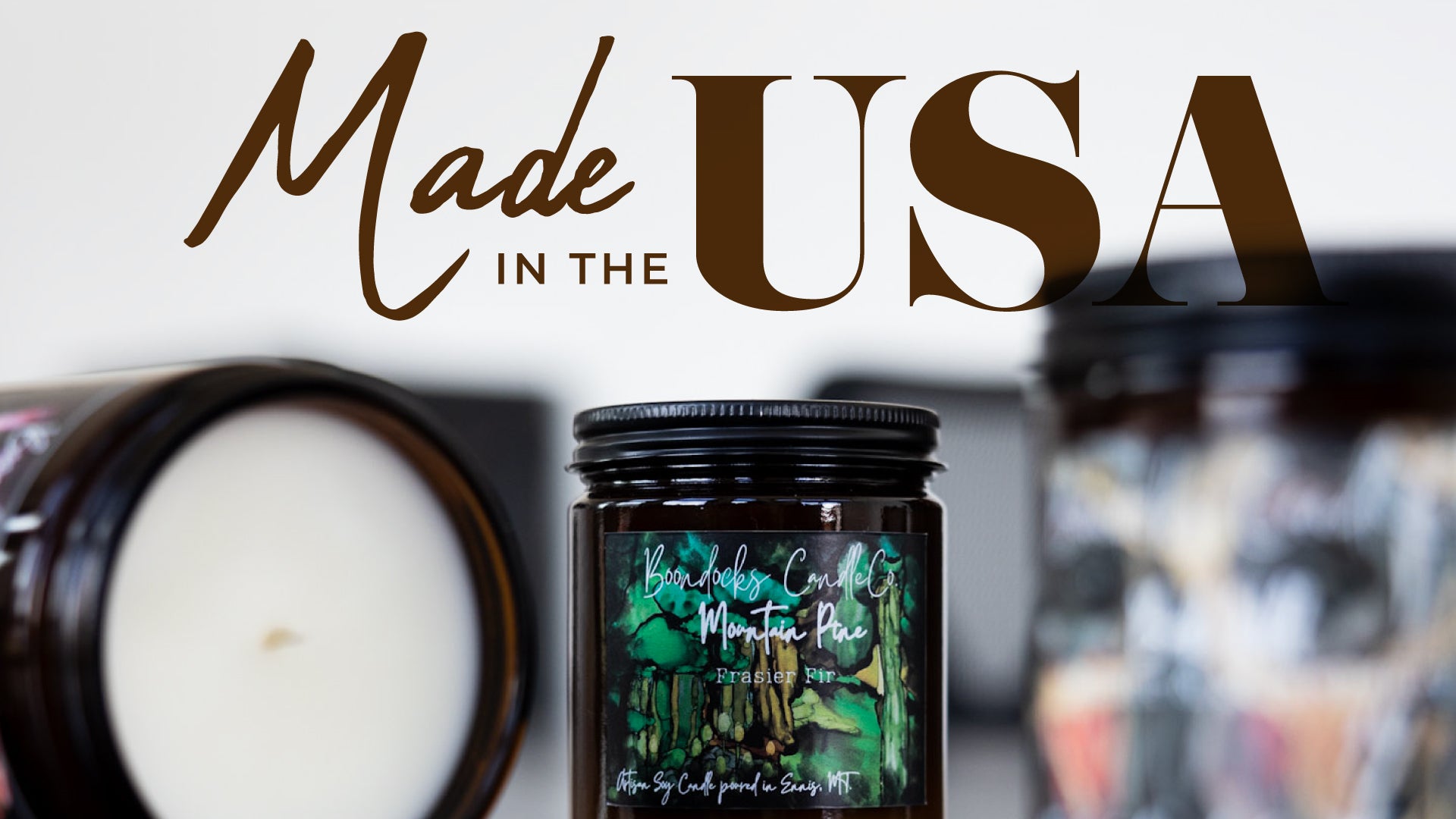 Fourth of July festivities may have come to an end, but why not keep the patriotic spirit alive all year long? As a small business in the USA, Montana Gift Corral believes in supporting our country's economy, which is why we are thrilled to bring you an amazing collection of gifts that have been lovingly crafted by talented small businesses from all across the United States! Here are some of our favorite USA-based brands that offer an incredible array of meaningful gifts and keepsakes:
Boondocks Candles
There is nothing better than lighting a deliciously scented candle, sitting back, and enjoying a peaceful moment. One of our favorite USA-based companies is Boondocks Candle Co. a company that calls Ennis, Montana, home! Inspired by the beauty of the Rocky Mountains, Chris and Robyn are known for their wonderful selection of soy wax candles that are hand poured here in the Big Sky State. 
Chris, calling himself the wax wrangler and pourer, is the mastermind behind these incredible candles. Taking pride in its work, Boondocks Candle Co uses 100% American-produced soy wax and hemp or cotton/paper blend wicks that are free of any artificial dyes. Their unique scents have been inspired by places, memories, and experiences here in Montana!
While Chris handcrafts this company's candles, Robyn puts her heart and soul into creating breathtaking artwork for every label featured on Boondocks candles. It's truly a remarkable collaboration!
Lazy One
Also founded and located in the beautiful Rocky Mountains is another beloved company here at Montana Gift Corral - Lazy One! Lazy One is an all-American company that is known for their playful selection of PJs, robes, slippers, and loungewear. This unique USA company has passion for creating products that are fun, functional, and high quality. In fact, they only used 100% combed cotton and polyester fleece lining in their designs - materials that are durable, yet soft to the touch and comfy as can be!
In addition to the wonderful quality of their designs, Lazy One has protocols in place to keep their production as earth-friendly as possible. They are committed to only working with facilities that have sound environmental policies, they display their products with hangers and tags that are crafted from recycled materials, and they only use fabric dyes that are 100% azo-free!
Here at Montana Gift Corral, we are proud to partner with a company with such high values. Plus, there adorable loungewear designs fit for the whole family make for the perfect addition to our line of USA-made gifts! 
Ditz Designs
Founded by Joyce Ditz, Ditz Designs is a company based Norwalk, Ohio. Joyce began her career hand-designing puppets for children's programs, and years later, she designed to open her own shop - The Hen House. Now better known as Ditz Designs by The Hen House, this USA-based company is ever passionate about creating imaginative and charming products that bring a sense of warmth to any space.
From wildlife-inspired footrests to stuffed animals, blankets, and even Christmas décor, Ditz Designs assembles each of its products by hand. With an unparalleled attention for detail, these heartwarming items are crafted with high-quality materials, and are the perfect addition for any rustic or western styled home! 
If you've been searching for the perfect piece to add some character to your home, we know you'll love our selection of USA-made products from Ditz Designs!
Lynn Bean Jewelry
Lynn Bean, an artist based in Oregon! Born and raised in Michigan, Lynn achieved a degree in illustration from the Kendall College of Art and Design. In 1979 she moved to Oregon, where her life on a remote ranch inspired her to begin capturing beautiful moments of nature. Her stunning watercolor and ink works were soon after picked up by an international publisher called Gemi Art, Inc. With the help of this company, Lynn began producing detailed lithographs for art-lovers around the world to enjoy. 
Today, Lynn Bean is known for her mixed-media art. Using hand-tooled copper, features, leather, horsehair, and even beads, she is able to create dimensional artwork that is beloved by jewelry collectors here in the USA. We are proud to carry a vast selection of her earrings and greeting cards here at Montana Gift Corral!
From vibrant cards meant to be shared with loved ones to unique jewelry designs often featuring scenes of nature and wildlife, we know you will love the artistic eye of Lynn Bean just as much as we do!
Chandler 4 Corners
If you have been looking for that perfect piece that will finish off any space in your home, you'll be delighted to find Chandler 4 Corners, a USA-based company that has been in business or over a quarter of a century! This company is know for its beautiful, artist-design home décor that has been handcrafted here in the United States. Based in Manchester, Vermont, Chandler 4 Corners commissions talented artist to design home accents that speak to nature and outdoors-lovers throughout the nation!
Using 100% New Zealand wool that is soft and durable, Chandler 4 Corners is best known for its nature-inspired throw pillow designs. Often featuring wildlife and adventure-inspired designs, we know that within this handpicked collection, you will find that perfect throw to fill an empty space in any living area!
Chandler 4 Corners has a commitment to creating beautiful designed goods with honest materials that are both high quality and functional. That is an ideal we can surely get behind here at Montana Gift Corral!
Let's continue embracing the patriotic spirit all year long with these incredible USA-based companies and their selection of gifts and keepsakes!
**
Written by: Alexa Jorgenson, MGC Content Creator
Blog Cover by: Averi Thompson, MGC Graphic Designer
Photography by: Luke Clark, MGC Photographer