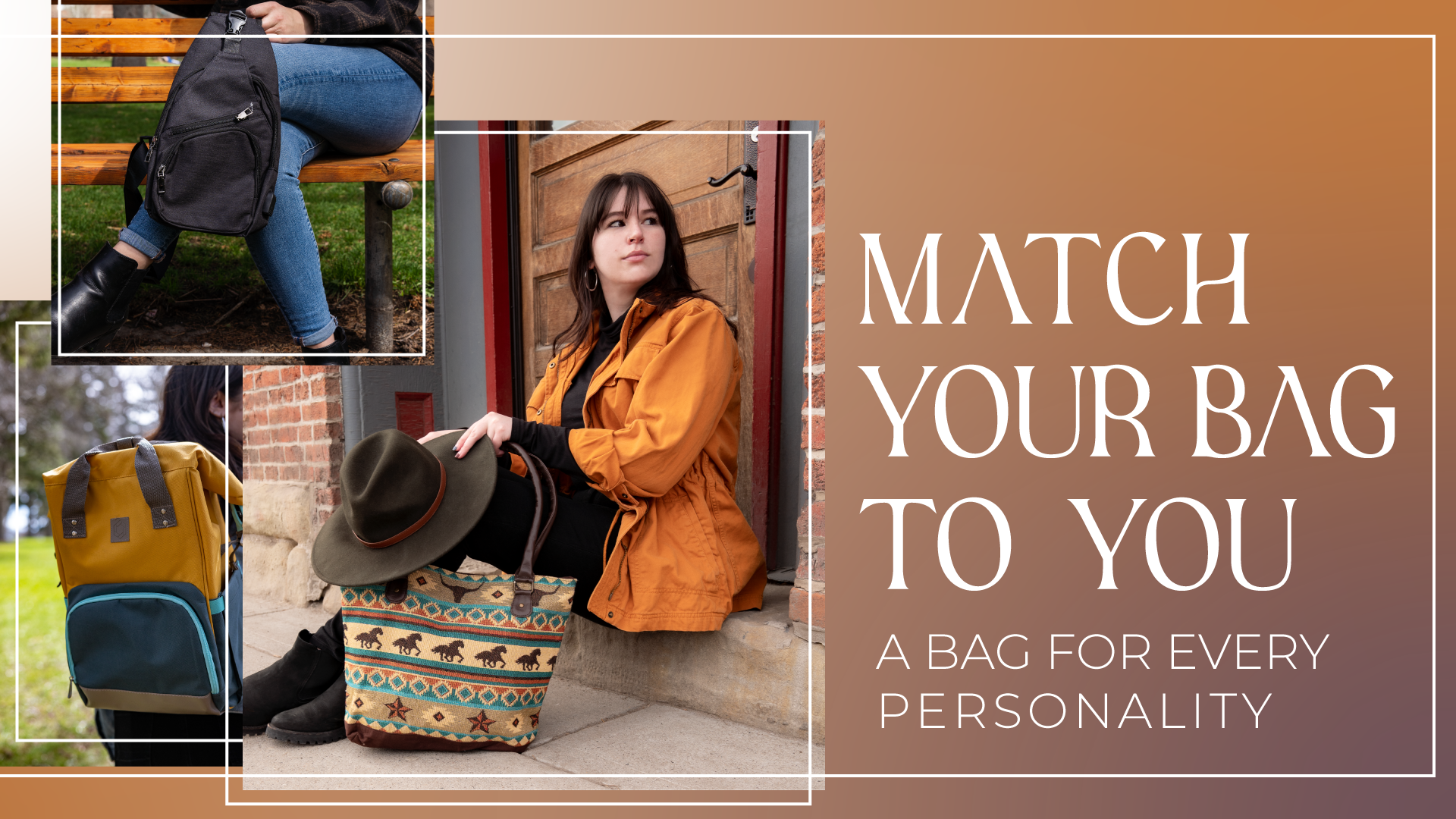 Match Your Bag to Your Personality
There is nothing worse than putting together the perfect outfit, and then not having the perfect bag to tie it all together. Luckily, this issue is a thing of the past with our wide variety of bold and beautiful bags. Whether you like to spend your time on the trails, shopping downtown, or working hard in the office, we truly have a bag for EVERY type of person! If you've always wanted a bag that completely fits your personality, then your in luck, as we've complied a list of bags that are perfect for a variety of character traits. 
For the Western Wanderer!
There is no denying that here in Montana, western-inspired fashion is all the rage. If you are the type of gal who likes to look like she just stepped off of the ranch, check out our collection of western accessories rom Kinara Fine Weaving! Our selection of wallets, crossbody bags, and totes from this one-of-a-kind company are sure to add the perfect rustic touch to any getup. These durable and stain-resistant accessories will turn heads as you partake in all of your fun-filled Montana adventures!
Preserving the traditional weaving of indigenous women living around Cuenca, Ecuador, Kinara Fine Weavings is a company that is passionate about keeping this tradition alive. Each product crafted by this company has been hand weaved in a series of hundreds of knots. While this process is time-consuming, taking anywhere from weeks to months to finish, the end result is truly something to be admired!
For more Kinara Fine Weavings products, click here!
Wildlife Shoulder Bag by Kinara Fine Weaving
For the Outdoor Adventurer!  
Montana is a hub for outdoor recreation. In fact, in Bozeman alone, there are over 70 trails commonly used for hiking, backpacking, and trail running. If you are the type of person who stans outdoor adventure, and loathes staying inside for too long, make sure to check out our collection of bags and accessories from Calla Products! Trust us when we say that these bags were built to bring along on your most grueling of escapades. Our popular Day Packs by Calla Products are event built with an external USB charge port, so that you can charge your phone on the go - so awesome! Featuring an Anti-Theft hook, these bags will give you peace of mind, ensuring that pickpockets won't stand a chance, and did we mention that these accessories have several zipper compartments for smart on-the-go organization? 
Calla Products is a company that is passionate about offering an array of bags that are not only stylish, but are perfectly functional. With each purchase of a bag from this unique company, you will receive an accessory that exceeds its cost in value. So whether you are hitting the trails for a quick run, or are simply visiting the park with your buds, make sure to bring any of our fun bags from Calla along!
Head to any of our locations today to get your hands on one of these recreation-friendly bags, or check out our Black Ashbury Crossbody Sling online!
Black Day Pack by Calla Products, In-Store Only
For the Farmers Market Gal! 
If you like to get outside, but aren't quite as fond of partaking in exhausting outdoor adventures, we always recommend checking out any or all of the local farmers markets! There is truly nothing better than picking out fresh produce, while simultaneously getting in your daily dose of vitamin D. If you are the type to roam the booths at the famers market in search of the perfect fresh produce to spice up your meals, make sure to check out our selection of bags and accessories from Art Studio Company! Featuring original artwork, Art Studio Company's durable cotton totes are great for hauling groceries, school supplies, arts and crafts, and so much more. 
In addition to offering a variety of high-quality accessories, Art Studio Company is passionate about supporting low-income communities. All products from this brand are crafted with earth-friendly materials and workmanship, in a variety of small villages worldwide. A portion of all Art Studio Company's sales donated back to ensuring the welfare of the people in these communities! Look good, feel good, and do good with our shopping totes from Art Studio Company.
Check out our collection of products from Art Studio Company both online, and in-store!
Ski Poles Shopper Tote by Art Studio Company, Location: Bozeman Downtown Co-op
For the Modern Businesswoman! 
When it comes to industry in Bozeman, we are flourishing! In fact, within the Gallatin Valley alone, you will find an abundance of tech companies and marketing agencies! When it comes to building your professional wardrobe, subpar bags just won't do. Luckily, here at Montana Gift Corral, we offer only the best business wear with our line of Jack Georges bags! Often featuring a laptop pocket, adjustable straps, grab handles, and a stylish/modern finish, these unique bags are perfect for any commute to and from work! Made with genuine Buffalo Leather, this pack will suit any style, anywhere you go! 
Founded in 1987, Jack Georges is a luxury brand company that is dedicated to providing a fine selection of distinguished business cases and accessories of top-tier quality. This one-of-a-kind brand operates with the knowledge and experience of three full generations of ultimate leather craftmanship, shown in their unique product designs. As Jack George himself puts it, "special care is taken to ensure that all of our leather has the quality and character needed to make each individual item unique". Wow!
You can find a variety of Jack Georges bags both online, and in our shops!
Voyager Large Double Gusset Top Zip Briefcase by Jack Georges
Written by: Alexa Jorgenson, MGC Content Creator
Photography by: Haven Windsor/Luke Clark, MGC Photography Team
Blog Cover Designed by: Averi Thompson, MGC Graphic Designer