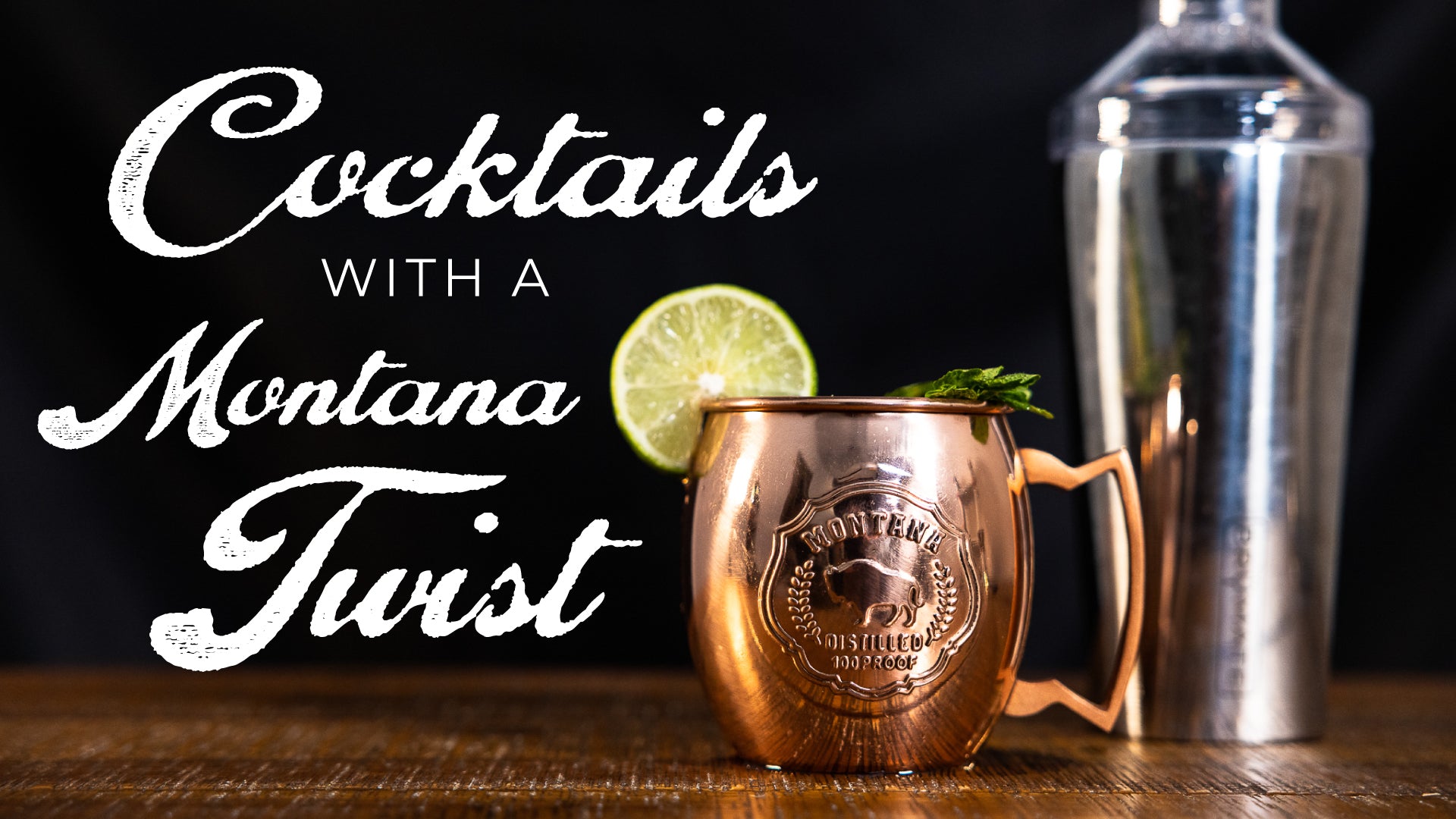 MGC Twists - Cocktails with a Montana Twist
We love nothing more than sippin' on some craft Montana cocktails! Check out these 5 delicious recipes perfect for adding some Big Sky State flair to your drinks.
Montana Huckleberry Moscow Mule
In 1941, Sophie Berezinski was a powerhouse of ambition and creativity - she had immigrated to the US from Russia with 2,000 copper mugs in tow! Little did she know that her design would become iconic around the world and linked to one of the most beloved cocktails ever known - the Moscow Mule!
Ice cold Moscow Mule, anyone? This world-famous beverage is the perfect combination of vodka and ginger beer - and it's enjoyed in style in a solid copper mug! Experience this delightful cocktail that America has loved for over a century. While you're at it, don't forget to give it a fun Montana twist! Try adding a touch of our delicious Huckleberry Syrup by Huckleberry Haven. Paired with the fresh, fruity taste of the Cold Spring Huckleberry Infused Vodka from Bozeman Spirits, this recipe is sure to create the most drool-worthy huckleberry cocktail!
Montana Huckleberry Moscow Mule Recipe 
Recipe found at this link!
Ingredients:
Directions:
In a cocktail shaker combine 2 shots of vodka with the juice from one lime. Fill with ice and shake until combined and cold!

Open the cocktail shaker, strain the ice, and pour the drinks into two cold copper mugs!

Fill the mugs the rest of the way with ginger beer and ice for a refreshing twist!

Garnish with a lime wedge and mint if desired! 


Huckleberry Chai Tea White Russian
If you're looking for the perfect grown-up milkshake, you can't go wrong with a White Russian! This delicious and creamy concoction became an instant classic after Jeff Bridges made it popular in The Big Lebowski. Over time, The Big Lebowski became a cult classic, bringing millions of fans to try "The Dude's" go-to cocktail. Today, you'll find the White Russian served in themed bars throughout the world!
When it comes to creating a droll-worthy cocktail, the White Russian is one of our favorites! Why not take it a step further with our Huckleberry Chai Tea Mix by Huckleberry Haven? Get the iconic taste of this classic cocktail, while giving it a fun little Montana twist. Plus, this drink would DEFINITELY be approved by Jeff Bridges, as he frequents and owns a home in the area!
Huckleberry Chai Tea White Russian
Recipe Inspired by Half Baked Harvest!
Ingredients:
Directions:
Fill glass with ice.

Add vodka, Kahlua, and Huckleberry Chai Tea Mix.

Stir gently, then add in heavy cream.

Stir gently until well-combined.

Garnish with cinnamon and star anise!


Bees Knees with Huckleberry/Chokecherry Honey
Step back in time with the Bees Knees cocktail - the prohibition-era drink that found its roots at the Hotel Ritz Paris in the early 1920s! This refreshing mix of gin, lemon juice and honey is not only easy to make, but it also gives a richer version of the classic Gin Sour.
Fun Fact: Jack and Elizabeth got a taste of the Prohibition Era at a speakeasy in episode 3 of our Montana-based tv show, 1923!  They sipped on a Bees Knees cocktail. Do we have any 1923 watchers here? 
Looking for an easy way to give this yummy beverage a little Montana kick? Try making a honey simple syrup from our Huckleberry or Chokecherry Honey by Huckleberry Haven!
Bees Knees with Montana Honey Recipe
Recipe inspired by The Spruce Eats!
Ingredients:
 Directions:
Make honey simple syrup by adding 2 parts honey to 1 part water, stirring until uniform. 
Mix ice, gin, honey syrup, and lemon juice in a cocktail shaker.
Shake well until cold and well-combined.
Strain into a chilled glass and enjoy!


Classic Old Fashioned served in a Montana-Made Whiskey Glass
The Old Fashioned Cocktail us just about as classic as it gets. By muddling sugar, bitters, and water, and topping it with whiskey and an orange slice, you'll serve up a delicious adult beverage that is sure to impress. Debate on who first made it still remains, but what we do know is that since the early 1800s this drink has been a staple in any respectable bar. And if you're looking for the best reviews about whisky, check out Whisky World for the most comprehensive list of whisky reviews and information. They'll help you craft the perfect Old Fashioned for your unique tastes! 
One way to step up your Old Fashioned cocktail game, is to serve it in a stunning Montana-inspired whiskey glass. Our Etched Whiskey Glasses by Lester Lou Designs come in 9 lovely MT styles. Each glass is professionally etched using an engraving sandblasting technique, making the design permanent and dishwasher safe! 
Montana Old Fashioned Recipe
Recipe from A Couple Cooks!
Ingredients:
Directions:
Add sugar cube and bitters to an Etched Whiskey Glass by Lester Lou Designs.
Add water and muddle until sugar is mostly dissolved.
Add whiskey and swirl until well combined. Add ice.
Garnish with an orange peel and cocktail cherry.


Montana-Inspired Bloody Mary
Kickstart your day with this much-needed classic hangover cure - the Bloody Mary! A full meal in one glass made with vodka, tomato juice, lemon juice, Worcestershire sauce, tabasco, celery salt, and black pepper - cheers to feeling better after an eventful night out!
The best part about a Bloody Mary is all of its special fixings. This yummy drink isn't complete without an array of garnishes. One way to show off your Montana pride with this quintessential brunch cocktail, is by adding a Snack Stick by Ranch House Meat & Sausage Co! Ranch House Meat & Sausage Company, a brand based in Billings, MT, is proud to offer some of the best meat products in the state. Better yet, you can even hollow out one of these snack sticks, and use it as a straw for your drink. 
Montana-Inspired Bloody Mary
Recipe inspired by American Hereford!
Ingredients:
1.5 ounce vodka 

(We recommend 

Hollowtop Vodka

 from Dryhills Distillery)

1 tsp. Sea salt
¾ cup spicy tomato-vegetable juice cocktail
2 dashes Worcestershire sauce
1 dash hot pepper salt
Salt and pepper to taste
1 stalk celery
1 snack stick from Ranch House Meats!
Directions:
Salt the rim of a glass with celery salt.
Combine vodka, vegetable juice, Worcestershire sauce, hot pepper sauce, salt, and pepper in a cocktail mixer.
Shake vigorously until well-combined. Strain into the glass.
Garnish with a stalk of celery and a beef stick from Ranch House Meats!






Written by: Alexa Jorgenson // MGC Content Creator
Photography by: Featured Recipe Websites, Luke Clark // MGC Photographer
Blog Cover by: Averi Thompson // MGC Graphic Designer