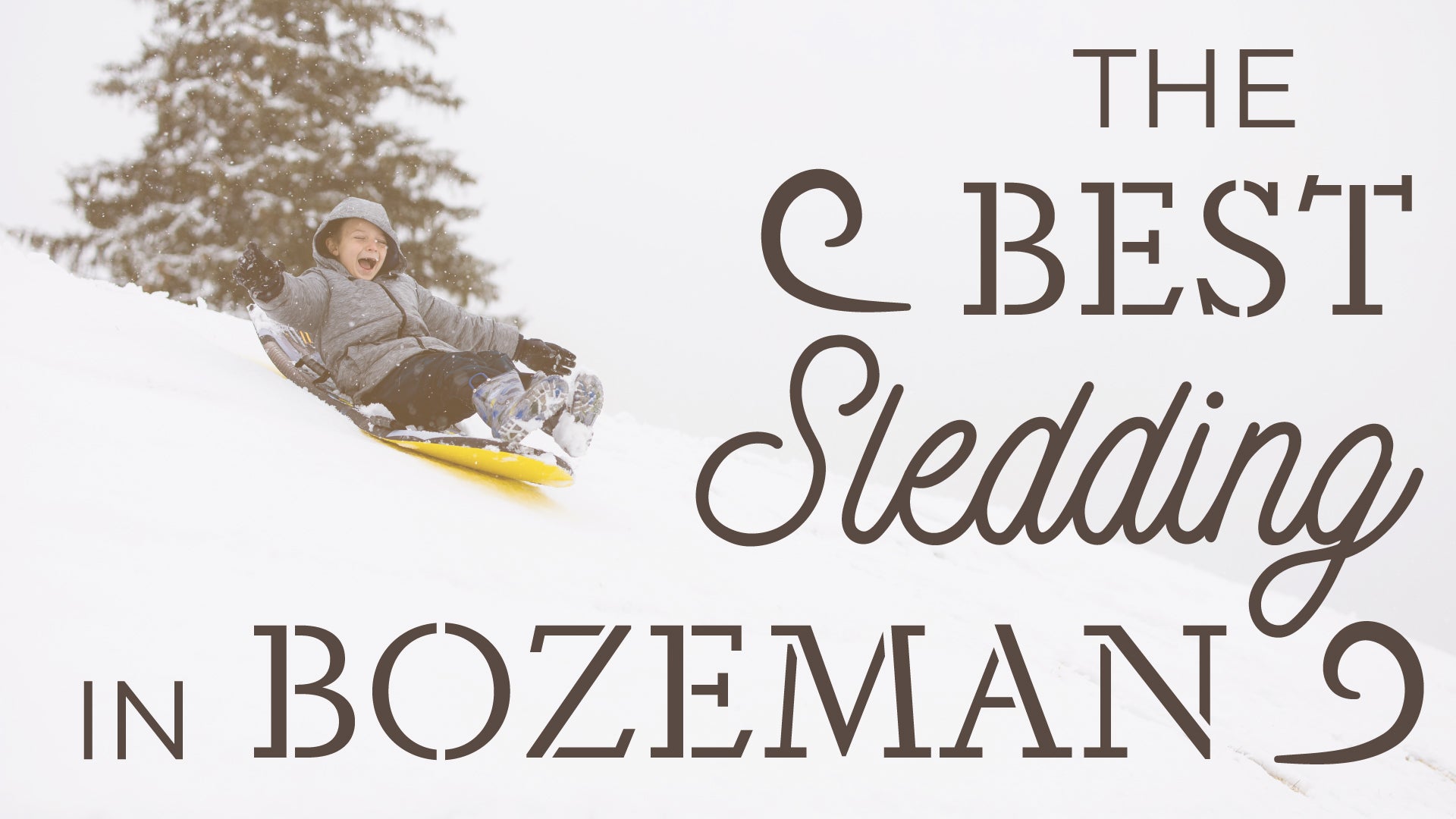 The Best Sledding in Bozeman!
Escape the ski slopes and experience a different kind of thrilling ride in Bozeman! Get ready for some serious sledding fun at these awesome spots in the Gallatin valley. Don't miss out - grab your sled and head out for a snowy day of adventure!
Gallatin Regional Park
Boasting an incredible 87 acres of open space, the Gallatin Regional Park is a favorite among Bozeman locals. This popular park has a trail system extending out 6 miles, looping around ponds, with access to the growing network of walkable trails on the west side of Bozeman. Recently, the Gallatin Regional Park went prehistoric! With two climbing boulders and a Dinosaur Playground, it's now the perfect place for little ones to explore and be imaginative. Welcome to the Dinosaur Park!

Make the most of this winter and visit the Dinosaur Park! Climb to the top of the manmade hill and take in the panoramic views of Bozeman. Driving up, parking in the lot and having endless amounts of fun all in one place - you can't beat it! Grab your gear and head out for a day of snowy fun.
Gallatin Regional Park // 5000 Tschache Ln, Bozeman, MT 59718
Burke Park/Peets Hill
Enjoy the beauty and serenity of downtown Bozeman at Peets Hill and Burke Park! The perfect spot for an outdoor adventure year round. Situated off Main Street, 41-acres of natural trails await your exploration as part of the Main Street to Mountains Trail System. Perfect for cyclists, runners, outdoor enthusiasts, and dog walkers!
Time to bundle up and head over to Peet's Hill, where kids and adults alike come to sled down its steep slopes - because nothing says winter fun like a good ol' fashioned sledding adventure! Hold onto your hats! This hill is steep the sledding there is thrilling, but don't forget - caution is key! Make sure all children are under adult supervision.
Burke Park/Peets Hill, S. Church Ave. at E. Story St. Bozeman, MT 59715
Sunset Hills/Highland Nordic Ski Trails
Let the outdoor adventure begin! This winter, explore the pristine Nordic Ski Trails of The Sunset Hills and Highland Blvd. - Bozeman's cross-country centerpiece. With three distinct areas and four access points, these groomed runways are perfect for any outdoor adventurer!
Need a break from cross-country skiing? Take your little ones over to the Red Bridger Bowl Lift Chair Memorial, located just over a gentle sledding hill - they'll have a magical day full of snow-filled fun!
Langohr Campground
Ready for a breath of fresh air? Get off the beaten path and explore the breathtaking views that of the Hyalite Canyon at Langohr Campground! Just 12 miles south of Bozeman, MT, this spot is simply perfect for fishing, hiking, and climbing, making it a great spot for an outdoor escape.
Get ready for a heart-pumping adventure with the family! Just across from the Langohr Campground is a fantastic sledding hill that will keep you and the kiddos entertained all day long. Park at the Lower Moser Trailhead and follow the Moser Creek Trail until you find an open clearing parallel to the campground. This thrilling sledding experience, paired with a brisk hike, is the perfect way to explore the outdoors in wintertime!
Start at the Lower Creek Trailhead (Fs 3160A, Bozeman, MT 59718) follow the Moser Creek Trail

****
Written by: Alexa Jorgenson, MGC Content Creator
Photography by: Luke Clark, MGC Photographer
Blog Cover by: Averi Thompson, MGC Graphic Designer