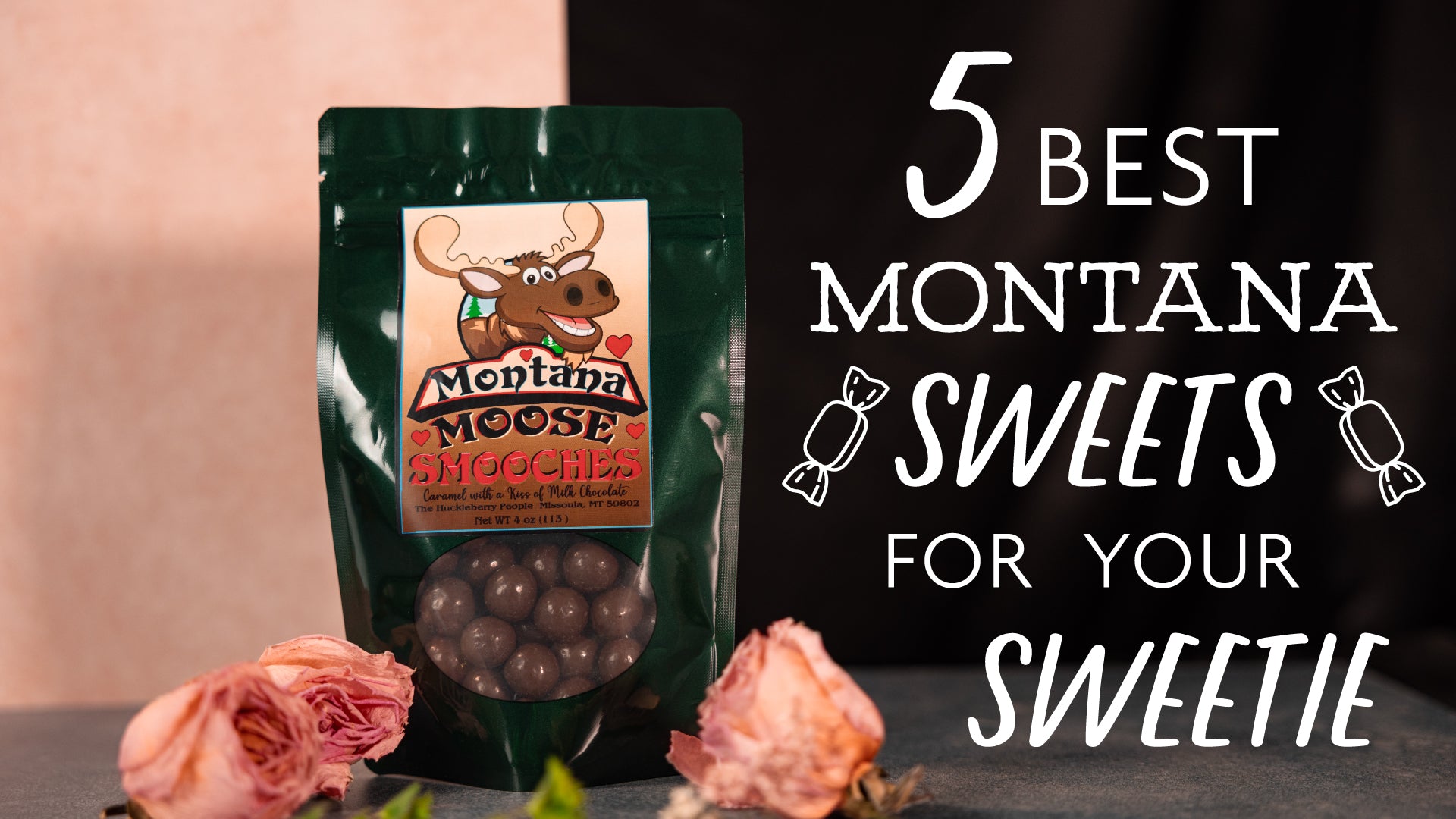 5 Best Montana Sweets for your Sweetie!
Valentines Day is just around the corner and it's time to find the perfect gift! Sweets are a great way to add a bit of love, so don't forget to pick up some of our yummy goodies. From mints to popcorn, hard candies, or chocolate - we have exactly what you need to sweeten up valentines day! Get 'em while they last!
Montana S'mores Bar by Huckleberry People
"After about 20 years of marriage, I'm finally starting to scratch the surface of what women want. And I think the answer lies somewhere between conversation and chocolate." - Mel Gibson
Chocolate is more than just a treat - it's a way to show you care! Make your special someone's heart melt with the sweetest gift of all.
⁠Even though February in Montana weather doesn't allow for a classic bonfire and s'mores, you can still enjoy the taste of this summertime tradition! ⁠Grab one of our delicious Montana S'mores Bars and experience the gooey marshmallow middle, graham cracker crust, and chocolatey coating with your significant other. Trust us, your other half is sure to be smiling after this perfectly sweet treat!
Huckleberry Butter Mints by Huckleberry People
After a lovely Valentine's Day dinner, nothing could be more refreshing than these delicious Huckleberry Butter Mints by Huckleberry People! 
Craving a taste of Montana? Sweet and buttery, these minty treats have an extra added bonus with the unmistakable taste of fresh Montana huckleberries. Upgrade your dessert game this Valentine's Day or any day of the year. Our Huckleberry Butter Mints are the perfect way to satisfy that sweet tooth and make your special someone feel extra special.
Moose Smooches Chocolate Almonds by Huckleberry People
What makes chocolate even better? A delicious crunch of almonds, of course! Who else loves this delicious combo? When it comes to choosing a sweet treat for your partner on valentines day, the Moose Smooches Chocolate Almonds by Huckleberry People are a no-brainer!
Give in to your cravings and try some of our yummy Moose Smooches Chocolate Covered Almonds on Valentines Day! The perfect balance of crunchy, nutty and chocolatey-goodness - without all the added frills. Try one today and see why everyone is raving about them! What's not to love?
Huckleberry Sour Candies by Huckleberry Haven
Sweet & Sour! With the Huckleberry Sour Candies from Huckleberry Haven, you can satisfy your special someone's taste for sour candies! Fresh Montana huckleberries and a sour kick make these treats totally delicious.
Treat your significant other to a burst of flavor! These wild huckleberry infused candies strike the perfect balance between sweet and sour - they definitely pack a pucker! The Huckleberry Sour Candies are made with real hand-picked huckleberries from the mountains of Montana and crafted in small batches. Indulge in something a bit different and get your hands on a sweet and sour surprise this Valentines Day!
Sea Salt Huckleberry Crunch by Huckleberry People
Nothing says 'Happy Valentine's Day' like a movie night with your special someone. Spice up your cozy night in with a special Montana twist - a bag of Sea Salt Huckleberry Crunch Popcorn by Huckleberry People!
Who says caramel corn can't be taken to a whole new level? The Sea Salt Huckleberry Crunch by Huckleberry People adds a delicious Montana twist and we couldn't be more excited! So go ahead and get your hands on this unique, salty-sweet treat and indulge in the huckleberry-chocolate goodness. 



Written by: Alexa Jorgenson, MGC Content Creator
Photography by: Luke Clark, MGC Photographer
Blog Cover by: Averi Thompson, MGC Graphic Designer