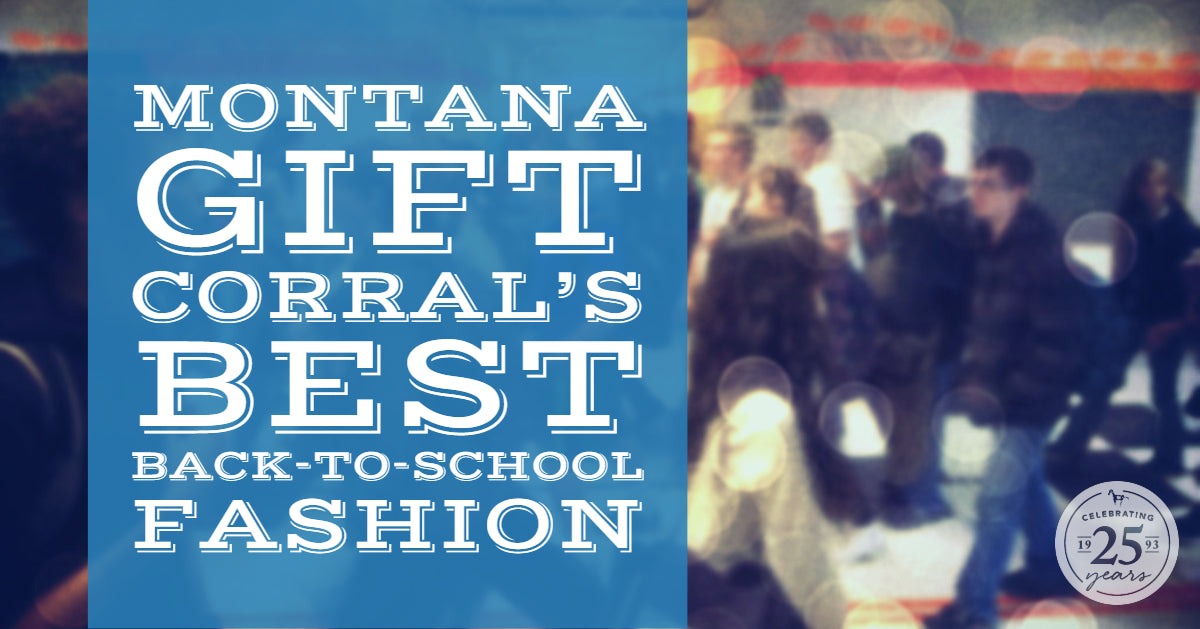 Montana Gift Corral's Best Back-to-School Fashion
    It's August and your little heart knows exactly what that means. School is just around the corner and your days of staying out till 3 and sleeping in until noon are numbered. Part of you is excited, you were starting to get bored spending hours at your laptop on Tumblr, Youtube, and DeviantArt. But as excited as you are for the new opportunities waiting for you, you're a little nervous! You have to worry about keeping up in your classes, finding time to do homework and extracurricular activities, maneuver through social circles, and on top of all of that, you're expected to look like you spend every second reading fashion magazines. All while trying also maintain your own personal health.
    Now, I can't help you study for the big test. I also can't help you make new friends or talk to the person you've been crushing on. I don't know the best way to organize your time so you can do all the things you want to. But I can help relieve the stress about what to wear this year! I mean why bother worrying about fashion when your body is busy rebelling against you? Read on to see how you can look good while you do good! After all, your clothes are a reflection of you, as one of the first things people see it can say a lot.
~Explore Your Passions~
     Why not take the opportunity this year to let your clothes tell the world about your passions. If you wear a white t-shirt with a camera printed on the front people might assume you enjoy photography. If you wear a Seahawks or a Broncos jersey to school people are going to assume you enjoy sports. Which is exactly what you want. When someone who necklace shaped like a pair of glasses sees you with a t-shirt that says "I solemnly swear that I am up to no good" they will probably have to fight to contain their excitement. They will bounce over to you and strike up a conversation and now you have a new friendship founded on a mutual interest.
    If your heart longs to discover new things, to go on adventures and experience all life has to offer you should wear something that shouts explore. With Montana Gift Corral's Discovery Arrow Montana T-Shirt and Vintage Blue Explore Compass Montana T-Shirt everyone will know that your heart yearns for adventure. Both shirts boldly declare "Explore" across the chest and the "o"s have been swapped out for a compass and an image of Yellowstone Park. Pair the loose and comfy Vintage Blue Explore Compass shirt with a pair of black leggings or try a casual pair of khaki shorts with the Discovery Arrow shirt. Whatever shirt you end up selecting, be sure it fits your passions!
~A Happy State~
    How about connecting with your roots? Each state has its own set of stereotypes. Texas is full of cowboys with big hats and big boots, Minnesota is obsessed with Prince, the Vikings, and Hot Dish, while Pennsylvania is called P.A. and the east and west can't get along. If you're moving to a new state or already have, you should show a little hometown pride. While wearing your bright red "Call 'em ya'll" shirt someone with a "Hog Caller" shirt might just ask you what part of Kansas you're from. And when you say "Ash Flat" instead of the blank "oh…" they might just excitedly say "I grew up in Hardy!" Next thing you know, you guys are walking together and talking about the misadventures you each had in Sharp County.
    If you're from the Big Sky Country you'll probably want to show off your love for the last best place. With Montana Gift Corral's Maroon Kryptonite Moose Montana T-Shirt and Chili Keenness Bear Mountains Shirt everyone will know that you proudly have your roots in beautiful Montana. The Maroon Moose shirt proudly declares "Montana" in bold letters with the silhouette of a moose while the Keenness Bear is more subtle. It features the silhouette of a bear with a classic Montanan scene painted inside and has the year Montana became a state below. Finish your Montanan look off with a pair of old jeans (ripped and faded would be perfect) and a pair of the classic Montanan cowboy boots. Let your peers know you're happy in your state!
~Warm and Comfy~
     As the school year approaches so does winter. But you have to admit, a part of you is excited. Fall means football games, spirit weeks, homecoming and spending nights around bonfires with your friends. Fall means cute scarves and cozy sweaters. And at the Montana Gift Corral, we have the perfect sweaters for you! Show off your home state pride and your adventurous side with the Slim Chance Trees Sweater or the Grey Aspired Arrows Montana Hooded Sweatshirt! With subtle colors like grey and white the colors, these cute and cozy hoodies can be worn with any outfit. Is the fall chill nothing compared to the harsh Montanan winters of your youth? Bring a sweater to the pep rally anyway in case you see someone shivering and get the chance to make a new friend!
    Already graduated and looking to help your kiddo look stylish this school year? Montana Gift Corral has an adorable and stylish selection of youth clothes as well!
~Free Spirited~
   Do you have a tiny whirlwind running about? Someone a little more interested in doing rather than waiting around? Help your free spirit find kindred souls with the Purple Wild by Nature Moose Youth Montana T-Shirt or the Adventure is Calling Montana Youth T-shirt! These shirts come in vibrant colors your kiddo is sure to love, from a deep purple to a vibrant celeste blue. These cute shirts are great ways to show off your child's love for life and adventure as well as some home state pride!
~Homebody~
    Or maybe your kid isn't interested in wandering through forests for hours or climbing over giant rocks. Maybe your kid would rather spend hours binge-watching their favorite shows and acting out their favorite scenes. And the Black Star Forest Youth Montana T-Shirt from Prairie Mountain at Montana Gift Corral might be everything they could hope for. The combination of their favorite characters with some of Montana's most iconic wildlife will be a great way for them to make friends. Or get them the Red Rent Free Camper Youth T-Shirt! All the adults in their life will get a kick out of the joke and maybe it will give your kiddo a chance to ramble for hours about the fun camping trip you all went on!
      Now that everyone looks amazing, let's get class started! 
     By: Issa Rabideaux
     Photos courtesy of Kree Gullings and Issa Rabideaux