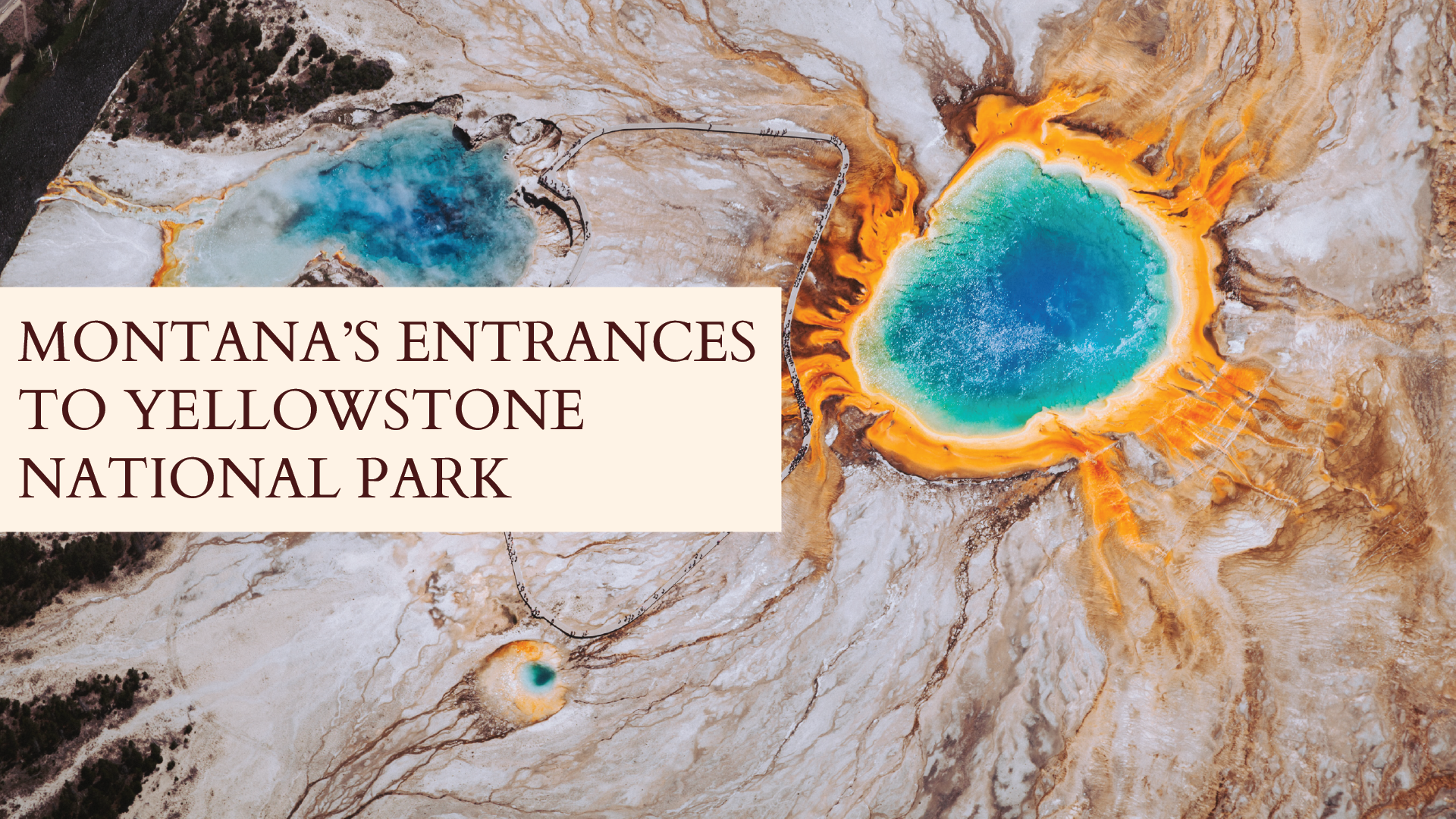 Montana Travel Destinations: Yellowstone Entrance Towns
     Montana has its own share of the beautiful Yellowstone Park lying within it's borders, and holds three of the park's entrances with exclusive access to Yellowstone's northern attractions and accessibility to the mountains beyond.
     For those who are looking for a charming Montana town to set up home base during a Yellowstone journey, these three locations are each uniquely beautiful, and offer a different experience than camping within the park itself.
Gardiner Montana
When passing through the first gate of Yellowstone National Park in Gardiner, Montana, you're almost guaranteed to catch a glimpse of some stunning wildlife, many Elk, seconds after entering the park!
If fantastic wildlife and gorgeous landscapes are your thing, Gardiner, Montana is the place for you! Gardiner is the original gatekeeper to the North Entrance to Yellowstone National Park and is the site of the historic Roosevelt Arch. Located in the appropriately named Paradise Valley and sandwiched between the Absaroka-Beartooth and Gallatin mountain ranges, Gardiner is home to 10 million acres of public land right along the famous Yellowstone River. This beautiful town has an abundance of wildlife including bison, bighorn sheep, pronghorn, elk, black bears, grizzlies, and even wolves! Gardiner also has plenty of fun things to do! Go horseback riding through the gorgeous river valley or zipline through the mighty pine trees! After a long day hiking, exploring, discovering, and living, you can take a long relaxing soak in the natural hot springs found just north of the town or just inside the park!
    Open all year round and Montana's entrance to Yellowstone's northern range, Gardiner is a charming town with a welcoming vibe and a classic western feel. A full-service town made up of small, family and locally run businesses, Gardiner is a delightful travel destination in its own right as well as Montana's most popular gateways into Yellowstone thanks to the Roosevelt Arch located on the edge of the town.
*   *   *
West Yellowstone
      Montana is known for its fantastic outdoor recreation all year long. And the most popular entrance to Yellowstone National Park that's found in Montana is no exception! West Yellowstone is a wonderful town that has an endless number of things to do! The western entrance into the park is surrounded by three national forests, gorgeous streams, and wonderful mountain lakes while also offering plenty of in-town amenities. Visit in the winter time and enjoy plenty of cross-country skiing and some thrilling snowboarding. Head back into town and warm up with a coffee at the local cafe before heading over to the local live theater for a wonderful production. Would you prefer to visit in the summer? No worries, you can go boating on Hebgen Lake, hike through Custer National Forest, or try mountain biking. Then head into town to enjoy some live music in the park or simply wander around town and enjoy the sites!
     The most tourist-friendly entrance on the Montana side of the park, West Yellowstone is not only a gorgeous little town with log-cabin style buildings and wildlife sculptures galore, but has the famous Yellowstone Historic Center located within the town, plentiful camping and RV parking locations, an IMAX theater, and the Grizzly and Wolf Discovery Center within easy reach. West Yellowstone also has tour buses available that specialize in the geyser-heavy areas located on the western part of the park. If Yellowstone's geysers and pools are what you're after, then you're in the right place! With so many wonderful and exciting things to do in West Yellowstone you won't want to leave! Whether you end your trip to Yellowstone National Park here, or it's where you plan to kickoff the vacation of your life, make sure you leave plenty of time to enjoy it!
 *   *   *
Red Lodge
    The Base Camp to the Beartooth Mountain Range and one of the gateways to the USA's first national park, Red Lodge is a delightful and historic town with plenty to do! Red Lodge is a beautiful town nestled in Montana's highest mountains, the Beartooth Mountain Range, and embodies Montanan hospitality. Red Lodge offers the perfect blend of in town activities and outdoor adventures. Take a stroll through the historic downtown and browse galleries featuring local artists and try food with fresh food from local farms! Red Lodge also has plenty of trails and park for you to explore with your friends and family! If you're up for it you can even go for a horseback ride, or sign up to bike the Beartooth Mountain Range!
     And speaking of the Beartooth Mountain Range! Rugged, raw and heavy on the natural landscapes, Red Lodge lies on the edge of the Beartooth Highway, a canyon road that follows the edges of the wild and mighty Beartooth mountain range; this is arguably the most dramatic route to enter the park. For the hikers, backpackers, and nature-lovers out for thrilling sights, Red Lodge is a mountain town, heavy on the snow, and with a distinctly western-style look reminiscent of a small frontier town. Be careful to double check your visit times, because of the snowy passes on the Northeast side of Yellowstone, the Red Lodge entrance!  
*   *   *
Cooke City- Silver Gate
Photo courtesy of Yellowstone National Park
    Between Red Lodge and Mammoth you'll stumble upon one last Montana town. Cooke City- Silver Gate is a beautiful little town and the only "city" thing about it is it's name. Cooke City has a tiny permanent population, only 140 at the 2000 census, but that doesn't mean that the people are any less welcoming! Cooke City is connected to Red Lodge via the Beartooth Highway, a road described as the most scenic in America by some. Cooke City is nestled between several mountain peaks and boasts plenty of outdoor recreation options and adorable diners. The quaint town is worth at least a quick stroll down the main street where you can admire the beautiful cabin-esque buildings and exchange smiles and waves with locals.
*   *   *
     As amazing as the Park is, the surrounding area has off the beaten path adventures to offer! As with most of Montana, these little towns hold hidden gems and opportunities sure to add to your journey!
-By Emma Katherine Roberts
 Revised by: Issa Rabideaux
Banner- Chris Leipelt, Unsplash