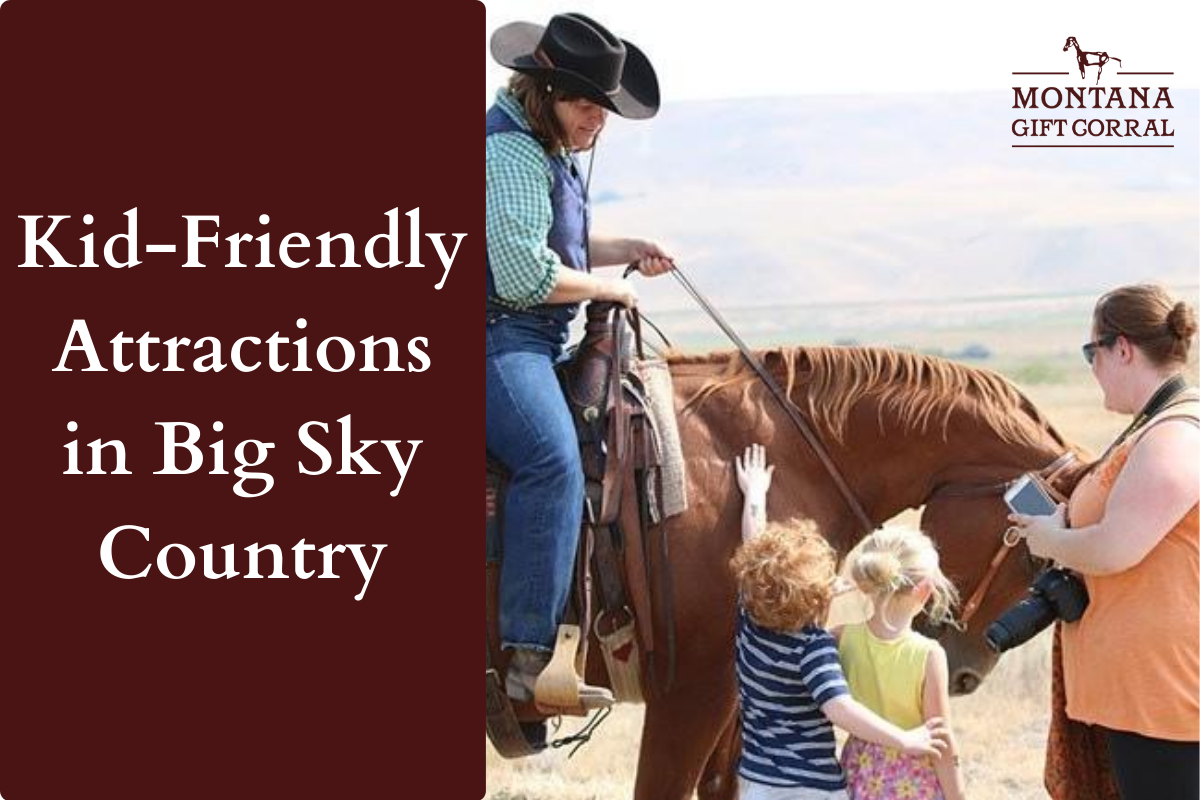 Kid-Friendly Attractions in Big Sky Country
Travelling with kids in the wild-wild west can be a bit of a challenge. You might be perfectly content with just taking in Montana's majestic scenery, or waiting around for glimpses of reclusive wildlife, but, odds are, your kids just won't have the patience for this! Fear not! Montana has plenty to offer all adventurers, young and old. From living history sites to amazing playgrounds and direct wildlife encounters, here's our list for some of the best kid-friendly vacation sites The Treasure State has to offer!
Grant-Kohrs Ranch
A piece of living Montana history, this amazing ranch offers so much for little cowboys and cowgirls who want a taste of western culture. Offering rustic lodging, the opportunity to try on cowboy outfits, junior roping classes, and a full livestock ranch, this is one destination you won't want to miss. Each little visitor receives an honorary rancher booklet, with guides to the historic ranch house, bunkhouse, blacksmith shop, horse barns, and cattle sheds.
Yellowstone IMAX Theater
The Giant IMAX Theater is located in West Yellowstone on the Montana side of the park. The theater is six stories tall with a 60 foot by 80 foot giant screen showing everything from nature documentaries to family-friendly movies to in-depth explorations of the park itself. This fantastic attraction lies within the tourist town of West Yellowstone, an awesome place to visit in its own right, and is a great launching point for visiting the park itself!
Grizzly and Wolf Discovery Center
A not-for-profit attraction geared towards introducing youngsters to some of Montana's amazing wildlife in a safe and interactive environment, the Grizzly and Wolf Discovery Center lies near Yellowstone park, and includes several actual wolves and bears as well as a museum and store both geared towards education and protection of these amazing animals. The center is open year-round, making it a perfect stop no matter you trip!
Bannack Montana
One of Montana's many gold mining towns founded in the 1860's, Bannack was a fast growing metropolis that inevitably began to decline as the nearby Grasshopper Creek was drained of gold. But today, you can still see over sixty largely in-tact structures, most of which are open to visitors! With the town also offering locally run shops, food, and even historical reenactments, Bannack is a great stop for the blooming history buffs in your family!
Missoula Butterfly House & Insectarium
Another educational destination, the Missoula Butterfly House & Insectarium was founded in 2009 to be a place for kids to observe not only butterflies but other creepy-crawlies as well. Offering special community events, speakers, and daily scavenger hunts, the Insectarium is both exhilarating and spooky – the perfect place for curious and adventurous youngsters.
Smokejumper Visiting Area
With about 5,000 yearly visitors, the Missoula Smokejumper Base is the largest of its type in the US, making it a national attraction that's bursting with a sense of bravery and courage! Smokejumpers are an elite group of wild firefighters that parachute into areas in flames. Currently, there are about 70 individual smokejumpers based in Missoula. Parts of the center itself are open to visitors, with museums, tours, and occasional interviews and meetings with the jumpers themselves. This is one place to spark a sense of adventure in your kiddos, and besides, what kid isn't entranced with firefighters?
Dragon Hollow
A fantasy styled playground offering areas specific to much younger explorers, the Dragon Hollow park in Missoula is entirely community built, funded, and maintained. Next to the play area is a large carousel – four of these carefully carved wooden horses were paid for by over a million pennies collected by local school children. Not only is Dragon Hollow an enjoyable place to visit, but the site is positively teeming with a sense of community love and support.
Livingston Depot Center
For the junior train enthusiast, the Livingston Depot is a beautifully maintained colonial era train station, and one of the oldest in Montana. The architecture of this building has been painstakingly restored. Not only is an extensive museum present on the site, but the Depot serves as a sort of community center for the town of Livingston, often holding local craft fairs and music festivals and much, much more!
-By Emma Katherine Roberts