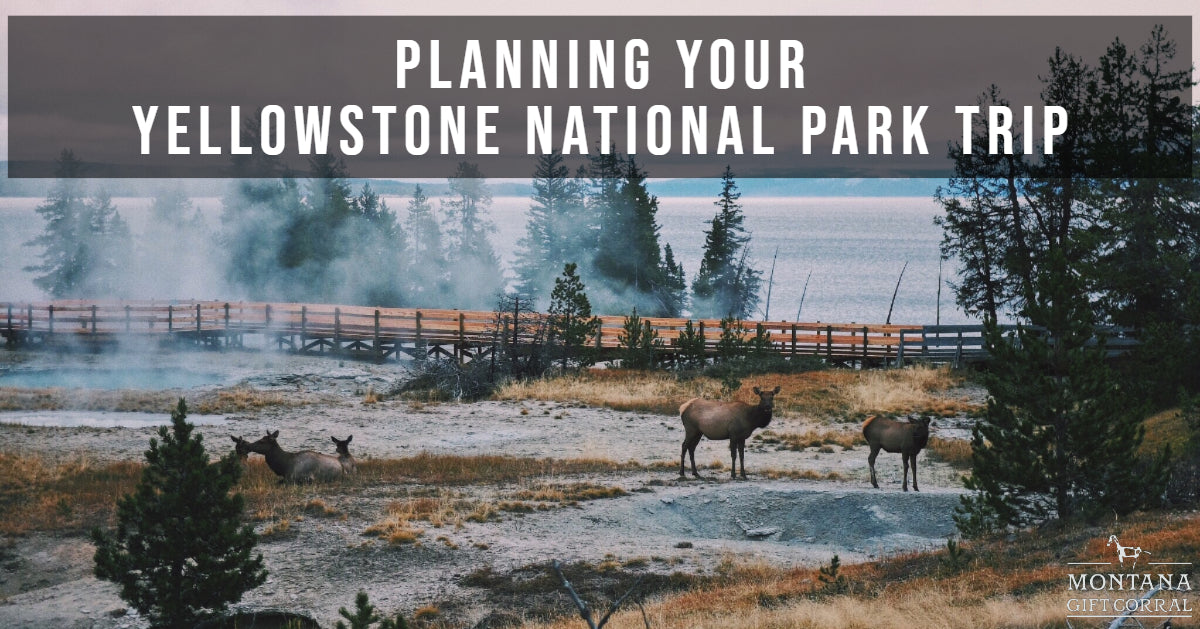 Montana Vacation Planning: Planning Your Yellowstone National Park Trip
Yellowstone National Park has something for every adventurer.
The world's first national park is full of geothermal wonders, epic snow-capped peaks, and the largest population of grizzly bears in the lower 48.
Explorers can take part in adventures as brief as a Yellowstone day hike all the way to week-long backpacking expeditions across some of the wildest landscapes in the country. 
Image Courtesy of David Tostado/Unsplash
One question to consider when planning your trip to Yellowstone - what kind of adventure am I looking to have?
Is this a family vacation with young children on board? A young couple eloping on a big adventure? Traveling solo? 
For reasons of safety and feasibility, the answer to this question will determine what you and your group are capable of, and what kind of adventure you're going to have!
At Montana Gift Corral, we love Yellowstone National Park and the glorious country that surrounds it (I mean, that's why we live here!). Here are a few short day hikes to help plan your trip to the world's first national park! 
1. Yellowstone Lake Overlook
Image Courtesy Neal Herbert/NPS
This moderately strenuous hike is a round trip of 1.5 miles to the Yellowstone Lake Overlook. The trail begins at a trailhead marker near the entrance to the West Thumb Geyser Basin parking area and climbs through burned forest and a mountain meadow to a commanding view of Yellowstone Lake.
2. Elephant Back Mountain
The view from Elephant Back Mountain. Image Courtesy of NPS.
With a round trip  of 3.5 miles, this is a moderately strenuous hike. Starting at a pullout 1.0 mile (1.6 km) south of Fishing Bridge junction, this trail climbs 1.5 miles (2.4 km) through a lodgepole pine forest before reaching a junction. Either trail leads in another 0.9 mile (1.6 km) to a panoramic view of Yellowstone Lake.
3. Wraith Falls
Image Courtesy of Jim Peaco/NPS.
Starting in Mammoth Hot Springs, this hike is an easy .6 mile round trip.
The trail begins at a pullout 0.5 miles (0.8 km) east of Lava Creek Picnic Area on the Grand Loop Road. This short, easy trail passes through sagebrush meadows, marshland, and mixed conifer forest to the base of 79-foot (24 m) Wraith Falls on Lupine Creek.
4. Lost Lake Loop
Image Courtesy of David Tostado/Unsplash.
Starting in Tower-Roosevelt, this round trip hike takes you 2.8 miles over moderate terrain. The trail starts behind Roosevelt Lodge and climbs 300 feet up a forested hillside. At the junction, veer right (west). You reach Lost Lake in 0.2 miles (0.3 km). From there, follow the trail through a ravine to the Petrified Tree parking area. From the parking lot, the trail climbs to a sagebrush meadow, descends to the Tower Ranger Station area, and then 0.2 miles (0.3 km) to Roosevelt Lodge. If you encounter horses, move to the downhill side of the trail and remain still until they have passed.
5. Trout Lake
Trout Lake in the summer. Image Courtesy of Jay Elhard/NPS.
Starting in the Lamar Valley, this round trip hike guides you 1.2 miles over moderate terrain. The trail starts from a small pullout about 1.5 miles (2.4 km) south of Pebble Creek Campground on the Northeast Entrance Road and climbs about 150 feet (45.5 m) through Douglas-fir forest to the lake.
6. Observation Point
View of Old Faithful from Observation Point. Image Courtesy of NPS.
This round trip hike takes you 1.6 miles over strenuous terrain, but the stunning views are worth it! Walk counterclockwise around the Old Faithful boardwalk; turn right at the sign to Geyser Hill. Trailhead is on the right after the Firehole River bridge, approximately 0.3 miles (0.5 km) from the visitor center.
There is a lifetime of exploration within the borders of Yellowstone. Check out the official park website for information on permitting, road closures, conditions and more! 
For your safety:
• Check at a visitor center or ranger station for updates on trail conditions and area closures.
• Tell someone about your hiking plans, including your destination, route, and estimated time of return.
• Stay on designated trails in hydrothermal areas. Thin crust can plunge you into boiling water.
• Stay alert in burned areas. Wind may topple standing dead trees.
• Plan your hike for enjoyment. Allow yourself plenty of time to appreciate the park's views and natural wonders.
By Zach Altman
Updated by Cassi Miller